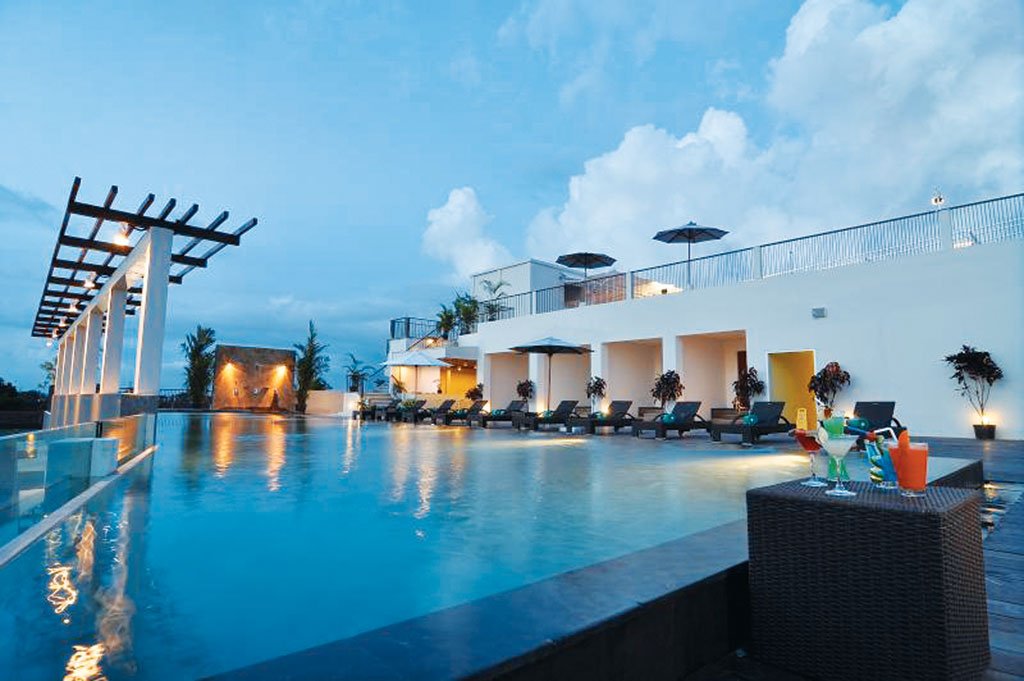 The high season kick-off party at the Legian 101 hotel is a definite good time for expats and visiting tourists in south Bali. The free-flow party, offering nicer drink options than most free-flows to be found in the Kuta/Legian area, begins at 6pm and goes for an hour. The promotional drinks offered are a Midori melon liquor with sprite mix, or San Miguel beer. The service staff are excellent. Attentive and friendly, your free drinks seem to come to you with a smile as your last cup or can is emptied. Also, with a minimal amount of prompting, you may be able to get the bar man to pour you a double or triple. Taking full advantage of the hospitality, I personally was well on my way to a wild night just shortly after 7 o'clock.
"Huge party and every week! Come guys, this is the number 1 pool party in Legian." -Surya Sanjaya, Business Development Manager, PT DIMANTIQUE INTERNATIONAL, who sponsored the event with Gilbeys.
The party is located on the rooftop of the 101 hotel, so you can watch the sun setting over Kuta beach while enjoying your hour of free drinks and the live DJ. Unless right on the beach or a rooftop of one of the taller buildings in Kuta, there aren't too many beautiful sunset views to be offered. It certainly adds to the atmosphere and sets a quieter tone at first while you have a few drinks and loosen up for the evening. As patrons of the hotel, you might also take advantage of the rooftop pool and lounge chairs to relax or go for a dip. For anyone with specific tastes for drink, there is a fully stocked bar next to the pool where your regular range of beer, wine and spirits are available.
After the free-flow drinks are over, the kick-off party still has drink options suited to those looking to spare money. With Gilbey's Vodka, Gin, and Whiskey available for 400,000 IDR, splitting a bottle with a friend or two still offers affordable drinks over the night. Just be careful not to overdo it. The bottle also comes with four mixers included in the price. Food is available next to the free-flow bar in a buffet style arrangement. Despite the free drinks earlier in the night, the party really gets started a little later. The music gets turned up, and more people show up for the fun and festivities. With both patrons of the hotel on vacation, and some expats living in Bali present, there's no short of conversation or company. Dance, drink, or even go for a swim on the lower deck of the rooftop or settle down to a conversation on the upper deck where more seating and tables are found in a café/restaurant style.
"Really good turnout here at 101, actually very surprised, they put on a good event." – Dustin Cheatow, Productions Producer/Creative Director, SlamJam.
The music being played is mostly an array of electronic and dance with perhaps some hip-hop tracks mixed in occasionally. With a lack of any sort of committed dance floor, the party is mostly drink and conversationally driven. Get up and shake your tail feathers, if the mood should strike you, but I found myself sitting and talking most of the time. That's not to say that it wasn't enjoyable.
All in all, I had fun at the party. It was a good opportunity to meet people and have a few social drinks. In the heart of Kuta, the 101 hotel offers a more up-scale environment closer resembling Seminyak to Kuta.