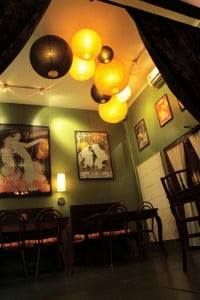 What little French cuisine we have in Jakarta is generally trop cher and requires you to dress to impress, which is where the concept for Coquelicot was born. Non-pretentious, very homely and even borderline kitsch describe this place tucked away in Cipete. The name itself refers to a red poppy that graces the French countryside and on some of the walls a capable artist has left his mark of these bright red beauties.
Now finding this place isn't exactly easy, but Head Chef and Co-Owner, Radian Rahmananta (aka Chef Deddy) intended it that way. "I want it to remain an underground bistro. That's why the sign outside is really small and although we've been around for nearly five years, that sign's only been up for less than one!" At least it's not because they're avoiding their tax payments. "This place is like a house," Chef Deddy tells me. "It's a neighbourhood restaurant with a lot of regular customers who notice inconsistency." Chef Deddy spent eight years in Paris and lives and breathes French cuisine, referring to it as a culture.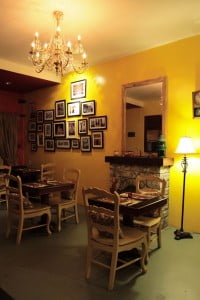 So what do these regulars come here for? Entrees include a very tastySalade au Roquefort avec
pommes et noix (Salad with Roquefort cheese, tomatoes and walnuts), although I would have liked to see this come with another form of lettuce than Iceburg, Quich Lorraine et Quich Norvegienne (self explanatory and with Smoked Salmon), and a must try Consomme de Champignon which is a rich mini-soup of mushroom and cream drizzle with a touch of nutmeg served in an espresso glass. A perfect pre Plat Principal treat.
Mains include Boeuf en Grillade (with the option of Australian rib eye or Australian sirloin), Travers de Boeuf a la Sauce Barbecue (Beef back rib), Volaille (Roast Chicken), Poisson (Fish with the option of Dory or Salmon) and Pates (Pastas from Lasagne and Aglio Olio to creamy sauces). Then Specials include three types of Foie Gras, Fondue Savoyarde (Cheese Fondue) and Fondue Bourguignonne (Beef Fondue), perfect for sharing with a few friends over a bottle of wine. In true French fashion, we sampled the Cheese Fondue which was a blend of Emmental and Gruyere, presented in a heavy red pot and very tasty.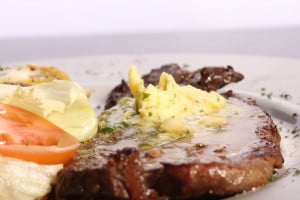 For sweets, you can enjoy Profiterolles, Crepes and a delicious Lemon Creme Brulee with berries. I'm not usually a fan of such a sweet dessert, however this Creme Brulee really was delicious; not too sweet and very light. Apparently the staff here have all gained weight since joining, and with the laid back pace and rich food it's not surprising. Finish up with a delicious coffee (Caswell's own) and if you dine on a Saturday night you'll be entertained by a pianist.
Also entertaining is the decor, a mix of old and new, my favourite being the old Fin de Siécle posters on the walls and also an antique radio. Even the toilet looks like a collectible. You have to visit this place to understand what I mean as photos alone do not do it justice. On the whole Coquelicot is a quaint, relaxing spot to indulge in tasty French cuisine without conceit. Bon appétit!
Coquelicot le Bistro
Jl. Puri Mutiara No. 3B
Cipete 12410
Jakarta
+62 21 7663216