Ending the day with a glass of wine is divine. Whether you're a fan of red or white, the search and curiosity for a splendid quality bottle of wine are always on.
Giotto Castiglioni is an Italian, and yes, he's a wine lover. He claims to be no wine expert but he has pushed the table by developing local wine in the tropics of Bali. Giotto runs his wine business differently, using organic ingredients and eco-friendly packaging. Not to mention, he believes in the philosophy "less is more" making Isola Wine sustainable and delicious. Indonesia Expat had the chance to learn more about Giotto and his unique approach to create wine.
Aiming to bring Balinese wine to a global standard, what is Isola Wine and how does it plan to achieve that goal?
Isola Wine is a new Balinese wine brand created by Cantine Balita. We started our mission with one goal in mind: quality. We started with where the wine comes from and the grapes. We've even developed new grape varieties, all grown in the Buleleng coast of North Bali by creating a brand-new agronomy program specialising in studies on the tropical environment of the island. This means that the grapes produced are of comparable quality to the ones grown in famous wine-making countries in the world.
From that, we moved on to the actual winemaking to maintain our philosophy of "quality first." We decided to follow the European Regulations and Guidelines for organic wine; that's what we have been doing so far. The next step will be to present and introduce our project to international wine countries and bring Bali onto the wine map of the world.
Have there been any challenges to developing wine from scratch in Bali?
Yes, many! The most wide-ranging and unexpected challenges started with ourselves, having to understand how to develop the grapes and make the wine, then training the farmers how to maintain the quality, surviving at the beginning, being such a small boutique winery, and then the fact that we had issues to convince the market that such a project was even possible. But that's what we're looking for. We were not wine experts when we started this project, we couldn't have been. Our project was considered impossible and suicidal from all of the traditional wine experts; we are becoming tropical wine experts, a brand-new field in the wine sector, and we're doing that by solving every problem that comes at us. The bigger the problem, the bigger the opportunity is!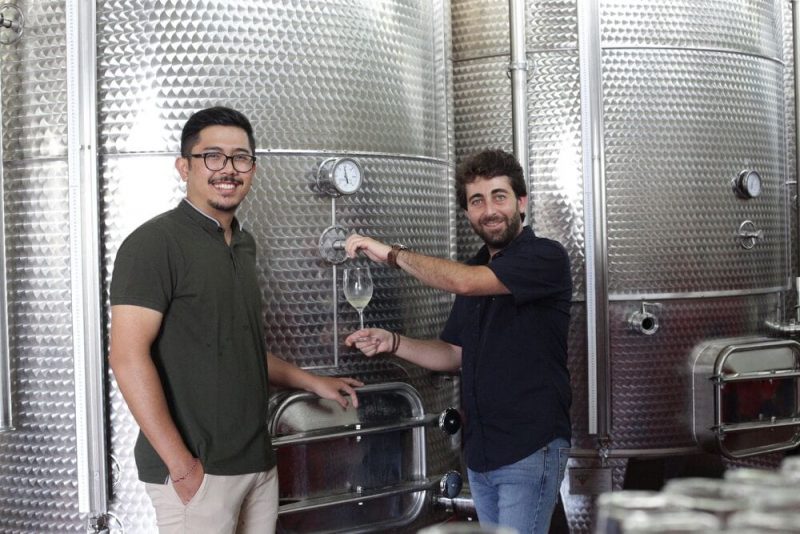 There are a variety of local wine brands in Indonesia. So what makes Isola Wine different?
You have to try the wines to understand. We plan to elevate the reputation and knowledge of Balinese wines not just in Indonesia, but worldwide. We are very proud to be a 100 percent Balinese wine and eager to help promote tourism in Buleleng.
Are there any adjustments the company had to make to face the "new normal" in Bali?
Yes – with any changes in the market, like during the Mount Agung eruptions and the earthquake in Lombok. Never saw one as big as this but no one did. Our first thought was on our employees and ways to guarantee their jobs and payrolls as the market has changed and our sales had to switch from restaurants and hotels to private and retails so we can survive while many of our clients are still shut. But I try to stay positive and focus our efforts on a long-term vision. Surviving this crisis will make us stronger.
From your perspective, how has Indonesia been in terms of saving the planet?
In all honesty, even though there have been quite a few organisations that are trying their best – there aren't many.
How does Isola Wine help the environment – perhaps any sustainability efforts or programs you've established?
We believe in deglobalisation. Quality wine can be made here if you have a vision and put in some effort, as can any product you could imagine such as agricultural products, cheeses, motorbikes, and services. Transporting products all around the world before they are consumed is not ideal for the planet.
Then, we are addressing the issue of people. Being able to produce fewer grapes per hectare and less time per year so it will be of a certain quality, making the farmers earn more than before, work less, and overall have better knowledge and philosophy regarding the quality in agronomy are our goals. We also try to transform our waste in fertilisers for the vineyard and we use an environmental-friendly paper label on our bottles.
Why is it important for Isola Wine to use organic ingredients?
For the quality of our product. We are a boutique winery, really small if you compare it to all the other local wine producers. Not being in the mass market allows us to concentrate on the quality only. Going organic simply means putting much less and much better additives in during the winemaking process. This means a better taste.
Walk us through the typical development of a bottle of wine from farming the grapes and packaging it, to shipment.
It takes one and a half to two years to plant and produce the grapes' first harvest. After the harvesting, we transport the grapes to the winery where we crush them and start the fermentation process for about a week. Then, everything is pressed out and it starts the long conservation period that lasts between eight to 12 months, depending on the wine. Gradually, the wine will be bottled and stored for about two to three months until it stabilises inside the bottle and finally gets shipped out from the factory upon requests from distributors.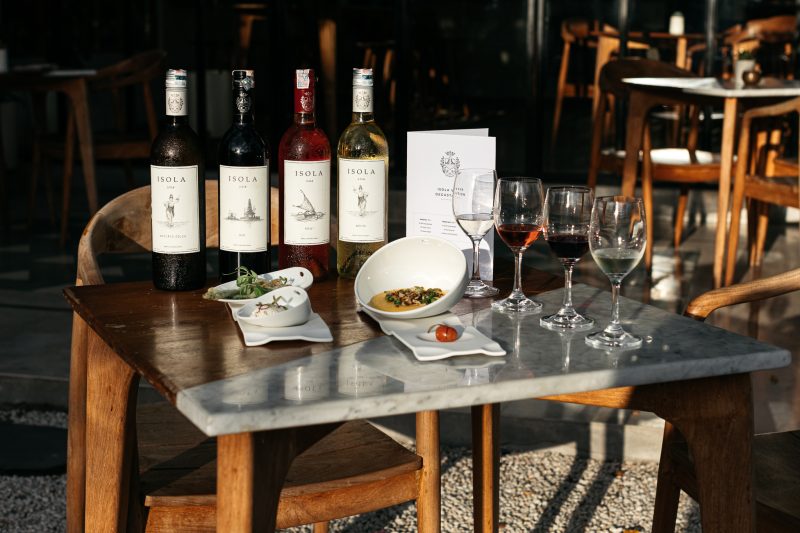 Where can a wine connoisseur get their hands on Isola Wine's products? How can they become more sustainable by purchasing the products?
Think global and drink local for a sustainable philosophy! For Bali, we provide free home delivery through our website, isolawine.com, and we can ship across Indonesia for any private requests. For Eureka, the wines are now being distributed by PT. PAN all around Indonesia and are available at almost any retailers still open in Bali and Jakarta.
Moving on to you, Giotto. Please tell us about yourself.
I'm a young entrepreneur specialised in management and marketing strategy. My main philosophies are "less is more" and "problems equal opportunity". I've been to Bali since 2012 and I started to think about the project in 2013.
Why did you decide to develop wine in Bali and not in Italy?
Because doing it in Italy for me was a crazy thing. I wanted to do something new, fun, challenging, that's never been done before, and full of opportunities. Starting a wine company in Italy was never in my mind as it didn't check within that parameter. Doing it here in Bali did – some with double checks!
Being an Italian, you sure do know your wine. What do you wish consumers would consider when they take a sip of wine?
It's true; I do love wine and I am Italian. But I'm 34 and have never been in the wine business before Bali so I guess that doesn't make me a wine expert, just a lover! For me, it's not about a glass; it's all about a bottle and the next bottle. It's about how wine makes you feel as nothing else gives the same effect whilst tasting so good. That's why we started. We wanted to make a Balinese wine that when you drink more, you'll want more of it.
Personally, how do you contribute to help the environment?
By trying as hard as I can to not make the situation even worse. I do what should be done such as recycling, choosing sustainable products, and trying to pass my thoughts to the people around me.
It would be nice to develop a new project in the renewable energy sector since I believe that it is the key doing something concrete to reverse the damage made to the planet and to satisfy the need of both developed countries and most importantly, developing countries.
Thank you for your time, Giotto! Stay safe and healthy.