Would I summon the nerve to barge uninvited into the Soviet Embassy, to plead – not for asylum – but for rye bread?
The plan was to walk into the Russian Embassy and ask whether any of the diplomats' wives made heavy bread, and if so, whether I could plead with them to sell me an extra loaf. Having arrived here in 1988, I pursued my first order of survival: Locate. Black. Bread.
For without my vollkornbrot, pumpernickel, kraftkorn, dark rye or nine-grain bread I knew I would pine away, miserable and forlorn. The country's simple explanation is that food – and bread specifically – is a very serious business.
I decided against approaching the Russians.
I had already experienced one 'false dawn' when I first spotted Holland Bakery – the one with the kitsch windmill turning lazily on the roof. Five hundred varieties of white flour, sugary, gooshy and mostly tasteless buns, loaves, rolls and cakes, and not a sign of anything natural. A colossal disappointment.
Kem Chicks
Jl. Kemang Raya no. 3-5, Jakarta. Tel. (021) 71790065
Also a branch in the basement of Pacific Place (Sudirman Central Business District, just off Semanggi cloverleaf).
Eventually I discovered Vineth Bakery breads, sold along with other bakery items in Kem Chicks, Jakarta's oldest expatriate-oriented market. Most were tasteless white-flour numbers, but there was a handsome Pain de Campagne, an acceptable sourdough and what then was the best kraftkorn in Jakarta. "No!" I commanded the daffy young thing heading for the slicer, "Please don't cut up that nice loaf!" Where I come from we break bread.
Kem Chicks, along with Grand Lucky, also sells Lees Bakery products, including a lovely packet of raisin rye slices which would complement a kaffeeklatsch; their other breads, including kraftkorn and multi-grain bread, are also reasonably wholesome.
Vineth Bakery
Jl. Panglima Polim Raya No. 63-65, Kebayoran Baru, Jakarta.
You'll note from the website photo of its near-empty shelves that Vineth, located in a rundown building at the corner of Jl. Barito, is quite popular, so get there early to buy bread.
CONSUMER ALERT: There are also occasions when certain bakeries and supermarkets try to palm off day-old bread as 'fresh', but a true bread-lover will demur. Does the loaf have that fresh aroma? What if I give it a gentle squeeze (which of course you cannot do if the bread is hiding on a shelf behind a bored-looking girl)?
Home again. I park the motorcycle in front of Blacky's Image Lounge and prepare to have a sesame butter, avocado and honey kraftkorn spread. My local friends peer doubtfully at its rough texture and dark colour – they're always curious about my strange foods.
"Oh, can I try a little?"
Reluctantly, I slice off a thin bit of kraftkorn and pass it to Budi.
Budi makes a face. "It's hard."
Rudi tries a bite.
"It's not even sweet. Tasteless."
"Yes," I nod vigorously, anxious to add to their dismay. "I told you, you wouldn't like it. It's European punishment food. From the war, you know."
I thought I'd succeeded in discouraging them, but the next time I bring home a Rp.50,000 loaf they're laying in wait for me.
"Say, this is actually pretty good, especially when you cover it up with strawberry jam."
There goes my investment.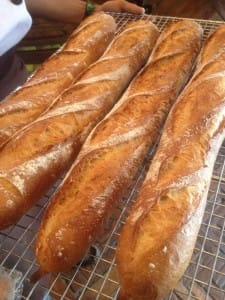 Animo Bread Culture
No. 69 Jl. Kemang Raya. Tel. +62 (021) 719 2681
I will open my odyssey to modern Jakarta bakeries with a spoiler: Animo is the clear winner.
This charming coffee house features a cornucopia of freshly-baked pastries, rolls and breads; celestial aromas greet you if you visit late morning, and you can enjoy hot bread, fresh from the oven.
Passion for baking is Animo's motivation, and owners Muhammad Abgari, aka Agam, and his wife Fasty Adriani Putri founded Animo based on their love for fine bread.
I happened to show up before noon, just as loaves were issuing forth from the oven. The aroma told the tale: an aromatic almond cranberry roll, with just the right degree of crispness in the crust, a fresh French baguette, its flaked tan surface covering an airy, delicious interior, and a walnut raisin bread which is not only textured and tasty but at Rp.50,000 a loaf, one of the best bargains in Jakarta.
Outside, tables on a covered veranda are 'smoker-friendly'.
Animo Bread Culture also features baking classes for enterprising hausfrau.
NOTE FOR BARGAIN BETTYS: Drop by Animo after 18.00 for a "buy one – get one free" deal on the day's leftover breads, rolls and pastries.
La Boulangerie Authentique
Jl. Kemang Selatan 1, No. 2c, Jakarta. Tel. (021) 718 0011
While there are just three tables and several high stools (filled with patrons – mostly expats – during my short visit) the place offers an opulence of pastries, tarts, cakes and breads. Their busy kitchen also turns out quiches, salads, sandwiches and baguettes.
Intercontinental Jakarta MidPlaza Hotel
Jalan Jenderal Sudirman, Kav 10-11, Jakarta Tel. (021) 251 0888
Some Jakarta 5-star hotels have European or European-trained pastry chefs, so they can bake decent whole-grain (vollkorn) breads. "The Deli", located in the basement of the Jakarta Intercontinental, behind the gloomy Mid-Plaza Building, has a fine selection. From their website: "A stylish delicatessen for a quick bite, offering gourmet sandwiches, garden fresh salads, homemade breads and a scrumptious array of cakes."
Their heavy rye is fragrant and delightful, and you can special order a formidable weighty block of pumpernickel that I nicknamed "plutonium bread". (I'm told that German farmers will crumble up pumpernickel in water and feed it to sick cows, which is an interesting folk-cure.) Pumpernickel is notably rich in fibre, B vitamins and protein.
Prices are appropriately OUCH-worthy, as befits a 5-star joint, but if you get there after 19.00 you can pick up the day's unsold items at 50% off.
Don't let the high prices of these breads fool you. One or two slices and you will feel like you've eaten a complete meal.
Yaudah Bistro
Jl. Johar No. 15, Kebon Sirih, Menteng, Jakarta. Tel. (021) 3314 0343
The Bistro bakes its own European breads: there's a light bauenbrot, a goldkorn and rolls. A superb walnut raisin is available by special order, at Rp.90,000/each.