Nespresso Professional introduced a large-scale coffee machine known as Aguila 440 to the food and beverage and hospitality industry through the annual Food & Hotel Indonesia exhibition (FHI 2023).
"Being a coffee machine and capsule company that has been trusted by millions of users both at home and in the professional environment, Nespresso continues to innovate to create a range of products that can support coffee lovers, including food, office and hotel business owners in Indonesia," stated Mark Senior as the Vice President of Kanmo Group, the official distributor of Nespresso in Indonesia.
The prestigious exhibition is taking place at the Jakarta International Expo on 25-28th July 2023. According to Senior,  having Nespresso Professional at FHI 2023 is categorised as a forum for bringing business people of all sizes together to the best range of coffee machines that are easy to use, without sacrificing the quality and taste offered by Nespresso.
For the first time in Indonesia, this machine is the best in its class with the latest technology in providing a cup of delicious coffee for food and hospitality business customers in Indonesia. Combining design, quality and professional performance in a compact machine, the Aguila 440 is ideal for businesses of all sizes as it meets the needs of the most demanding businesses. Having an informative display screen, users can make coffee with automatic instructions, and regular and periodic maintenance.
Due to its high-class technology, it can brew a cup of coffee with unrivalled quality, making it the best supporting tool for high-volume businesses because it can produce up to 300 cups of coffee every hour. Anyone can create hot and cold drinks according to their own preference, without the need of being a professional barista by simply a touch of a button. Four extraction heads on both sides of the machine and a pressure of 19-bar allow users to easily make a cup of coffee, including ristretto, espresso, lungo, and 16 other different varieties such as cappuccino, cafe latte, and latte macchiato.
To be able to provide experience and feel the sophistication of the Aguila 440 machine, Nespresso Professional provides sampling activities with chocolate pairing and brewed coffee.
"We want to provide a luxurious Nespresso-style coffee experience to demonstrate the enjoyment we offer. By providing a Grand Cru or superior standard coffee experience, prospective Nespresso Professional users can understand the importance of having a high-scale coffee machine for the needs of the hotel, food and beverage business, or offices," said Pramavita Swissia, the Manager of Nespresso B2B in Jakarta.
Sustainable Coffee Supply Chain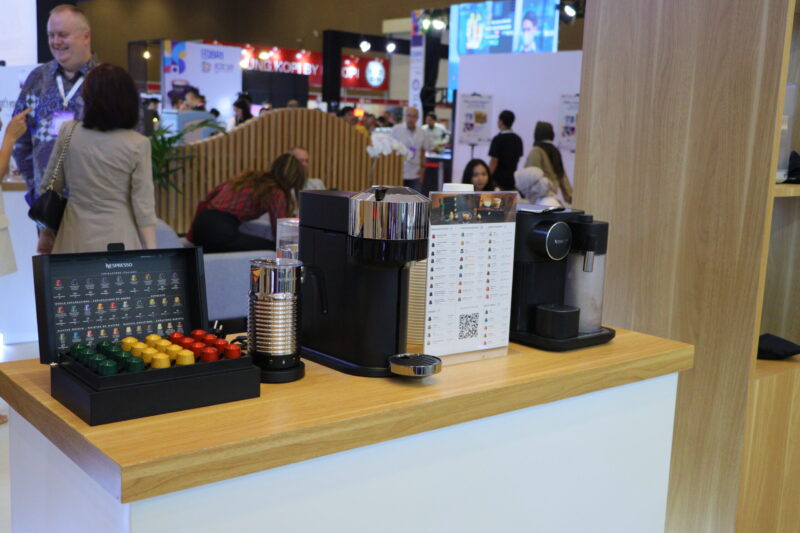 Nespresso Professional also carries out the company's commitment to supporting a sustainable coffee supply chain. Like Nespresso capsules, users of Nespresso's professional machines can also contribute to preserving nature. The flat capsules used for professional coffee machines are fully recyclable.
Each capsule that has been used can be entrusted to the Nespresso team during regular deliveries. Then, the aluminium used in the capsule will be recycled into other aluminium products. Visitors to the Nespresso Professional booth at FHI 2023 can visit the sustainability corner to see examples of products made from aluminium made from Nespresso coffee capsules. Apart from this, the coffee that has been used will also be recycled into compost for the coffee farmers.
Nespresso has collaborated with the non-profit organisation Rainforest Alliance to form the AAA Sustainable QualityTM Program to increase the quantity and quality of coffee yields while protecting the environment and improving the welfare of farming communities. The program's series of training and technological support aims to support small-scale farmers to produce selected high-quality coffee beans using sustainable farming methods.
"We hope that our presence at FHI 2023 can bring hotel, food and beverage and office business owners closer to a series of sophisticated, innovative coffee machines that produce a delicious cup of coffee for their customers," added Senior.
"At Nespresso, we not only prioritise quality, but also exclusive after-sales service so that business owners don't have to worry more about maintaining the coffee machines. We invite business owners to explore the Nespresso Professional installation at FHI 2023 to enjoy the enhanced coffee drinking and brewing experience that is the hallmark of our company."
The Nespresso Professional installation at FHI 2023 opens on 25-28th July 2023 and can be visited at Hall B stand No. 5502 of Jakarta International Expo, Kemayoran.