Hundreds of both local and international companies are taking part in Food & Hotel Indonesia (FHI) 2023, which was officially opened by the Minister of Tourism and Creative Economy, Sandiaga Salahuddin Uno, on Tuesday, 25th July 2023.
Also presenting at the opening of the event was Putu July Ardika as the Director General of Agro-Industry at the Ministry of Industry and Ni Made Ayu Marthini, as the Deputy for Sector Marketing Ministry of Tourism and Creative Economy. This exhibition will take place from 25-28th July 2023 at Jakarta International Expo (JIEXPO), bringing together thousands of entrepreneurs, business people, professionals, suppliers, distributors, consumers and activists in the hospitality, food and beverage sectors in Indonesia.
Juanita Soerakoesoemah, as the Event Director of FHI 2023, in her opening remarks during the FHI Opening Ceremony 2023, together with Hotelex Indonesia and Finefood Indonesia and Retail Indonesia, revealed that FHI became a form of PT Pamerindo Indonesia's support for accelerated growth in the hospitality and F&B industry sustainable in Indonesia.
"Previously, we presented FHI every two years, but now FHI returns and officially becomes the event's annual exhibition after successfully bringing together 32,000 visitors with hundreds of exhibiting companies in 2022. In this 17th edition, FHI 2023 presents business synergies to more than 750 companies consisting of more than 450 local companies and 300 international companies from 30 countries and regions," she said.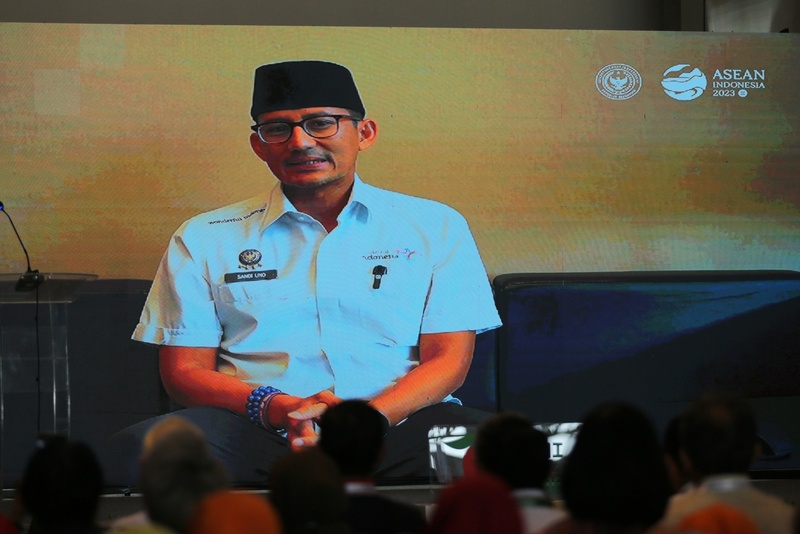 Soerakoesoemah added that FHI is the leading and most comprehensive hospitality and F&B trade exhibition in Southeast Asia as a gateway for business professionals to meet various product and service providers in this industry. "FHI is a momentum to expand the market and increase competitiveness in the global market so that it can advance the domestic industry, especially after the pandemic," she added.
The Ministry of Finance targets national economic growth in 2023 to be in the range of 5.3-5.9 percent, exceeding the 5.2 percent growth target in 2022. Accordingly, revenue in the F&B industry in Indonesia is also projected to achieve an annual growth rate (CAGR 2021-2025) of 10.79 percent, which is expected to generate a market revenue volume of US$4.346 million in 2025. This makes the market in this sector continue to grow and be profitable for foreign investors and companies.
Like the previous events, FHI 2023 presents a variety of domestic and foreign product categories needed by businesses in Indonesia's hotel and F&B industry, starting from bakeries, pastries, gelatos, dairy, food ingredients, frozen foods, halal, vegan, natural and organic, meat, seafood, processed food, snacks and confectionery, coffee, tea, beers, wines, alcohol, food service equipment, food service and technology, hospitality design and supplies, to hospitality technology. In addition, a special pavilion per country is presented which makes it easier for visitors to get access to products and services such as Australia, China, India, Malaysia, South Korea, Taiwan, and the USA.
In supporting business growth, FHI 2023 also presents various supporting events held by various association partners and professional communities in the industry. Soerakoesoemah explained that all those present at FHI 2023 have more opportunities to learn directly from experts as well as make connections with professionals.
Among them, the 13th Salon Culinaire was held again, which is a competition for chefs' culinary skills. International competitions of various categories, organised by collaboration between Association Culinary Professionals Indonesia (ACP) with the Indonesian Pastry Alliance (IPA), as well as  sponsored by Keisi, Rotaryana, and Lotus Food Services. Moreover, there is a special culinary competition called the Wok Competition, which is categorised in Kikkoman Fried Rice and Kikkoman Wok Fried Asian Chicken.
Meanwhile, for chocolate lovers, Spirit of Indonesian Chocolate was presented by IPA and the Indonesia Sommelier Association (ISA), which held a workshop for visitors to discover more about chocolate in Indonesia.
There is also an Asian Pastry  Baking Challenge sponsored by Mega Global Tech and hosted by IPA. President of IPA Rahmat Kusnaedi said that the industry that pastry and baking are currently growing rapidly,  but no worldwide scale competition has ever been held.
Apart from food, FHI 2023 is also enlivened by beverage competitions, namely Indonesia Coffee Events (ICE) by the Specialty Coffee Association of Indonesia (SCAI), Coffee Talk by Indonesian Coffee Council (DEKOPI) and Barnation – a collaborative bartender competition with Indonesian Food & Beverage Executive Association (IFBEC) sponsored by Nano Logistics and Jaddi Internasional.
F&B Innovation Awards will be presented as well. IFBEC Talk Show and Craft to Beer Fest, a Networking Day event for industry practitioners, vendors and suppliers to gather and share ideas while discussing the latest conditions and updates in the beverage industry.
Apart from competitions, FHI 2023 also has various other interesting activities with professionals as the performers included the Gelato Workshop by Carpigiani with famous Gelato chefs such as Chef Louis Tanuhadi, Chef Alessandro Masia, and Chef James Neider. The Wine Masterclass is back with the theme "Cabernet from All Over the World" and "Grape Variety Class and Food Pairing" and Sommelier Competition by ISA.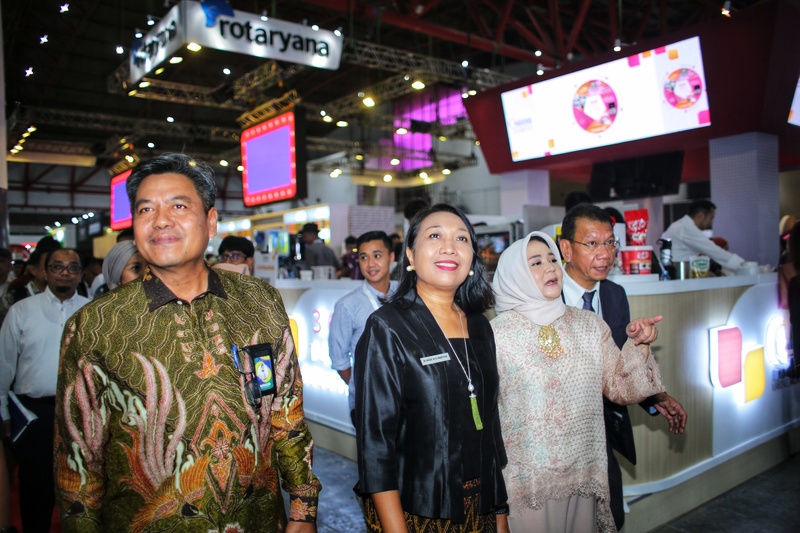 FHI 2023 Marketing Communication Manager, Leonarita Hutama, added that various competitions and the interesting activities presented at FHI 2023 are expected to be able to support the progress of the national industry. "FHI present not only as a trade show event but also as a learning tool for business people and it is hoped that activists in this industry can support sustainable business acceleration," he said.
Hutama mentioned several other associations and institutions in the industry such as the Indonesia Hotel General Manager Association (IHGMA), BULOG and APEDA, ALLAS, BINUS University and LPPOM MUI also joined FHI 2023, which all will present various seminars with interesting topics. Apart from that, FHI itself provides access to business networking through the FHI Business Matching Program, FHI TV Program, and many more.
FHI 2023 and Sustainability
The FHI 2023 exhibition has the theme "Counteract the Environmental Impact Through Sustainability Towards the Global Market" which supports sustainable business growth through innovation to improve access to global markets while accelerating positive impacts on the environment through the sustainability movement.
According to Garna Sobhara Swara, the Chair of IHGMA Jakarta, hotels are instilling environmentally friendly concepts in the future. "The concept (sustainability) has value in a long-term investment that is able to create tourist loyalty, build management reputation, save operational costs, establish relationships with local communities, and being able to foster good management," he explained.
The current trend is that tourists are more interested in choosing hotels that have a consistent commitment to doing environmentally friendly practices by utilising energy-efficient resources based on local products, or those incorporated in the sustainability industry (Ecogreen Hotel, Eco Suites, Green Hotel Association).
Therefore, FHI and IHGMA facilitate discussions regarding knowledge about sustainability in the field of hospitality through the "Accelerate Sustainability in Hotel Operation" seminar as well as "F&B and Hospitality Business to #ZeroWaste Where to Start?".
FHI is ready to become a catalyst for sustainable practices by presenting a variety of products and trademarks that prioritise sustainability and offer products and services that are environmentally friendly.
"We will continue to present exhibiting companies with a future vision that is committed to responsibility environmentally responsible, from organic food suppliers to energy efficient solutions and waste reduction initiatives. FHI will provide a platform to showcase continuous innovations that promote a sustainable future greener in Indonesia's F&B and hospitality industry," concluded Hutama.
Until the opening day took place, FHI 2023 was flooded with thousands of visitors who had pre-online registration for a full four-day entry to the exhibition. The number of visitors is expected to continue to increase bearing in mind that on-site registration for walk-in visitors will continue to be open until the last day of the exhibition on 28th July 2023. These prospective visitors only need to register online at the JIEXPO entrance.
Further information can be accessed via https://www.foodhotelindonesia.com/ and FHI's official Instagram account at @foodhotelindonesia_fhi.