Gluttony is my favourite sin. Indulging in a calorific piece of kobe beef, an extra helping of bacon on your pancakes dripping with maple syrup or the bliss of losing yourself in a moist cake that could make a nun blush are pleasures I will afford to take should judgement day come. By no means am I promoting unhealthy living (too much of anything is bad) but excess in moderation can also be referred to as a treat. With that said, let us continue with places we can be a little naughty – once in a while.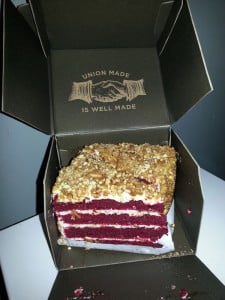 Sweet
Desserts come at the end of a meal and marketed as the optional portion, which is why desserts are synonymous with gluttony. And if you are going to be bad, go all the way with the Red Velvet at Union Brassiere, Bakery & Bar in Plaza Senayan. The Red Velvet at Union is what you want when you are craving cake. Four layers of moist, spongy red cake sandwiched in between cream cheese frosting topped with caramelised nuts. Union has a two slices policy per person for Red Velvet, and if you've had a slice you know why. It's moreish and begs you to finish every last bite even when your stomach says no. If you want more than two slices, you will have to call four days in advance for the magic elves in the kitchen to cook you up an entire cake just for you (you will not want to share it, believe me).
Address: JL. Asia Afrika No. 8 – Central Jakarta Plaza Senayan, 1st Floor Unit Sogo
Phone: (021)5790 5861
The Harvest specialises in European style cakes and pastries. My first introduction to The Harvest was a Christmas basket given to us at work. I chose Ginger Snaps and Chocolate Chip cookies. The Ginger Snaps were lovely, sweet but with that pinch of salt that really highlights all the tastes so sweet doesn't turn saccharin. The Chocolate Chips went down with ease, I prefer the chewier variety although this is a nice crunchy version. Peruse through their cakes, cookies, ice creams and pastries on their website where you can add sloth to your sins with home delivery. They have a variety of cheese cakes to offer you; blueberry, strawberry, mixed fruit and chocolate. I've been told that The Harvest offers "the best cheese cake in Jakarta" because of the authentic creamy, rich cheese filling that it is a must for a true-blue cheese cake. The Chocolate Cheese Cake is on the heavier side but the fruity varieties offer a tamer treat.
Savoury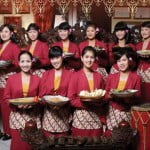 Oasis Restaurant was originally the private residence of a Dutch millionaire and owner of tea, rubber and cinchona estates in 1928, situated in one of the few maintained Dutch colonial buildings that brings the rich past of Old Batavia to modern Jakarta. This elegant and beautiful restaurant also boasts a Rijstaffel menu which is a rarity in Indonesia due to the extravagance in price and quantity; pure gluttony! Rijstaffel means rice table in Dutch. It is Padang food served in an elegant and lavish way and the height of luxury in Colonial Indonesian Cuisine. Impeccably dressed ladies in traditional outfits bring out the expanse of dishes and set the scene that is fit for royalty. Oasis has six types of Rijstaffel menus that change weekly, VIP Menu A and B is priced at Rp. 496.000.-++ per person. Oasis is pricey and grand, but this is not an everyday restaurant; it is a place for celebrations and more than just a meal. It is an event and a showcase of the best Indonesian dishes cooked in the traditional ways without skimping on any ingredients or effort.
http://www.oasisjakarta.com
For the western side of savoury French cuisine is a given. French cuisine is if anything fancy, elegant and opulent. Lyon in the Mandarin Oriental is said to have "the best French food in Jakarta" which I borrow from the words of a hard to please Frenchman. Fine French food is never cheap so taste has to make sense of the price and it certainly does in Lyon. Chef Thierry Le Queau, Executive Chef, has sinfully delicious signature dishes such as Pan-fried Duck Foie Gras, Grilled Lime Caught Yellow Fin Tuna Fillet and Pan Seared sea bass with langoustine. The Grilled Lime Caught Yellow Fin Tuna Fillet is prepared Confit Nocois style, infusing the flavour throughout the tuna, and comes with vegetables and lime zest. The Pan Seared sea bass with langoustine displays the naturally sweet flavours of the dainty lobster and the sea bass pan seared preserving its delicate flavour and flaky texture.
Address: Mandarin Oriental, Jalan M.H. Thamrin, Jakarta 10310, Indonesia | Phone: (021) 2993 8888
Non Halal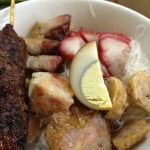 Nasi Campur Kenanga is not your ordinary nasi campur. For pork lovers, Nasi Campur Kenanga is an absolute treat but for those who don't indulge in the other white meat, the options are quite limited. The nasi campur consists of char siu, roast pork, siomay, gohiong and satay accompanied with rice and a bowl of clear broth. The dishes are very reasonably priced and portions are very filling. The winner here is definitely the roast pork, thick juicy cuts with delicious crispy skin. If you're in the area and are looking to satisfy your craving for a delicious plate full of pork and more pork, then head over to Nasi Campur Kenanga and eat to your heart's content. You won't be disappointed!
Address: Grand Wijaya (Jalan Wijaya 2 Blok F/19), Jakarta Selatan, DKI Jakarta | Telephone: (021)7202 967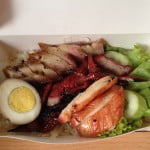 Kaca mata is another pork haven within walking distance from Nasi Campur Kenanga. It offers similar dishes but with more of a Chinese influence. The nasi campur can be ordered with either hainam (fragrant rice infused with ginger, garlic and chicken stock) or white rice and comes with roast pork, chasio (char siu), chicken and boiled egg. The prices are reasonable and portions are quite generous as well. The star of the dish is definitely the chasio garing madu – the combination of crispy and sweet will leave you wanting more.
Address: Grand Wijaya (Jalan Dharmawangsa III Blok C No. 4), Jakarta Selatan, DKI Jakarta | Phone: (021) 723 5228
After Dinner Drinks
After your sweet and savoury, let us explore another side of gluttony with digestifs at Nip & Dram where an impressive collection of whiskeys are available. Single malts are their specialty. Macallan, Laphroaig, Oban and Glenmorangie are to name a few of the popular fine whiskeys on offer. My personal favourite, and known to be best whiskey available in certain circles, is Yamazki 25 year old Japanese whiskey. The smoothness and full flavour is simply superb. Over two ice cubes, just slightly melted, really brings out the sweetness and fragrance this supermodel of a whiskey holds. Yamazaki 12 years is a more affordable but still a fantastic choice which costs Rp. 2,800,000 per bottle. They offer whiskey cocktails as well, if on the rocks and straight are not to your taste.
Address: The Landmark Centre II, Jl. Jend. Sudirman No. 1, Ground Floor, Jakarta | Telephone: (021) 5790 3991
Coming Soon…
Altitude at The Plaza by Luke Mangan is soon to be opening its doors. Altitude will be serving Australian contemporary cuisine. A cool 46 floors high and a promise of excellence from Luke's reputation of restaurants that can be found in Australia, Japan, Singapore and even on the Pacific Jewel, Pacific Dawn and Pacific Pearl ships of P&O Cruises makes Altitude a very welcome addition into the food scene in Jakarta. It cannot be confirmed yet, but I do believe empirical evidence will prove Altitude to be a popular place to eat as if it's your last supper.
http://www.lukemangan.com/restaurants/salt-grill-jakarta