Bali is famous for its stunning beaches, rich history, and vibrant culture. However, what sets the island apart from other tourist destinations is its unique cuisine.
A blend of Indonesian and Indian cuisine with a touch of Chinese and European influences, the food in Bali is characterised by its strong flavours, aromatic spices, and fresh ingredients. Balinese cuisine is diverse, and it varies from region to region on the island. In this blog, we will explore the variety of Balinese cuisine in more detail.
Nasi Campur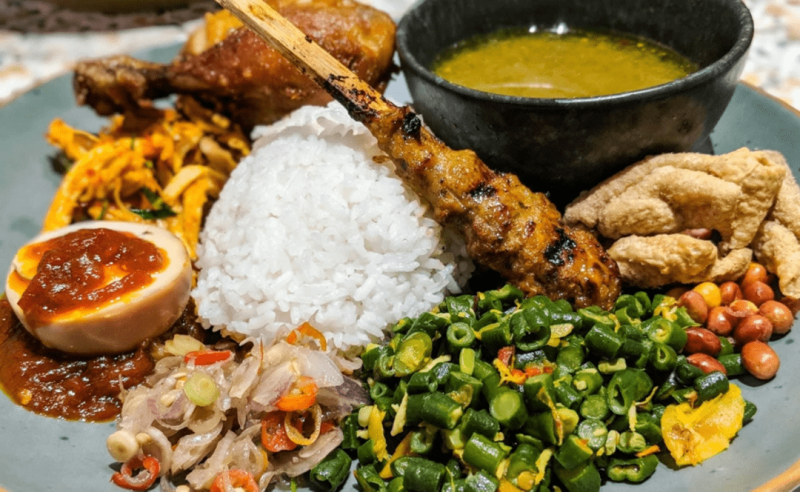 One of the most popular dishes in Bali is Nasi Campur. The dish consists of a bed of steamed rice topped with various side dishes, including vegetables, meats, and sometimes seafood. The side dishes can vary depending on the region, but some of the common ones include fried tempeh, tofu, chicken, beef, and fish.
One of the best places to try nasi campur is at Warung Wardani, located in Denpasar. This small restaurant has been serving Nasi Campur for over 30 years, and it has become a favourite among locals and tourists alike. The dish is served with a variety of side dishes, including chicken, tofu, vegetables, and a spicy sambal sauce.
Babi Guling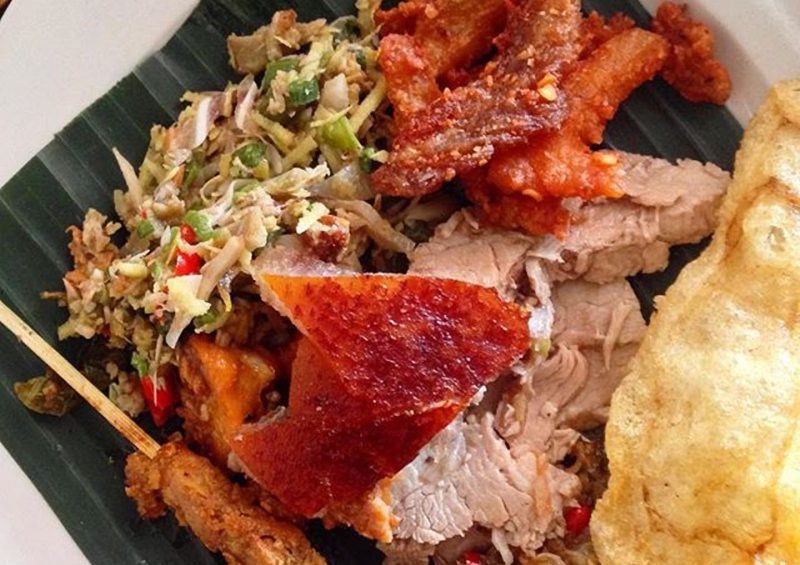 This famous traditional Balinese dish is often served during celebrations and special occasions. Babi Guling is made by roasting a whole pig on a spit over an open flame. The pig is stuffed with a mixture of spices, including garlic, turmeric, ginger, and lemongrass, giving it a unique flavour. It is usually served with steamed rice, vegetables, and a spicy sauce.
If you're a fan of pork, why not try babi guling at Ibu Oka, located in Ubud? The small warung (local eatery) has gained a reputation for serving some of the best babi guling in Bali. The dish is usually served with rice, spicy vegetables, and a variety of condiments such as crispy pork skin. Just be prepared for a potentially long queue, as the warung can get quite crowded during peak hours.
Lawar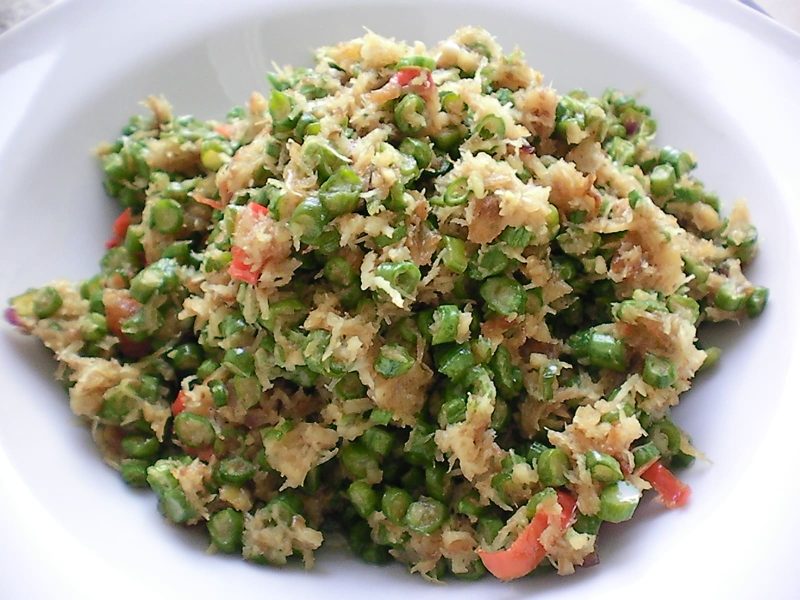 Lawar is a popular Balinese salad that is made with a mixture of chopped vegetables, grated coconut, and minced meat or seafood. The dish is often served with steamed rice and is seasoned with a blend of spices, including chilli, garlic, and shrimp paste. Lawar is available in different varieties, depending on the type of meat or seafood used.
One of the best places to try lawar is at Warung Mina, located in Sanur. Serving lawar for over 40 years, the restaurant is a calm and comfortable venue with a varied food menu suitable for a get-together with family. The dish is available in different varieties, including Lawar Ayam (chicken lawar), Lawar Kambing (goat lawar), and Lawar Udang (shrimp lawar). 
Sate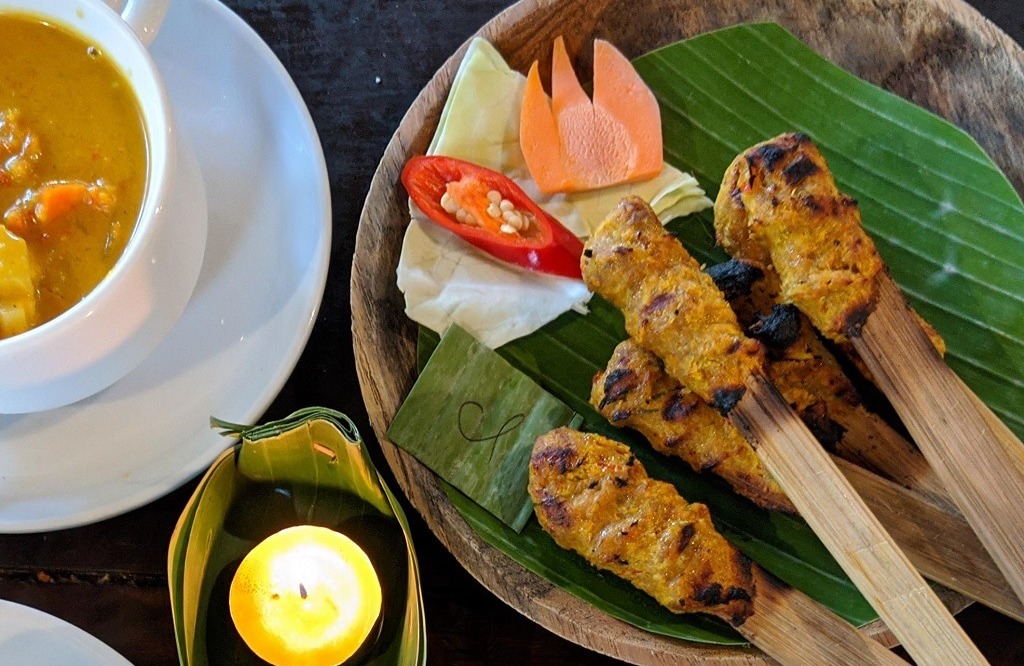 Sate, or Satay, is a popular Indonesian and Balinese dish that consists of skewered meat that is grilled or barbecued. The meat can be chicken, beef, pork, or even goat, and it is marinated in a mixture of spices and herbs, including turmeric, coriander, and lemongrass. Sate is usually served with peanut sauce and steamed rice.
One of the best places to try sate is at Warung Sate Plecing Arjuna, located in Denpasar. The local dish is served with a variety of meats, including chicken, beef, and pork, and it is grilled to perfection. The peanut sauce is made with roasted peanuts, chilli, garlic, and other spices, giving it a spicy and savoury flavour.
Bebek Betutu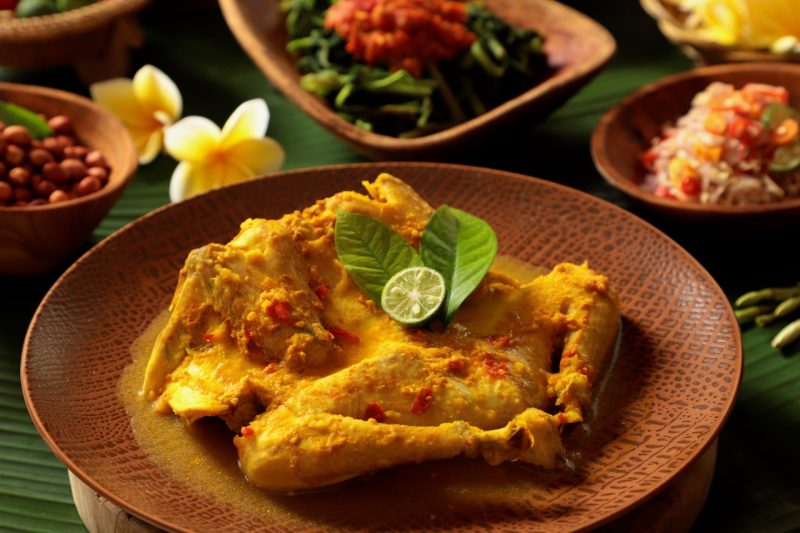 A traditional Balinese dish made with a whole duck that is marinated in a mixture of spices, including turmeric, garlic, ginger, and chilli, and then wrapped in banana leaves and roasted for several hours. The slow roasting process ensures that the meat is tender and flavourful. Bebek betutu is often served with steamed rice and a side of vegetables.
One of the best places to try bebek betutu is at Warung Bebek Betutu Pak Sanur, located in Sanur. The restaurant is a must-visit for those who want to experience traditional Balinese cuisine. The place is crowded and it is quickly sold out. Tables and seats are modest, but that is not important because you'll forget all of those once your food arrives.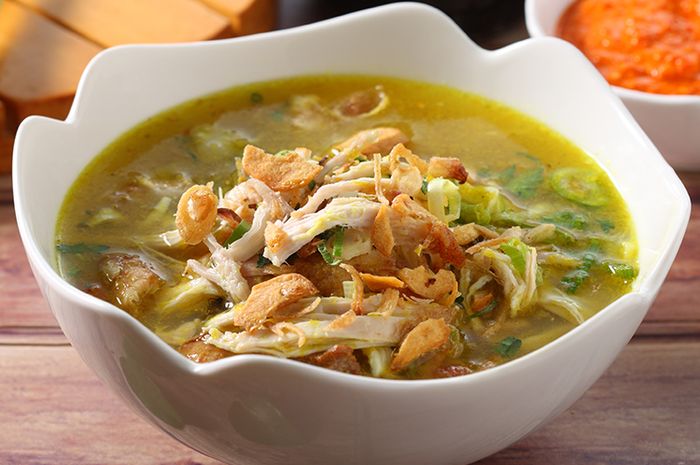 Soto Ayam
Soto ayam is a popular Indonesian soup that is made with chicken broth, rice noodles, shredded chicken, and a variety of herbs and spices, including lemongrass, garlic, and ginger. The soup is often served with a boiled egg, fried onions, and crispy crackers.
One of the best places to try soto ayam is at Warung Soto Ayam Madiun Pak H. Sadi. This popular eatery is located in Seminyak and is known for its delicious Soto Ayam Madiun, which is a version of the dish that originated from Madiun city in East Java. 
Sambal Matah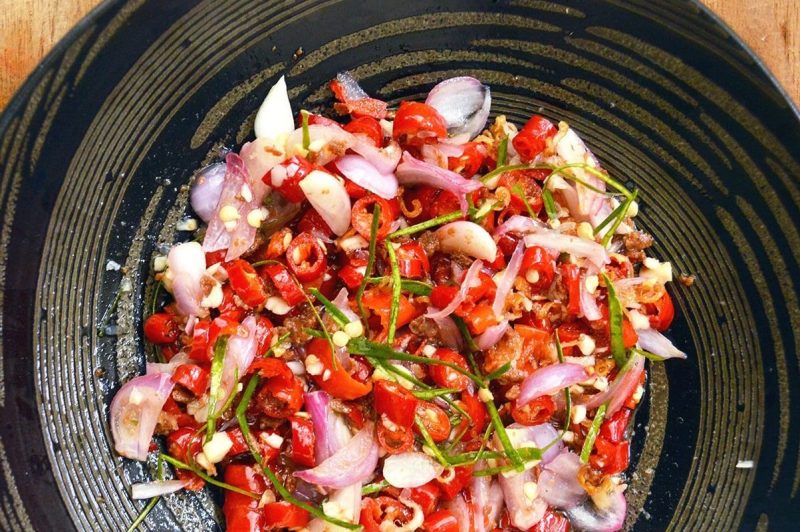 Sambal matah is a popular Balinese condiment known for its fresh and vibrant flavours. It is made from a combination of finely chopped shallots, lemongrass, chilli peppers, kaffir lime leaves, and shrimp paste, mixed with a drizzle of lime juice and a sprinkle of salt. The result is a sweet, sour, and spicy sauce that is perfect for pairing with grilled or roasted meats, such as chicken or pork.
The shallots provide a sweet and slightly crunchy texture, while the lemongrass and kaffir lime leaves add a citrusy flavour and aroma. The chilli peppers provide a spicy kick, and the shrimp paste adds a rich umami flavour to the sauce.
Balinese Fruits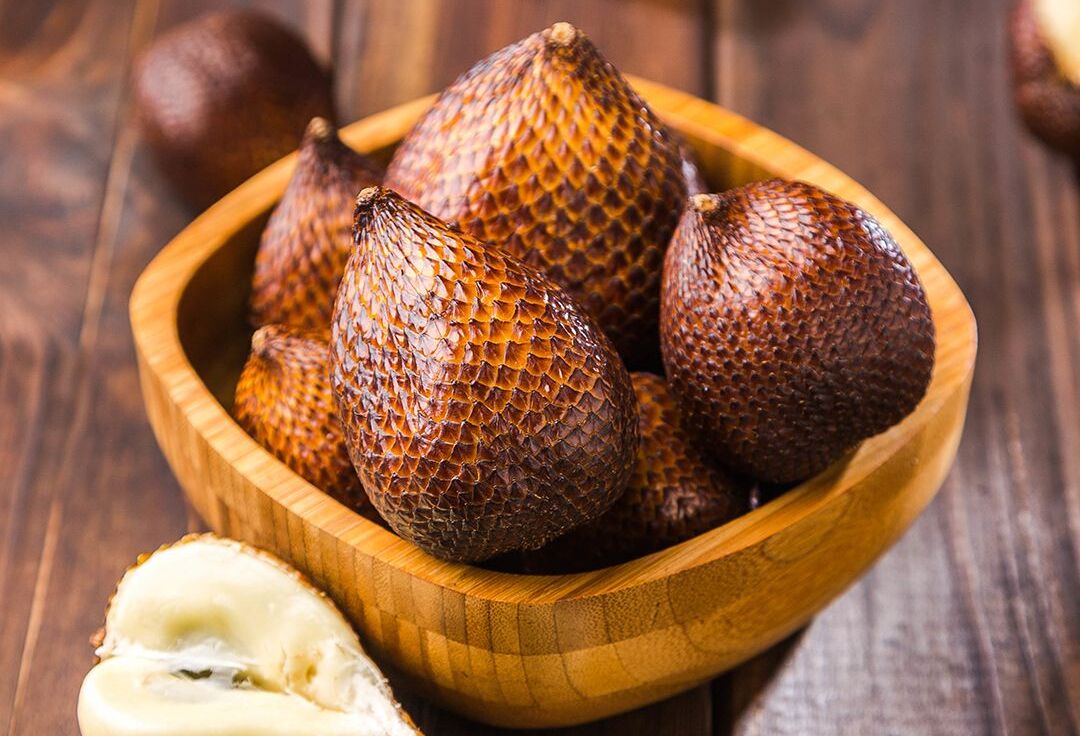 Balinese fruits are known for their unique and exotic flavours. Some of the most popular fruits found in Bali include mangosteen, rambutan, durian, and salak (snake fruit). Mangosteen is a sweet and tangy fruit with soft white flesh, while rambutan is a spiky red fruit with sweet and juicy flesh.
Durian is a pungent fruit with creamy and custardy flesh, and snake fruit has a crunchy texture and a slightly sweet taste. Salak, also known as snake fruit, has a rough, scaly skin and a sweet, slightly acidic flavour.
Whether you are a local or a tourist, exploring the various dishes of Balinese cuisine is a must. It is a unique culinary experience that will leave you wanting more. So, if you are planning a trip to Bali, make sure to try some traditional dishes and experience the true taste of Balinese cuisine.