Colonial Cuisine & Molecular in South Jakarta is the epitome of contrast: old classics jazzed up by new techniques; antiquated interiors offset with cutting-edge mixology, and a chef at the helm who isn't afraid to mix it up. 
It was a fiercely stormy night when we visited Colonial Cuisine & Molecular in Lippo Mall, Kemang. The wind threw lashings of rain in sheets against the tall buildings, which bore multiple lightning strikes throughout the course of dinner. The electric atmosphere enhanced the darkly sophisticated surroundings of the restaurant, and deterred none of the guests on the covered terrace outside.
In stark contrast, the big, ready smile of Chef Zulkamain Dahlan warmly welcomed us to our seats. Chef Zul, as he is known, cut his teeth partly in Jakarta but most notably at Joël Robuchon Restaurant in Singapore. It is clear his love of French cooking, as well as innovation in cuisine, comes from this experience. He is now dedicated to bringing this passion to Indonesia.
Looking around, the décor suggests nostalgia via modern sensibilities: tongue-in-cheek bowler hats on the staff; framed faux-antiques and doily-like tablecloths give it enough chichi to pass muster for even the fussiest of Jakartan hipsters. The showstopper is the chemistry lab on the bar: bells, whistles and test tubes are tinkered with by achingly cool mixologists, who can turn a margarita into a sphere of delicious drunken jelly at the drop of a hat (OK, in 20 minutes – but this is molecular mixology, after all!).
This supremely 21st-century effort juxtaposed against the interior's 'colonial' charm is the harbinger of the restaurant's overarching themes: divergence and experimentation – something we discovered was thoroughly recognisable in the food.
We needed little persuasion from Chef Zul to try his Escargot à la Bourguignonne (Rp.120,000), whilst deliberating over the carefully-constructed menu. Two dozen snails is a generous portion for sharing, but the presentation was spot on in a piping-hot, authentic terracotta snail dish – imported along with the escargots. They were beautifully soft, and less garlicky than others I've had in the city; which was not necessarily a bad thing. But this dish, unique amongst the starters we tried, was a straightforward French classic – no sign of experimentation here: just successful execution.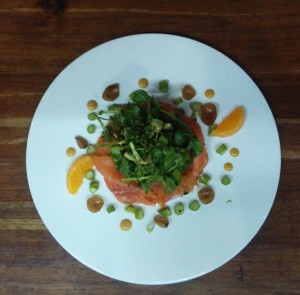 Chef Zul changes his menu frequently, but each time assiduously preserves a certain element of surprise in his creations. A great example was one of our starters, a new menu item: Prawn & Crab Daikon Ravioli (Rp.110,000). This was an open-faced 'ravioli' in which the pasta was replaced by perfect discs of sweet, miso- and soy-marinated daikon. The use of a humble Asian veg contrasted against a fine, creamy remoulade of crab and shrimp meat is exactly the type of nuance Chef Zul is building his reputation on. The dish worked very well.
Alongside this we also enjoyed the Homemade Norwegian Smoked Salmon (Rp.110,000). This was simple, yet slightly elevated above your usual smoked salmon starter. It is smoked in-house, and came with sliced urap and a honey-mustard dressing on tangy watercress – interesting.
So far, the Plats Spéciaux section of the menu delivered on taste, so we continued the successful streak with Chef's Zul recommendation of his Confit de Cuisse Canard (homemade French duck leg confit, Rp.195,000). He was – rightly so – proud of this dish. A lovingly, painstakingly prepared confit is a beautiful thing and this one was up to scratch. Chef Zul's flair for the unexpected came through again in the tamarind-apple coulis that adorned the dish.
Chef Zul loves to sous-vide things. For the uninitiated, this technique involves sealing whatever it is you're preparing in an airtight bag, which is then gently cooked in a water bath at a low temperature for a long time, before final preparation – for example, chargrilling, if it's a piece of meat. The end result should be a tenderer, evenly-cooked item. Our Pan-Seared Australian Tenderloin 180g Sous-Vide (Rp.315,000) was exactly that – soft and perfect on the inside, but without sacrificing any of the flavour on the outside. Highly recommended.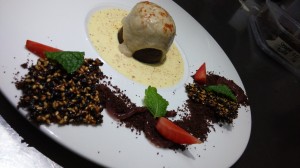 Even the desserts got in on the water bath action. A crème brûlée (Rp.75,000) was served wittily in a little mason jar, having been subjected to the sous-vide system beforehand. I confess, I'm not quite sure exactly what the treatment did for this dessert, but it was a decent crème brûlée nonetheless and we had no complaints wolfing it down.
Desserts at Colonial seemingly afford the kitchen the chance to be even more creative, evident in the Valrhona Manjari Chocolate Fondant (Rp.90,000). This was almost like a science project: a little chocolate volcano surrounded by 'choco soil', strawberry 'worms', crackly sesame tuille and a warm turmeric crème anglaise. Admittedly there's a lot going on here, both visually and on the palate, but the fondant was good, as was the soil, and top marks must be awarded for ingenuity.
It is pleasing to see a local talent like Chef Zul given the chance to really explore the bounds of his creativity and have his voice expressed to the local market. The themes of old versus new; familiar versus fresh, and even West versus East are all ably matched by Colonial's competent cooking and service, and agreeable atmosphere.
All in all, a pleasing little package. I will be interested to watch how the restaurant continues to fare in future.
—
Colonial Cuisine & Molecular
Lippo Mall Kemang, Avenue of the Stars, UG-OD-11, Kemang Village, Jakarta 12730
+62 (0) 21 2905 6891, www.colonial-jakarta.com