Annali Hayward endured hours staring into her husband's eyes to bring you our definitive list of Indonesia's most romantic restaurants. Pick one of these and you're golden for another year.
TOP PICK: Emilie Restaurant
Jl. Senopati 39, Kebayoran Baru, Jakarta 12910
T: +62 (0)21 5213626
Warning, big statement: Mr. Yen at Emilie may just achieve the highest standard of cuisine in Jakarta today. If any Michelin inspectors accidentally found themselves this far south of Singapore, they'd make a beeline for this place and immediately grant what he deserves.
Simply put, he knows what he's doing and executes it flawlessly.
Not for him, the inexplicable stacks of mismatched ingredients with artistic dribbles of sauce-on-a-slate in the name of modernity – a malaise now tainting even these shores. Instead, Emilie serves considered, well-balanced, original dishes. It's French, but this is not 'French classic with a twist'—a shudder-inducing menu descriptor if ever I saw one—it's better than that.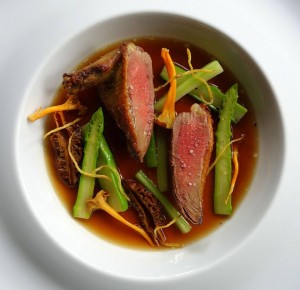 We started with Hokkaido scallops which were—hallelujah!—perfect to the millisecond, with crayfish and local baby beetroots on a sea-urchin royale. A delight on both plate and palate. The classic Provençale snails in garlic butter were tastily tender, not at all the little bullets you get at the hands of lesser mortals. These, along with the orange-infused crème brûlée for dessert, proved the kitchen's ability to stay true-to-form with French classics.
Do me a favour, order something different for your main here; don't plump for the de rigeur steak—though undoubtedly divine—when there is pigeon, duck and lamb on offer. The herb-crusted lamb saddle was one of the most well-conceived dishes I've tasted recently. Every element, from the Romanesque cauliflower (a real find here) to the fondant potato, layered beautifully over the garlicky-mint flavours. The pigeon was superb in its consommé of smoked pigeon stock, fennel and a hint of cumin. Just the right side of unusual for the Jakarta dining scene and I urge you to try it – it even came with a delicious surprise: a whole confit pigeon leg.
When customs are cooperating there is excellent cheese to savour. Besides the crème brûlée we sampled a perfect, authentic tarte au citron, alongside a selection from the luxury teas and coffees on offer.
The extensive wine list is by region (even the Champagne), and is quite rightly geared to the Old World. By the glass the quality is better than most and the price reasonable.
Although Emilie is just one standalone restaurant, service here is of a standard to comfortably compete with the top hotels and bigger restaurant groups of Jakarta. The Jaya Ibrahim décor creates an intimate, sophisticated atmosphere perfect for your tête-à-tête.
ROMANCE-O-METER: 

GO FOR: The fantastic food
________________________________
Château Blanc
Jl. Senopati Raya No. 38, Kebayoran Baru, Jakarta 12930
T: +62 (0)21 7229738
The fine-dining jewel in the Mount Scopus Group's crown, Château Blanc approaches French cuisine differently. Here, the opulent Louis-XV décor does a lot of the talking: gold, silver, brocade, candles, flowers and marble abound. The designers spared no expense, and with Georges Brassens and Edith Piaf crooning in the background, this unmistakeably Gallic ambience is tailor-made for l'amour.
Chef Ivan Tarrago is actually from Barcelona, and I think he'd agree there's a Mediterranean influence in his menu, which utilises both classic and modern French techniques. I also detected the faintest nod to Asian ingredients and tastes. Take, for example, one of our main courses, Atlantic scallops: these were speared with Flores vanilla pods, which pleasingly did not overpower the saffron risotto cake and green-pea velouté.
First was a superb asparagus gazpacho, with gorgonzola sorbet stirred in – very refreshing. Next, perfectly al dente ravioli stuffed with a surprisingly sweet corn filling, complemented by black-truffle butter and parmesan foam. These two dishes display that Mediterranean flair – gazpacho and ravioli being originally Italian. But it works in the ambience and was consummately executed.
Along with the scallops, we enjoyed roasted Australian lamb 'rack' (really more of a cutlet), with lovely baby girolles and broad beans, Merguez sausage and a curry-leaf infused jus. Again, these latter ingredients were suggestions of the exotic rather than overwhelming flavours—though the Merguez was spicy—and it worked for me.
Dessert exhibited Tarrago's creativity and modernity: tea and milk-chocolate 'smooth cream', grapefruit jellies, caramelized hazelnuts and hazelnut dust. The techniques and skill on display here are impressive, and the dish appealed on texture as much as taste.
The wine list is mid-to top-end, and naturally heavily French, particularly reds. With such a beautiful VIP room available, it's not surprising General Manager Andrea Giannini relates with excitement of opening a few bottles of Pétrus in his time here. Service was great too. Overall a special choice for Valentine's Day.
ROMANCE-O-METER: 

GO FOR: The French fine-dining ambience
________________________________
Gaia by Oso Ristorante
ALTITUDE, The Plaza, 46th floor, Jl. M.H. Thamrin Kav. 28–30, Jakarta 10350
T: +62 (0)21 29922448
In need of a show-stopper to impress on Valentine's Day? This could be the spot. Altitude, the 46th-floor development opened in April 2013, has three restaurants. The Italian offering, Gaia, has 120 covers but despite its size can still feel intimate – especially if you snag a corner table by the floor-to-ceiling windows and drink in the sparkling lights of the Big Durian, laid out in 180-degree splendour beneath you.
It's not all about the view though. Chef Nazario Orlando is from Puglia, the 'heel' of Italy, with its miles of Mediterranean coastline. Not surprising then that seafood features so heavily in this Northern-Italian menu – and Orlando is a stickler for crustacean quality. Like all chefs in Jakarta he imports a lot (look out for the Fine de Clair oysters on the Valentine's Day menu), but he also gets his sea urchin and octopus from Lombok.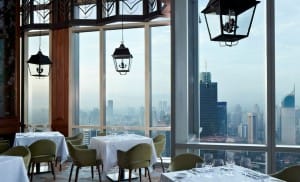 We sampled the Valentines' Day menu. The starter's winner was the home-smoked, beetroot-marinated salmon. This was accompanied by a scallop in the shell with caviar and dill, plus asparagus and truffle hollandaise – a real aphrodisiac appetiser! Next we were pleased to see angel-hair pasta in a good lobster bisque sauce, with a raw amaebi prawn and—a nice touch—caramelised chilli. For the main, a generously-sized beef tenderloin was topped with a seared piece of succulent foie gras, adorned with figs and green beans on a bed of polenta and a port-and-truffle gravy. A decadent main course fit for the occasion – hence the light zabaglione for dessert was a good contrast. At Rp.1,000,000++ per person, this is also one of the better value-for-money options for the 14th.
For Jakarta standards the food was well executed and the service not bad; one can only imagine the challenges of managing a large kitchen for so many covers here. But Chef Orlando's enthusiasm for his work was infectious – he's the perfect host for a romantic night.
ROMANCE-O-METER: 

GO FOR: The stunning view
________________________________
Lara Djonggrang
www.tuguhotels.com/restaurants/jakarta/laradjonggrang
Jl. Teuku Cik Di Tiro 4, Menteng, Jakarta 10350
T: +62 (0)21 3153252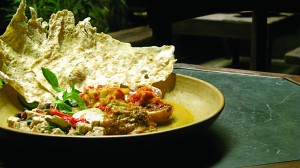 Asian cuisine is not often first for romance. Between fish sauce and stinky tofu, parts of this culinary canon encourage distance rather than canoodling. But there is something sensual about teasingly proffering your loved one a stick of sate, sweet with spicy sauce – especially in the surroundings of Lara Djonggrang.
The very name of this place breathes passion into the evening's proceedings. The greatest romances are often the tragedies, and this story of the heartbroken princess and love-crazed prince opens the menu.
The restaurant's 'imperial' Javanese cuisine aims to recall the legendary Majapahit era. They certainly succeed in ambience, with many nooks and crannies in the interconnecting, regal rooms in which to hide and behave badly.
The food, though not quite all Javanese, is imaginatively presented and on the whole well-flavoured. We chose Sop Buntut: fragrant and nourishing. Sate Ayam came on a wooden boat with sambal-filled shells, and was skilfully spiced. Beef rendang was unctuous and rich as expected, though perhaps a little oily. A pleasing contrast was the Karedok Sunda; very sweet, but refreshing. We tried Serabi Pandan Wangi Sore for dessert—coconut-pandan pancakes in a sweet soup—which was light and aromatic.
If you're full of foie gras and past pasta, this is a great alternative for V-Day, when they will serve a special menu including wines for Rp.750,000++ per couple.
ROMANCE-O-METER: 

GO FOR: The dark corners
________________________________
PICKS OUTSIDE JAKARTA:
MEDAN
Say it with steak: Prime Steak House, J.W. Mariott Medan, +62 (0)61 41006600
Fusion for two: The Edge, Swiss-Belhotel Medan, Jl. S. Parman Medan, +62 (0)61 4576999
SURABAYA
Home of hip: Domicile Kitchen & Lounge, Jl. Sumatera 35, Surabaya 60281, +62 (0)31 5016900
French-y feast: Citrus Lee, Jl. Kutai no. 12, Surabaya 60241, +62 (0)31 5615192
YOGYAKARTA
Indo intrigue: Gadjah Wong, Jl. Gejayan Soropadan 79-D, Sleman, Yogyakarta 55281, +62 (0)274542815
BALI
If you can't find a romantic restaurant in Bali, there's something wrong with you! But if you really need help, our top picks are:
Fine-diner flair: Mozaic, Jl. Raya Sanggingan, Ubud, Kecamatan Gianyar, Bali 80571, +62361975768
Coastal cosy: Kisik Bar & Grill, Ayana Resort & Spa, Jl. Karang Mas Sejahtera, Jimbaran, Bali 80364, +62361702222