Nestled away from one of the busiest intersections in all of Jakarta, on a quiet and leafy corner close to the most glamorous malls and hotels this city offers is the historic Face Bar, Lan Na Thai and Hazara Indian restaurants. Famous for its calm and Zen-like atmosphere where business men and women whet their gullets after a long day with a cold draught beer, citrus-y cocktails and delicious bar snacks during the generous happy hours – the restaurants also serve some very traditional and delicious Indian and Thai cuisines.
Anyone who has ever set foot in the Face Bar can attest to the incredibly rich décor and antique-filled dining rooms. Indian wood carvings, Chinese sculptures and Southeast Asian friezes line the walls and corridors with tasteful paintings and photographs from across the region, telling the story of the interconnected and interdependent cultures in Asia.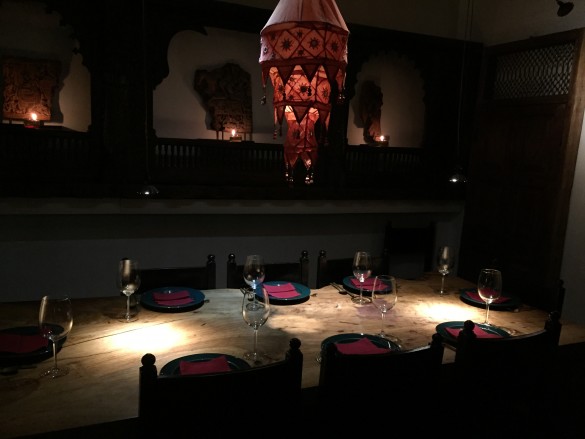 That all of this is also housed in a rehabilitated Dutch colonial building ties the restaurants' theme of trade, cultural plurality and relevance to its Indonesian home.
However, let us not forget about the food, dear readers. I have frequented the Face Bar time and again, not just for drinks, but also for the delicious meals. Lan Na Thai and Hazara operate out of two separate kitchens, which ultimately aid in preserving the integrity of flavours. As a diner, you can choose from either menu and create an Indian-Thai feast that caters to each person's preference at the table. Or, if you wish, you can stay true blue to each restaurant's offerings.
From Lan Na Thai, my favourites include the Pandan Chicken and Pomelo Salad. I can't help myself, as the aroma the pandan leaf lends to lightly marinated chicken, which is then gently fried, leaving the meat tender and ever so succulent. The juicy pomelo (large Asian grapefruit) is mixed with assorted spices, peanuts, coconut and lime juice to create the classic sweet-sour-spicy-salty combination for which this type of cuisine is renowned. For seafood aficionados, the Deep Fried Soft Shell Crab is a must-try. The savoury crab and its crispy exterior is balanced by the tangy and spicy chilli-lime juice in which it is served.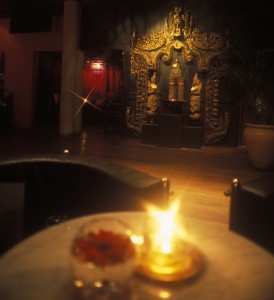 Chef Thaman Budha from Hazara Restaurant is a master of Northern Indian cuisine. He has been honing his skills in the professional kitchen for at least two decades, and credits his grandmother and father as the most important influences on his career. The flavours he creates at Hazara are a testament to them.
Based on the delicate and subtler flavours of the northern subcontinent, Hazara's menu reads like the rapturous foodie version of the Bhagavad Gita. There is the tandoori rotiyan section, which is all about the naans, rotis and paronthas. There is also the rice section with pullaos and biryanis. Then there are two main sections: one with dishes created in a handi (large brass cooking pot similar to a wok) and the other from the tandoor clay oven. Every dish I've eaten from Hazara has been a lyrical ode to the flavours of Northern India.
I can attest to the Rogan Josh, tender pieces of lamb in a rich and onion-y gravy. Their okra and tomato stew are especially good with saffron rice. Do not pass up the opportunity to order the Dhaal Hazara. Creamy black lentils are simmered slowly over the tandoor to create a smoky and umami-rich taste. It is at once spicy and not, most likely attributed to the underlying creaminess of the sauce. I could not stop eating this dish, and it serves as a great example of the subtleties that exist in Indian cuisine. I also enjoyed on my last visit the Murgh Malai, which is chicken marinated with ginger, green chillies, cheese and garlic. It is basically a creamier (and greener) version of your standard chicken tikka kebab. All the same, it is delicious and tender with the gorgeous aroma from the tandoor. I am also a sucker for sheesh kebabs and order them whenever I can. At Hazara, they are juicy, tender and well balanced with heady spices as they are cooked over charcoal.
The venue is as versatile as the restaurants and menus themselves. Dark and inviting, romantic and endearing; the space is perfect for a romantic rendezvous or first date. The music wafts lightly in the background — no bass pumping or over-amplified techno to compete with your lovely sweet nothings. At night, the gardens light up outside as do the lanterns adorning the ceilings. During the day, business meetings and luncheons often take place in various parts of the venue. There is room for corporate events and private parties. Whatever your plans are, though, I would recommend stopping in for a meal at Lan Na or Hazara restaurants to satisfy your cravings for outstanding Thai or Indian (or both) soon.
The Face Bar
Lan Na Thai Restaurant
Hazara Restaurant
Address: Jalan DR Kusuma Atmaja, No. 85, Imam Bonjol, Menteng, Jakarta 10310
Telephone: 021 3192 5037
Email: [email protected]
Website: www.facebars.com