There is nothing quite like golfing in Bali.  What can be more invigorating than hitting a golf ball over terraced rice paddies, or more satisfying than draining a putt while a soft ocean breeze washes over you?
Bali's southernmost tip, known as the bukit, sits high above the ocean, and golfers are in for a real treat playing a round at Bukit Pandawa Golf & Country Club. It opened in October 2016, and this 18-hole, par-3 championship course sits above the famous surf breaks of the Bukit Peninsula. I feel clifftop golfing with beautiful sea breezes and fabulous views makes you play a better round of golf.  The scenery inspires you to shine and do your best.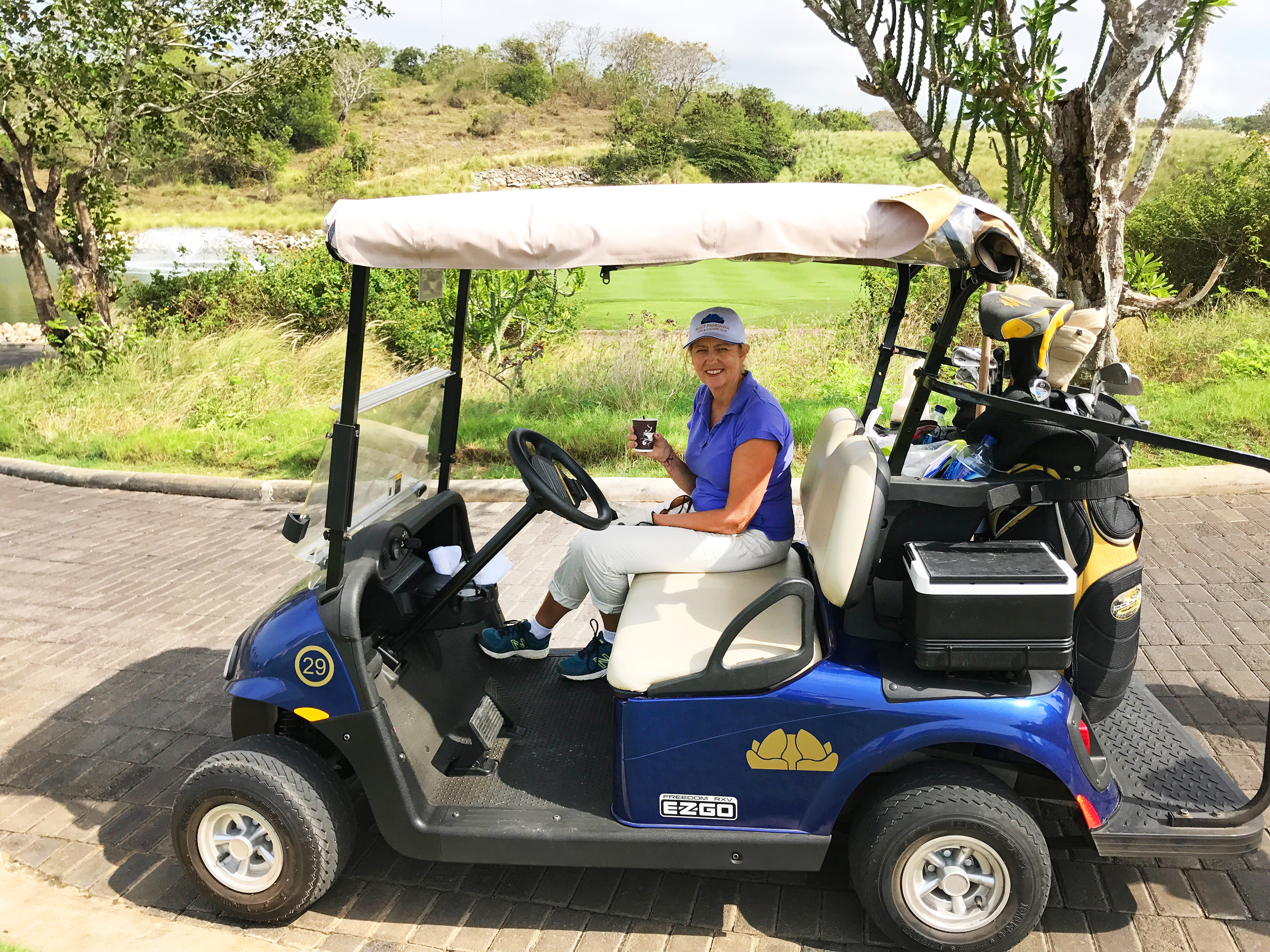 I quickly found that I could rely on my caddie Ilu for guidance and some good golfing tips. When she handed me a six iron on one of the holes, I was highly sceptical. The hole seemed so far away. But she insisted it was the right club for the shot. Lo and behold, she was correct. I made a good swing and was on the green in one shot.
I was even more impressed when I reached the fifth hole. A waitress came along with two cappuccinos. "This cannot be possible," I thought. I had been dreaming of coffee, and then this coffee genie just appeared. Alas, the coffee was for other players, but I quickly ordered one for myself and continued to play. Sure enough, mine showed up at the next hole.
Golfing at Bukit Pandawa is in a class of its own. The course wraps around waterfalls, lakes and terraced rice paddies, and even for the highly skilled golfer there are challenges on every hole. There is an ocean view from almost every hole, and archaeological ruins next to three of them. It's simply divine.
After your round of golf, you get to experience the clubhouse. On entering the palatial 3,000 square metre complex, I immediately felt at peace. I was greeted by the sound of gently falling water and passed by a large stone wall that was angled to give an effect like the pyramids of the ancient world.
Further on I discovered the sauna and more elaborate water features in the VIP area.  These water features complement the spectacular views looking out to the ocean.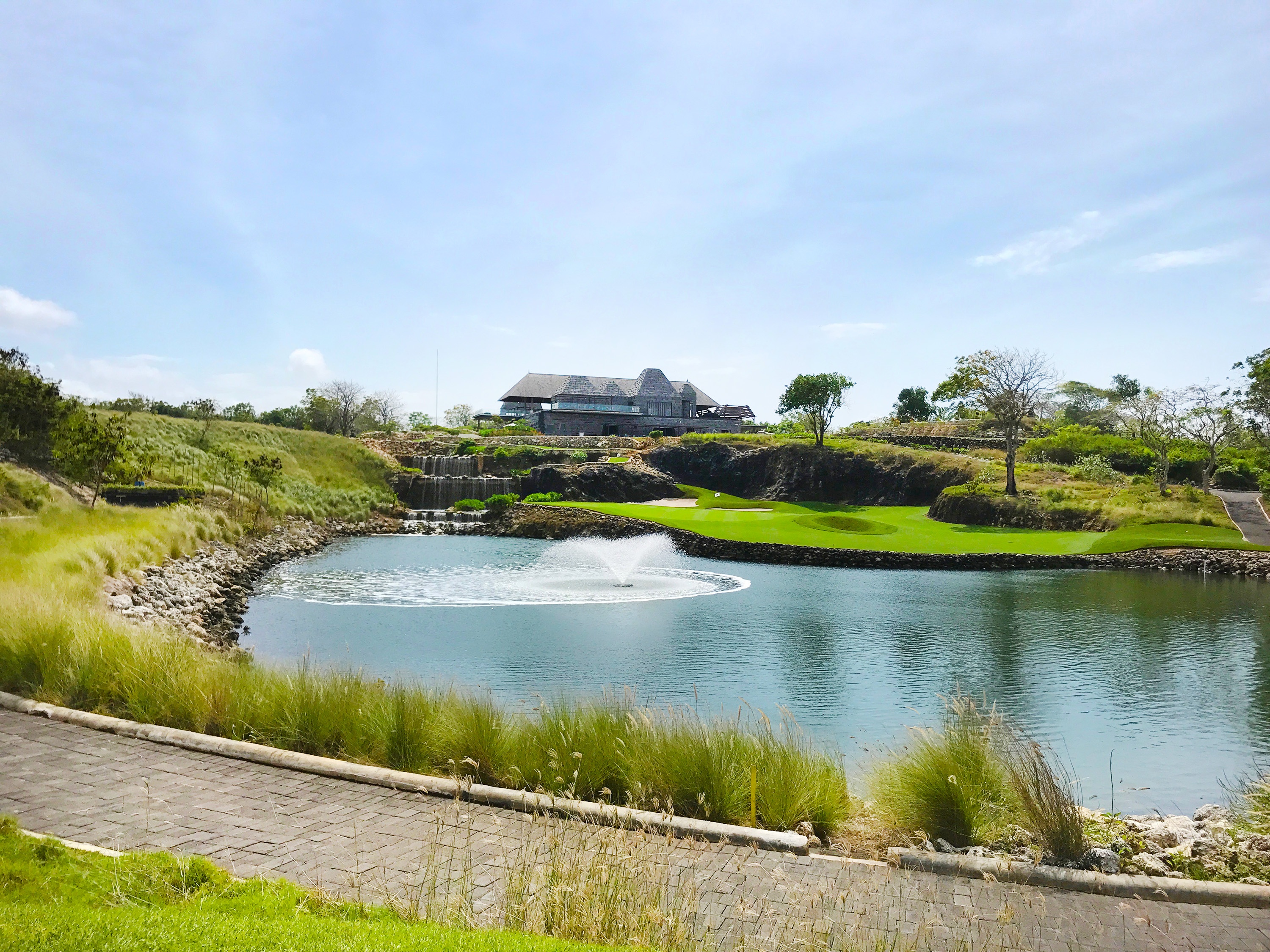 Next, onto the food. The Kul-Kul Restaurant brings an innovative angle to golf dining. It is on par with fine dining. My food arrived stacked on a high-tea-like mini tower with samplers of meats and cheeses.  I am a pretty fussy eater with a gluten-free requirement and was pleasantly surprised when fresh-baked, gluten-free bread appeared with my tasting platter tower. All the bread is made fresh daily on the premises.
The nasi goreng (fried rice) came beautifully presented in a wafer-thin egg wrap with pickled vegetables and two chicken satays. My partner tried the sampler – seared tuna, traditional warung-style chicken satay and wagyu beef.
If you have a function in mind or are looking for a party or wedding venue, the Spike Bar on the second level affords an outlook of nature and expansive blue ocean.  If you are in the market for new clubs or new golf attire, there is a range of clubs, designer accessories and smart golf clothing.  It can all be found at the pro shop. There is even a tailor service. Just speak to the pro shop manager and semua bisa diatur (everything can be arranged).
To take advantage of the ambience and stunning views, you may like to consider trying the high tea which is rolled out every day of the week from 2pm to 5pm. Another popular option is tapas and sunset drinks which keeps going till 7pm. The Pandawa signature cocktail is infused with kaffir lime and homemade syrup. Try it, you will like it.
Be sure to put Bukit Pandawa Golf & Country Club on your list of things to do in Bali if you enjoy good food, Bali ocean views and golfing.
www.bukitpandawagolf.com