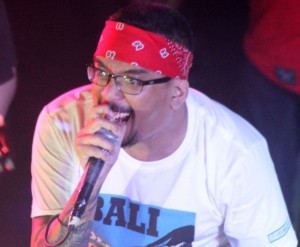 There is an expression I have always loved, "When in Rome".
For Bali and the music scene, I think the expression should be, "When in Bali, go with the flow".
A few weeks ago, my wife and I were invited to a 'party' by Leo and Liz Sinatra at their charming boutique and coffee shop on the main road in Batu Balan.
"Nothing too big", Leo tells me. "A few bands, great music, pretty laid back."
"We're expecting about 1,000 people"!
To date my music experience on Bali has been limited to attending some rather fine jazz concerts in Seminyak, Legian and Sanur where I began to realize that serious musical talent in the tropics abounds. Apart from that, live music for me has been pretty much listening to "Hotel California" played over and over by aspiring cover bands in restaurants and bars throughout the tourist spots. So, suddenly here was an opportunity to experience the "real gen. X" sounds of Bali, up close and personal for the first time.
Leo Sinatra is the founder and virtuoso guitarist from Suicidal Sinatra, a band that continues to expand its fan base at lightning speed throughout Indonesia. His ensemble began the latest craze of Rockabilly, or Psychobilly in Indonesia, and now has a growing fan base throughout the country.
Leo and Liz greet us warmly when we arrive at the venue just after 6pm. I look around and see that there are fewer than fifty people sitting around looking relaxed, in no hurry at all. This could be a rather quiet evening.
Not a chance!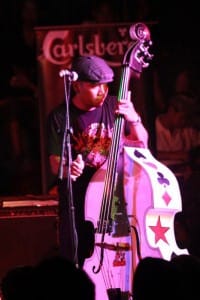 Seems the neighbours were a bit miffed when told that there would be about a thousand or so partygoers and nine bands descending on them to blast their peaceful Friday night into oblivion!
"We had to move the venue at the last minute", says Leo as if this was akin to moving a piece of furniture from one room to another. "Would you mind travelling with the band to the new venue in Singapadu?
"Sure", I say, "So we'll be travelling with you?"
"No, you will be going with them", he answers pointing to a minivan that has just pulled up.
Out spills some of the nicest bunch of guys I've met in a long while. They are Jakarta-based rock titans Seringai (grin), fresh from just having opened for Metallica two nights before, and here they are to headline Leo's party!
The evening is definitely looking up! Go with the flow!
We hop aboard and meander our way through darkened villages along tree-lined country roads; the chatter in the bus lively and unpretentious. Sitting behind us are superstars completely devoid of ego, wanting to know more about what we do rather than the other way round. The venue turns out to be a small stadium used, I presume, for indoor sporting events. The thousand 'partygoers' have arrived and are in full voice, bopping to the lead up bands. Roadies swarm backstage; occasional groupies politely seek autographs from my companions, as we are escorted to the VIP tent.
I feel like a rock star!
A bonhomie atmosphere prevails, with the bands exchanging playful banter and discussing difficult chords, while I enjoy the complimentary Bintangs! We take our seats in the stands where I am introduced to what Leo calls Psychobilly rock. And rock it does!
The Suicidal Sinatras play loud, fast and incredibly tight music, which seems to pour out their souls. The crowd laps them up.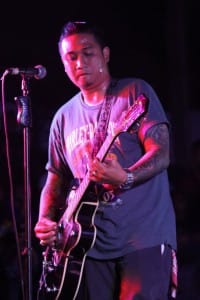 This is a group that is destined for great things.
The changeover between bands is seamless as the punk-looking roadies, complete with vibrant Mohawk haircuts, set up for the headline act. The mosh pit is seething with punks, Rastas and head bangers awaiting their idols; the mood boisterous, which infects the rest of the crowd.
Seringai finally take the stage with a heart-rendering version of "Indonesia Raya" with the crowd singing along with ardent valor and pride. Arian Tigabelas, the lead singer, commands the stage like a general leading his troops into battle; building an immediate rapport with their adoring audience. This is a band accustomed to the big stage and yet here they were playing as if their lives depended on it, to a relatively small crowd in rural Bali.
They (and I) loved it!
This was a night when Bali's 'can-do' attitude came through loud (very loud!) and clear. A hastily rearranged venue, fly in a headline act from Jakarta, seamlessly parade nine bands on a makeshift stage and pull together a wonderful event as if it had been months in the planning. In conclusion, if you are seeking great music on this wonderful island, 'Seek and ye shall find!' and remember…go with the flow!
My thanks go once again to Leo and Liz Sinatra for making this article possible. Also look out for the Suicidal Sinatras – you won't be disappointed!