There is no doubt Bali is a shoppers' paradise, but how do you know if you are getting a good deal?
Many people feel awkward bargaining with the locals, especially if they are not used to this way of buying, but in Bali bargaining is a way of life. It's fun bantering with the seller and the more you can joke around the better. Before you start the process, here are a few rules of engagement.
WHERE CAN I BARGAIN IN BALI?
Asking prices vary at the street markets and stalls of Kuta, Seminyak, Sanur and Ubud, and so bargaining is a must. Large markets or small markets – it does not matter. These places do not display a price. In supermarkets, malls, and department stores everything is clearly labelled with a price tag. These prices are fixed.
WHEN TO BARGAIN?
Most Balinese sellers have sharpened skills and know how to read a customer. Your first tip is to go shopping before 12:00 noon. It is best to bargain in the morning as towards the end of the day the seller is often tired, and sometimes has little energy left to work out the best price for both parties.
OPENING OFFERS
The asking price will always be inflated. As a general rule no matter what the price is, offer 50 percent and work up from there. Sometimes the seller will go lower than the wholesale price if they like the customer, so throw in some humour and try to get on well with them.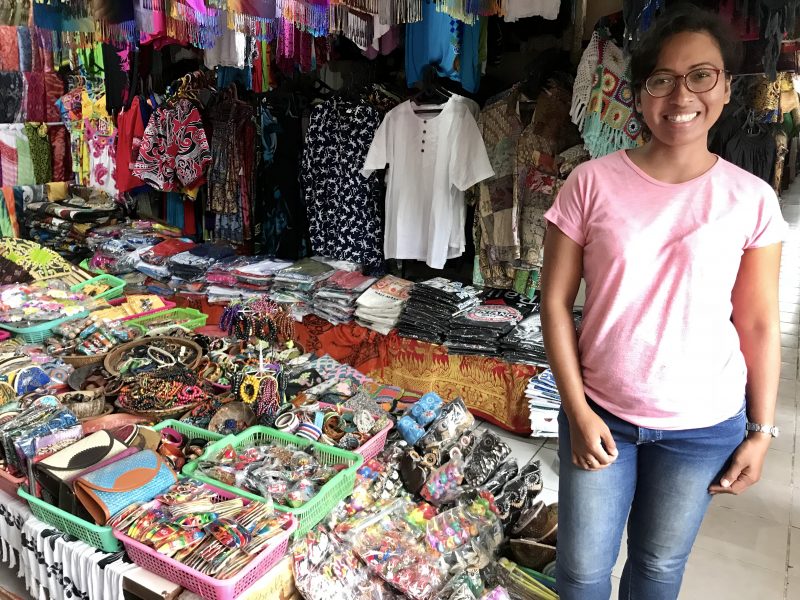 HOW TO MAKE THE EXPERIENCE FUN FOR EVERYONE
Firstly, look at the process as entertainment. The whole bargaining process is a delicate game between the buyer and the seller. The banter is all about moving from an outrageous price to a fair price for both parties.
HOW LONG DOES THE PROCESS TAKE?
It usually takes two to five minutes to get to the lowest price on offer.  The seller will try to read you and ascertain how well off and how keen you are, as part of establishing the starting price. Wayan Windya, a market stall owner who has been operating at Ubud market for 20 years explained, "Customers are very savvy now.  Everyone has access to the internet and can check prices quickly, so gone are the days when you could ask for a ridiculously high price and get it."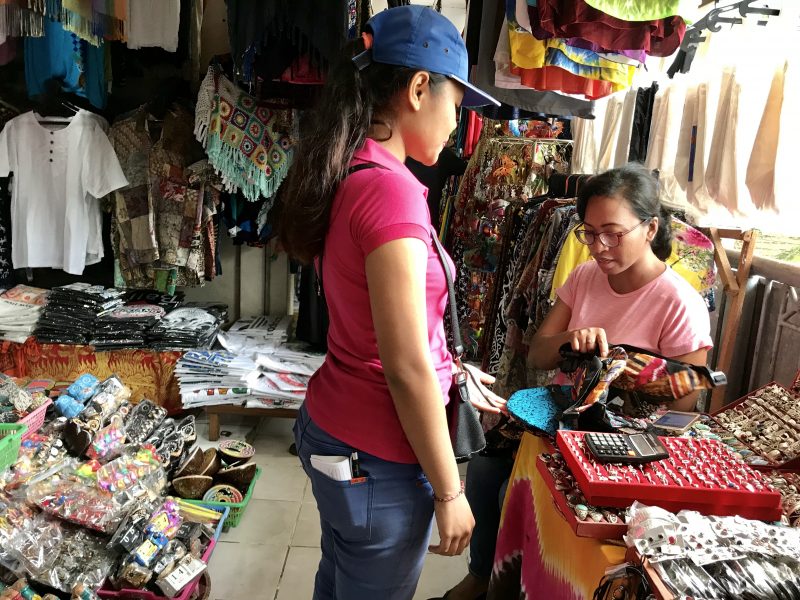 ETIQUETTE
It's important to remember that a market seller's income in Bali still tends to be very low so it's unfair to engage in bargaining if you are not genuinely interested in the item. Balinese people are very soft-natured and polite. If you are getting frustrated with the bargaining process, they will feel this. Walking away is okay. Just be polite. You can for example say that the item is really beautiful and you admire the great craftsmanship but that you have decided not to buy it. Always leave with a big smile and show respect. It is very unusual to encounter aggression because you do not buy the item.
CLOSING THE DEAL
Closing a deal from the seller's point of view almost always means they have made a profit, and they try for around 30 percent, which helps to cover the running and staffing costs of the business. Wayan told me, "I never push someone to buy. I smile from the heart and always do a good deal for my customers. As long as they are happy with the purchase, that is the main thing for me."