Did you know that we only have eight days off every month? Best to spend that precious free time well, right? We know how time-consuming daily chores like cooking meals, working out, and grocery shopping can be. Here are a few reasons why grocery shopping can be a tedious chore and how we can change our perception of it.
Terrible Traffic Jams
According to a study conducted by the Boston Consulting Group (BCG), Jakartans spend approximately 22 days a year stuck in traffic jams. Yes, you read it right! "Imagine, 22 days is the same as two years of annual leave," said Jakarta Deputy Governor Sandiaga Uno, expressing despair at the study's findings.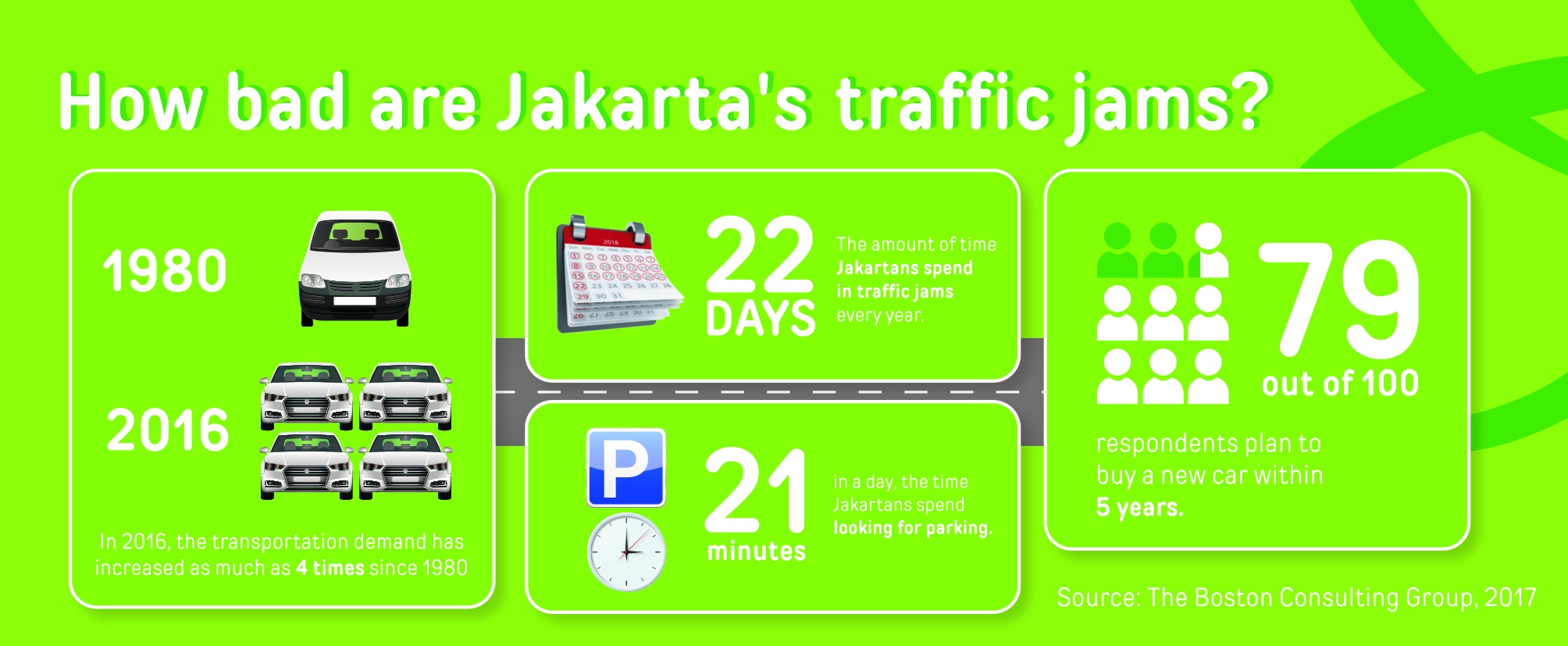 Limited Parking Spaces
Unfortunately, traffic woes are not just on the road, they follow you all the way to the parking lot. As quoted by kompas.com, the same BCG study found that drivers in Jakarta spend an average of 21 minutes looking for parking in a day. It is NOT fun making multiple rounds in a crowded basement carpark, fighting over parking spaces.
Painfully Long Queues
Supermarkets can get really crowded, especially during the end-of-month pay day period. This is when people fill their trolleys to the brim with groceries for stocking up and cause massive jams at the checkout lines.
Take-out Is Easier
Sometimes when I feel too lazy to grocery shop or cook at home, I rely on food delivery. It is so much faster and more convenient. One major downside is the high costs, especially with more mouths to feed.
Once I realised I had spent hundreds of dollars on take-out alone, I decided to repress my craving for fries and make proper meal plans. This is not only good for my wallet, but also beneficial for my health.
My life-changing moment happened when my friend suggested I try out this online grocery delivery app called HappyFresh.
Grocery shopping nowadays is a breeze for me – I just have to browse on the app, check out and wait for my groceries to magically appear at my doorstep. Don't just take my word for it, others have also gone down the online grocery delivery route and changed their lives forever.
Erny Chaernyatun, the Head of Finance, Taman Kreativitas Anak Indonesia said, "It was hard to make time for grocery shopping because my job requires me to manage school finances and also teach kindergarten students. I first discovered online shopping platforms while researching the most convenient way to stock the school's pantry. I chose HappyFresh because I saw that I could shop from a wide variety of well-known supermarkets and grocery stores via their platform. So, I figured that HappyFresh should be a reliable app, and it ended up being true. I now order my own groceries from HappyFresh as well. No more queueing or parking hassle," Erny is now a converted online grocery customer who shops from HappyFresh regularly.
We are seeing a spike in the number of people who find the idea of online grocery shopping attractive. It helps them spend more time with family and on their hobbies instead of braving traffic jams, finding parking or waiting in long queues.
I was a little worried initially because I prefer personally choosing my groceries in the supermarket. However, Filippo Candrini, the Managing Director of HappyFresh Indonesia, makes sure that personal shoppers are well-trained to choose the best of the best for their customers.
"HappyFresh personal shoppers and drivers are selected via a stringent hiring process and undergo two weeks of intensive training and background checks before they are permitted to deliver any order." said Candrini.
I can indeed confirm that I have been very happy with the quality of my groceries delivered via HappyFresh so far. What can I say, life has not been the same for me ever since I discovered this app. And this, my friends, is the secret to overcoming the arduous task of grocery shopping.