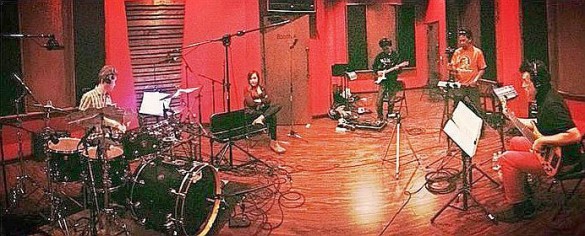 When I arrived in Indonesia at the end of 1987, I was carrying a collection of cassettes, recordings of my favourite albums, mainly jazz, prog-rock and what is termed 'world music'. On my early travels around various regions of the archipelago, I added cassettes of 'traditional' music which could evoke memories of the places I'd visited. But I wondered why there couldn't be blends of them with western music.
The rock music I heard was derivative, albeit with Indonesian lyrics. So I looked for jazz. After all, if the late Neil Ardley in the UK could arrange his Kaleidoscope Of Rainbows suite using the basic Balinese five note pelog scale played by the crème de la crème of Brit-Jazz, why couldn't Balinese musicians improvise and reverse the process?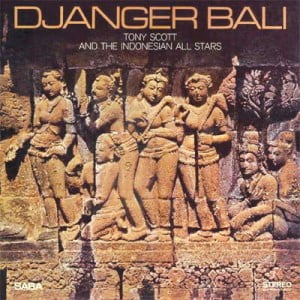 It was a few years before I discovered that in 1967 Bubi Chen, the piano maestro from Surabaya, guitarist Jack Lesmana, and the rest of jazz pioneers, The Indonesian All Stars, had gone to Germany to record an album with the American clarinetist Tony Scott. Djanger Bali, was the first album of Indonesian traditional-flavoured music without 'traditional' instruments, apart from the track Gambang Suling featuring Sundanese instruments; the zither-like kecapi, and suling, a bamboo ring flute.
(In 1989, Bubi Chen recorded Kedamaian, a truly marvellous piano-suling conversation.)
In the late 80s, keyboardist Dwiki Dharmawan formed the group Krakatau to play original jazz fusion tunes, with bass, drums and a range of Sundanese instruments, including percussion and wind instruments and the bowed rebab. Tracks on their fifth album Mystical Mist (1994) were either jazz fusion or Sundanese, whereas, having tuned their western instruments to Sunda scales, their second, Magical Match (2000), is more of a Sunda-jazz fusion. By the time they released 2 Worlds in 2006, the group was also playing what I can only describe as Sunda avant-jazz-rock-funk. The track Madenda Fantasy is a piano-suling 'conversation', a loud echo of Bubi Chen's Keith Jarrett-ish Kedamaian.
Java Jazz was formed by Indra Lesmana with Donny Suhendra (from Krakatau) on guitar and Embong Rahardjo on sax and flute. Much of the first two albums Bulan Di Atas Asia (1994) and Sabda Prana (1998) incorporated Sundanese pentatonic scales played on western instruments. Embong died in 2001 and the group went into hiatus until 2009 when Dewa Budjana, lead guitarist and songwriter of the band Gigi, joined as a second guitarist and Joy, Joy, Joy was released. It was Indra's father, Jack Lesmana (see above), who introduced Dewa to the principles and basics of jazz.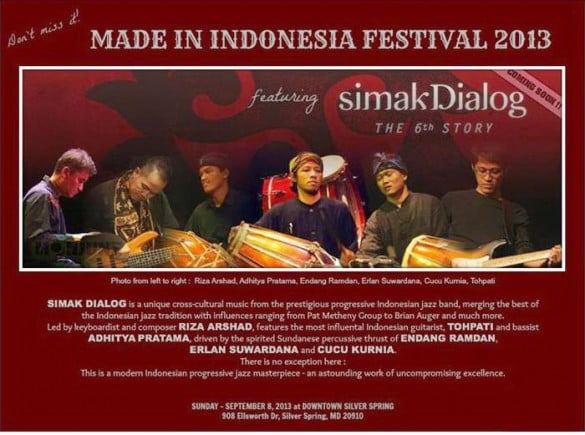 Keyboardist Riza Arshad formed simakDialog with guitarist Tohpati in 1993; their first two albums, Lukisan (1996) and Baur (1999) showed the influence of the popular American jazz guitarist Pat Metheny. Much as I like Metheny, I'm not interested in clones; pleasant enough, but not particularly 'Indonesian'. However, for Trance Mission (2002) Riza replaced the drummer with Sundanese percussionists, and Tohpati too found his very distinctive voice; he's now a guitarist who can send shivers down the backbone.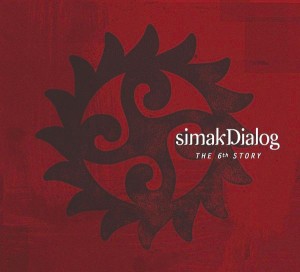 Leonardo Pavkovic, proprietor of MoonJune Records in New York, heard Trance Mission and signed simakDialog (SD) to his label. The first release was Patahan (2006), recorded live at Goethe Haus and mastered by Indra Lesmana. This was followed by Demi Masa (2009) and this past month with 6th Story. Simak dialog means 'listen to the music', be part of it. As Riza says, "We humans are tiny creatures in a humongous universe, but we also have the ability to interact with it." With this sixth album, Riza and his long time cohort Tohpati take us further on their journey; far out (as hippies used to say).
Tohpati has two albums now released on MoonJune, his Ethnomission – Save The Planet (2010) features Endang Ramdan from SD playing Indonesian percussion plus Indro Hardjodikoro, SD's first bass player. Indro is one third of Tohpati Bertiga whose Riot was released in 2012. The drummer is Adityo 'Bowo' Wibowo whose main gig is the popular Gugun Blues Shelter. This shows another side to Tohpati's playing; hard rock.
Dewa Budjana is now also signed to MoonJune. He's just turned 50 (but doesn't look it) and has an impressive discography dating back to 1994 with Gigi and solo albums from 1997. At the end of last year Moonjune released Dawai in Paradise. This is a compilation from five separate recording sessions between 2000 and 2011 featuring his incredibly melodic, spiritual side as well as high energy tracks echoing the likes of the Mahavishnu Orchestra, and National Health, the 'Canterbury Scene' group.
Around the time you are reading this, his second MoonJune album will be released, Joged Kahyangan. This was recorded in Los Angeles last year with a stellar set of American jazzers; Larry Goldings, Bob Mintzer, Jimmy Johnson and Peter Erskine, who interpret Dewa's Indonesian inflected compositions with great empathy. (Listen here: http://moonjunerecords.bandcamp.com/album/joget-kahyangan)
Also this month, following a mini tour of clubs and festivals in the USA with SD, both Riza and Tohpati have recorded solo albums to be released on MoonJune. Tohpati's sidesmen were Jimmy Haslip (Yellowjackets) on bass guitar and Chad Wackerman (Frank Zappa and Allan Holdsworth) on drums. Riza's were Chad Wackerman and Ernest Tibbs (Allan Holdsworth) on bass.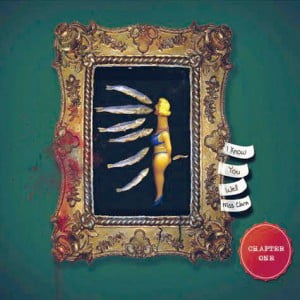 And so my long search is over; not only have Indonesian jazz musicians found their voice, but it is uniquely theirs. There are jazz festivals held throughout much of the archipelago, gigs on campuses and in clubs. It may have taken 25 years, but there's hope for the future, with Indra, Riza, and Dewa mentoring younger musicians. Listen out for 10-year-old Joey Alexander, and musicians such as Sri Hanuraga who are studying and playing abroad.
Then there are the likes of I Know You Well Miss Clara, alumni of the Yogyakarta's Indonesian Institute of Arts. Their astonishing and just-released debut on MoonJune, Chapter One, deserves a full article.
Sorry guys, you'll get one soon and that's a promise.