The Clandestine Critic is back, this time tackling upscale Indonesian dining in the heart of Jakarta. Kaum Restaurant is well-received in cities like Hong Kong, where it received an honourable mention in the Michelin guide. So how does it rate with our city's most elusive and discerning critic?
Like a dirty secret, I'll admit I trudge through reviews on websites like TripAdvisor and Zomato. The reviews are mostly amusing, but I take anything anyone says on there with a healthy dose of skepticism. Half of the reviews are written unintelligibly, a few are written by friends of the owners, a handful had a bad day and wanted to take it out on the restaurant staff, a few reviews are thoughtfully conceived and a couple might even be written by someone who knows a thing or two about food. These sites can be a reliable resource for those who want to try new restaurants or for a diner to get a feel of what lies ahead in the evening. [One word of advice: Try not to rely on review sites for "Top 10 Best Restaurant" lists as most of the algorithms that churn out the highest rated restaurants are peculiarly off base.]
Misleading as some review sites may be, though, either in placing undo praise on an unworthy restaurant or passing over an excellent one, it was the reason I ended up at Kaum one evening.
Let's be frank. Any eatery produced by the Potato Head Group here in Indonesia is going to look as sleek as a Ferrari. I simply wanted to check under the hood to see whether that engine performed more like a 1974 Ford Pinto.
Overall, Kaum did not disappoint. The restaurant is housed in a cavernous, renovated, Dutch-colonial home. The space is split between different rooms within the framework of the old house, with a main dining room that is meant to be the showcase space with a comfortable bar on one side with plush couches and settees; and the shiny, stainless steel, open-plan kitchen on the other.
All around the dining room, there are elements of Indonesian textile references from densely textured walls to locally designed fabrics and teak-wood style tables and chairs. The design elements were sleek mid-century modern, and everything worked harmoniously within the space.
The menu is something akin to upscale Indonesian. For what it's worth, we are living in exciting times when it comes to eating in this country as we are seeing young Indonesian chefs redefining and refining the cuisine. There is a kind of hyper-focus on local ingredients, sourcing directly from farmers and incorporating traditional techniques. Led by chefs like Ray Adriansyah and Eelke Plasmeijer of Locavore in Bali as well as Ragil Imam Wibowo at Nusa Gastronomy in Jakarta, this movement to celebrate indigenous ingredients and showcase Indonesian cuisine through the modern lens is really gathering steam. At Kaum, we see the same attention lavished on ingredients alongside use of traditional techniques, but the dishes produced are akin to an elevated version of Indonesian comfort food (that's not to say it was bad…it's honestly quite good).
From the cocktails menu, I quite enjoyed the Sulawesi Spritz, a play on the Aperol Spritz from Italy. At Kaum, a mangosteen-infused gin is topped with Aperol and sparkling wine. Served with a couple of slices of oranges, and you have one of the most refreshing beverages outside the old tropical standard gin and tonic. I tend not to drink wine with Indonesian food as most of the heavy spices and layers of flavours blow out any kind of wine pairing. If one sticks mostly to the three basic elements of clear liquor, citrus and ice, one can navigate an entire Indonesian meal well.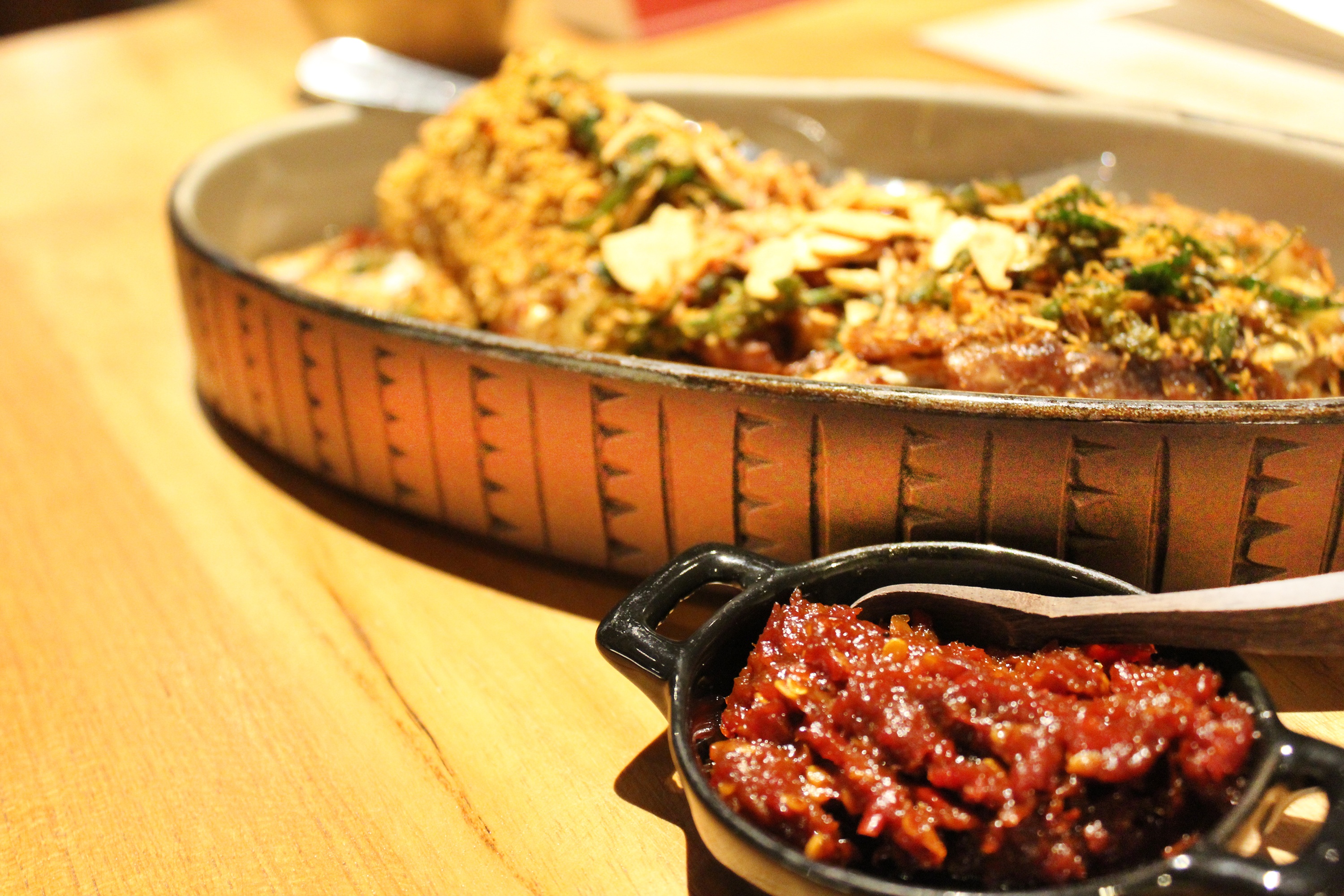 The food menu is well organized. There are small and shared plates that act as starters and mains, but they are interchangeable within the meal. The servers are well versed in the menu so they make suggestions for timing and placement of each dish, which is a nice touch. Everything on the menu is meant to be shared. The Ikan Asin Bulu Ayam Sambal Ijo (crispy, salty, hairfin anchovies served with green chili relish) is an acquired taste for many Western palates, but absolutely more-ish for those who love this type of dish with intense salinity and brine from the anchovies and the mildly spicy and sweet heat from the green chilies. The Batagor Sambal Kacang is a crowd-pleaser with a fluffy and light filling of prawns and fish wrapped in wonton skin that is deep-fried and served in a sweet cashew nut and coconut milk sauce. The dumpling also has garlic chives in the filling to bring some edge to an otherwise tame dish.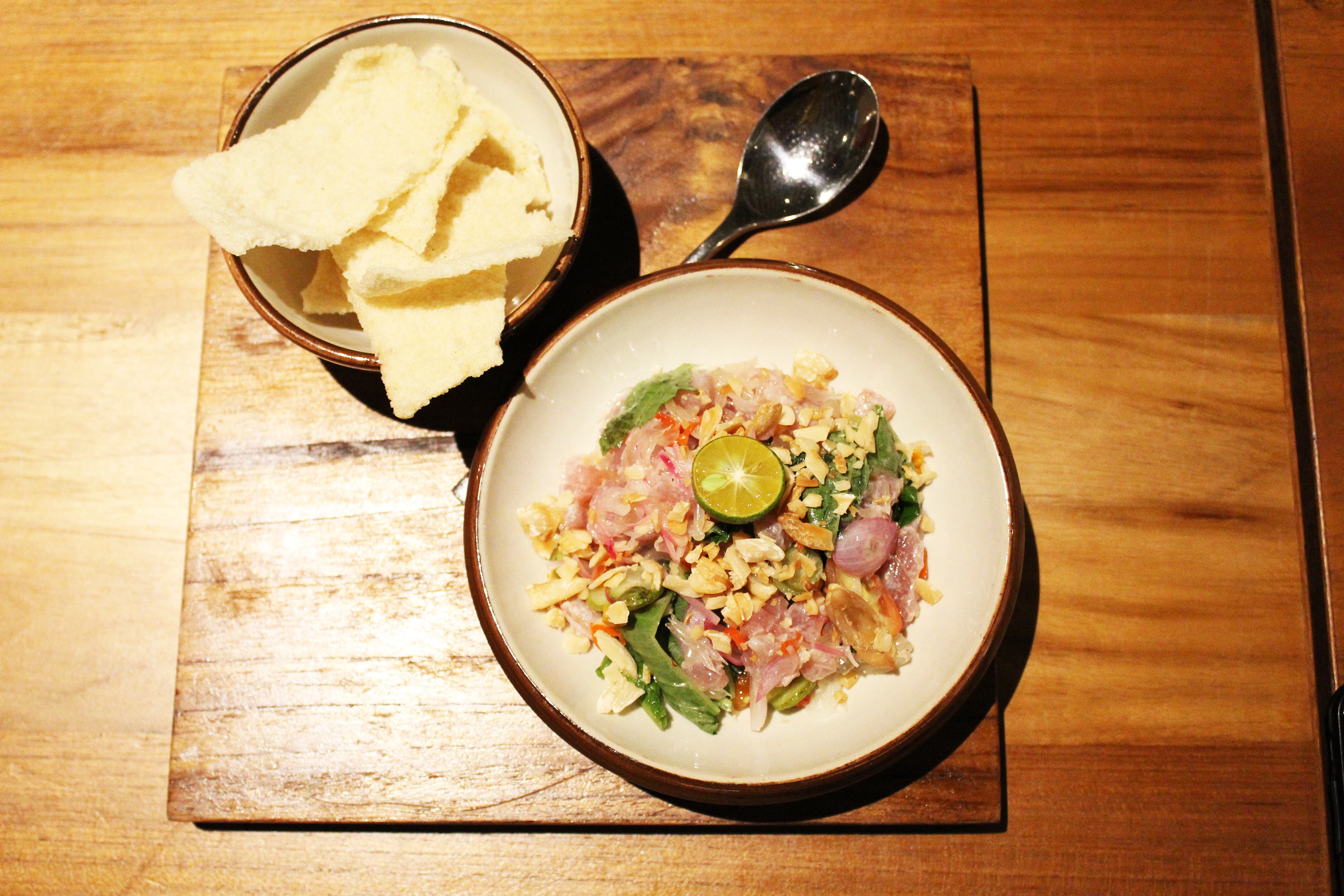 I really enjoyed the Gohu Ikan Tuna, which is a type of crudo served with rice crackers. The flavours work together to create a kind of bright richness: coconut, calamansi, belimbi (a local fruit similar to a star apple) mixed with diced, fresh, lean tuna. The addition of kenari nuts provide texture and a warm nuttiness. Everything works quite harmoniously together for such a simple dish. The only forgettable dish was the Ayam Kampung Berantakan Sambal Terasi. I couldn't find anything exciting about a dry, bland half chicken that only came to life with the outstanding sambal terasi that came along with it. I wish I could learn to love ayam kampung outside of having it in soup, for which it is excellent. Unfortunately, Kaum could not convince me otherwise. However, one miss in the entire meal is hardly a strike against this restaurant. Check it out.
3 stars
Kaum Restaurant
Address: Jalan Dr. Kusuma Atmaja, No. 77-79, Menteng, Jakarta Pusat
Telephone: 021 2239 3256
Website: www.kaum.com
Reservations advised