OK, I'll admit it; I've been on a bit of a Will Meyrick-athon of late. He's a busy guy, so we've busily been bringing you news of his latest ventures. But his Seminyak staple Mama San is five years old now. In an effort to keep the wandering wunderkind on his toes, we paid Mama a visit, to see if she still lives up to her doyenne-of-dining reputation.
If you've been to Bali, chances are you've been to Seminyak. If you've been to Seminyak, chances are you've been to Mama San, even just for drinks.
The concept here draws on 1920s Asian gentleman's clubs, full of smoke and sin. Fittingly then, in a dark-hued, converted warehouse, Mama presides over Jl. Kerobokan, beckoning you forth to enter and sample her wares.
Sample we did. The emphasis here is on fun, so we started with cocktails – not that I ever need an excuse. A Passion Fruit Mint Bellini was served beautifully, with a clever foam and a mint leaf atop the delicate champagne glass. An Aged Negroni was marvellous (and not just because, as I am increasingly having to convince myself, everything gets better with age). It was constructed well and based on decent ingredients. Straight off the bat we had ascertained that the bar is still one hot mama for those in need of magnificent mixology.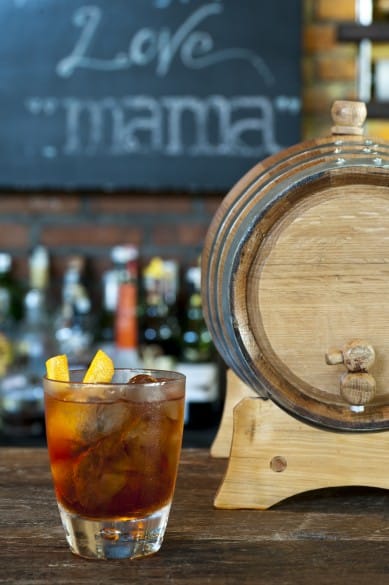 I often find establishments competing in this space struggle to get two elements right at the same time: some excel behind the bar, and some in the kitchen. Mama San is on point with both, and it's a good job too, since the whole ethos is about getting guests to while away a few hours in comfort. We needed no convincing.
Meyrick's All-Day menu tempts diners with smart sectioning: Asian Bites, Salads, Crispy Things, Stir Fries. First things first, we toured Siam – maybe Meyrick's first foodie love – with some Thai Fishcakes. I had every expectation that these would be faultless, and they were: just the right amount of spicy, the patties were suitably dense, not too greasy, and packed with the robust flavours they're famous for.
Vietnam was our next stop, with what turned out to be my favourite dish of the night: La Lot; a famous street dish of grilled minced pork belly in betel leaves, dipped in nuoc cham. If you were to ask a South Vietnamese market trader if a cheeky Scottish chappy could make a fish sauce dip to rival the nation's best efforts, they would laugh in your face. But he does, and it was a delight – plus, very hard to find elsewhere in Indonesia.
Rounding out our starter 'bites', we sojourned to India for kachoori, a gram flour puff filled with yellow dal, served with some tangy chutneys (tamarind and mint). I loved it, though I am a sucker for anything sub-continentally spiced. This type of nibbly delectation is perfect both as street food and in this somewhat elevated setting, as an accompaniment to those inventive cocktails.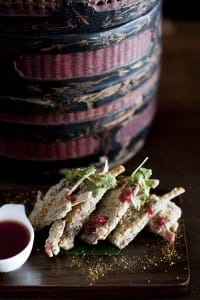 For something heartier – I am loath to call it a main course, as the menu doesn't dictate what you must eat when – you can go oriental with various stir fries, crispy lamb ribs or pork belly. Extending this theme, the restaurant has developed a following for its dim sum, which is (rather unusually) served at night, in the upstairs bar. But we chose from the Curries and Braises section: a lovely Red Duck Curry, another Thai-inspired dish (though duck, of course, is also a well-known Balinese delicacy). This version was sweetened by the slightly unusual, but delicious, addition of lychee. The duck was perfectly soft, and its gamey flavour contrasted well with shrimp paste in the sauce.
With this we also tried a Massaman chicken curry, which hails from southern Thailand. With its unctuous sauce of shallots, pumpkin and potatoes, it was perfect for mopping up with a roti canai, or poured over some plain steamed jasmine rice.
Desserts are lavished with just as much attention to detail as savouries at Mama San, and it is refreshing to see such unique concoctions on offer – a theme that persists in all Meyrick ventures, including Ubud's Hujan Locale and E&O Jakarta. Thai Pumpkin Caramel Candy was a totally new one on me – and it's not often I get to say that! The sweet little morsels were fantastic paired with homemade cashew nut ice cream (cashews, of course, being another important Balinese produce). By far the stickiest, naughtiest dessert was Banana Pudding, which in itself was divine, but the homemade cinnamon, cardamom and coconut ice cream was a revelation. Finally, I was happy to see Meyrick give his spin on Australia's beloved Pavlova, which he smothered with mango mousse, passion fruit coulis, berries, and coconut ice cream. It was both light and bold, with big tropical flavours.
The restaurant, quite rightly, has loyal fans. On a nothing-y weekday night it was packed to the rafters, seemingly with a nice cross-section of tourists, locals and expats: clearly Mama's charms are still in their first blooms of youth. My advice for a night on the town? Start here for copious cocktails, eat something fab­ulous to mop it up with, drink a bit more, order dessert, consider going elsewhere, but then with a sweet sense of inevitability, relent, give up, and settle in 'til closing time.
MamaSan
Jl. Raya Kerobokan No. 135, Br. Taman, Bali
+62 361 730436