The Best Couple Spa's in Jakarta
Thinking of how to spend that special moment between you and your partner this Valentine's Day?
A candlelight dinner with a bottle of wine on your building's rooftop is romantic, but a bit ordinary these days. Why not try pampering yourself and taking your partner to a private spa treatment for couples in Jakarta?
We have listed ten couple's spas in Jakarta to consider. Of course, these are great options for Valentine's Day, but you can also keep them in mind for the adhoc times when you need to refresh your body and mind from hectic work life in the capital.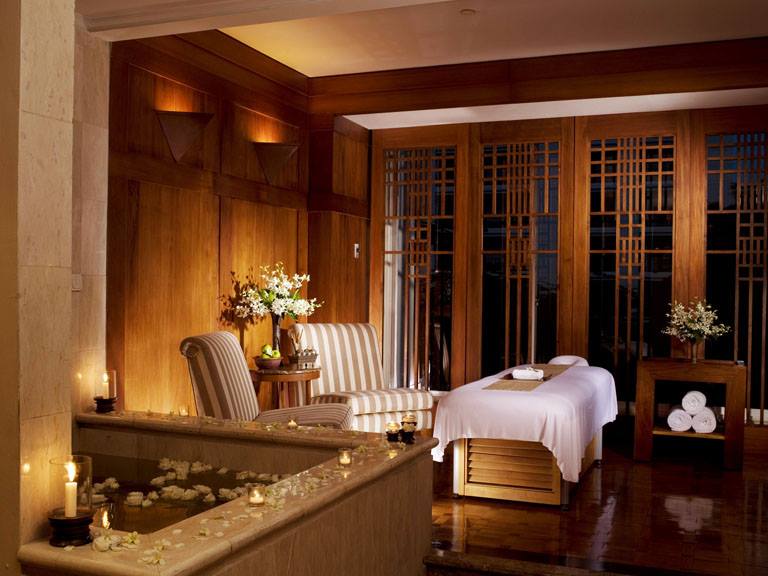 An all-time favourite, the Bimasena Spa aims to provide a refreshing journey into physical and mental wellness in an environment that combines art, greenery, natural marble and exotic hardwoods with the finest natural products.
The award-winning spa offers a wide range of relaxation and beauty treatments to pamper you from head to toe. Pick a 3.5-hour romantic retreat with your loved one this Valentine's Day, which begins with a rose petal wine body scrub, followed by a rose petals body massage and a soothing rose bath. Add on lunch or dinner at the spa's private suite for an ultimate wellness treat.

Featuring six luxurious treatment rooms including two VIP couple's suites, Raffles Spa is a must-go. Bring your partner and head to Raffles Hotel in South Jakarta for an all-in spa experience. The 677-square-metre spa and wellness facility includes male and female relaxation areas, outdoor pools and steam rooms.
The spa treatments at this five-star hotel offer a relaxing Balinese massage in a romantic setting with aromatic bath milk and candlelight. Pick how long you and partner want to spend here, and because it only has two couple's rooms, book early if you hope to get one on February 14.
The Four Seasons Hotel recently reopened its luxury location on Jalan Gatot Subroto in the all-new Capital Place building. The room design features classic European elegance with hushed interiors of botanical art, calming tones and indulgent luxury. You can expect a peaceful yet rich treatment experience in the heart of Jakarta's busiest district.
The spa at Four Seasons Jakarta uses essential and aromatic essences of spices, herbs and tropical flowers that are perfect for relaxing, calming and balancing the body. Escape time in spacious rooms for either detoxification, slimming or energizing treatments, then relax in the futuristic lounge area while sipping tea.

The couple's spa at the InterContinental brings wellness to the city of Jakarta with an integrated facility for body, mind and spirit rejuvenation. The Spa InterContinental claims to offer treatment packages like no other spa in Jakarta. The Red Wine Wrap, a 120-minute treatment that uses red wine to treat your body, is its signature treatment. It consists of three main sessions, which are the Essence Aromatic Massage, the Lavender Rose Scrub and the Red Wine Wrap itself.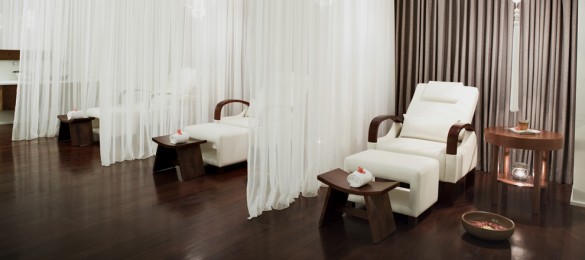 Conceived as a haven for relaxation and contemporary style, Alila Jakarta claims to offer a modern retreat for urbanites and executives. The clean, modern lines of the Jakarta hotel embrace an abstract-minimalist interior combining functional office space and chic living areas.
Treatments at Spa Alila blend ancient Asian healing techniques with age-old beauty recipes featuring the curative benefits of fresh, natural and quality ingredients. One of Alila's Signature treatments is The Beauty of Romance package, a couple's experience that includes a deeply relaxing chocolate bath paired with a glass of wine. This treatment includes a soothing signature foot bath, a 60-minute Balinese massage, a coffee body scrub and toning mask and a delightfully relaxing flower bath.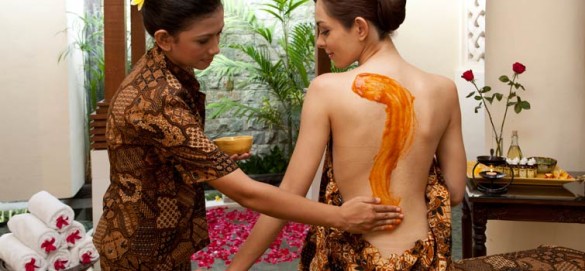 Taman Sari Royal Heritage Spa is a perfect place to enjoy an authentic Indonesian spa experience. Founded by the owner of beauty brand Mustika Ratu, BRA Mooryati Soedibyo, the spa uses Javanese philosophies to bring balance between your mind, body, soul and spirit.
Surprise your partner with its signature five-hour treatment for couples who want to experience the sensual Javanese ancient formula. Treatments for men and women are different to ensure both of you receive the correct balance for your body and soul.

The establishment at Martha Tilaar Salon Day Spa is inspired by both Javanese and Balinese cultures so you can immediately soak in the tranquil atmosphere as you enter the venue. With more than 40 branches throughout Indonesia, Martha Tilaar is a good option for those craving a high quality traditional Indonesian massage in a clean and pleasant environment. Most branches also have a special couple's room with a Jacuzzi.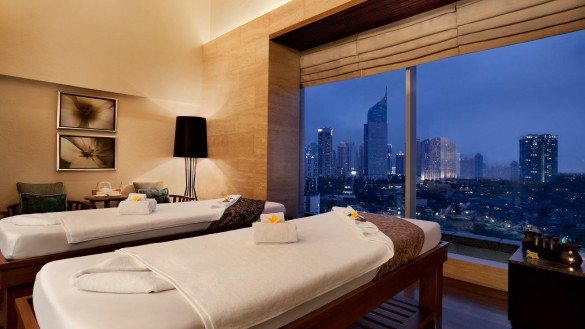 Located in the heart of the city on the rooftop of the hotel, this 140-square-metre spa features personalized treatments to elevate your spirit, relax your body and invigorate your mind. The spa offers wraparound skyline views of the city along with five couple's rooms, four single rooms and a lounge area.
In the spa, couples are treated to the locally inspired signature treatment, the romantic 180-minute Sumatra Sunset. This treatment includes a ketan hitam scrub and a kananga salt bath. To complete the treat, there is also a traditional Swedish massage and pedicure. Light spa cuisine will be offered at the end of the experience.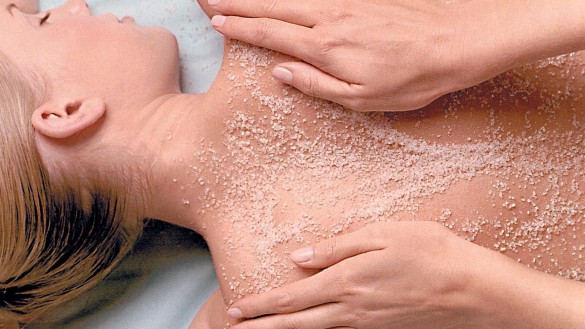 For anyone dreaming of a spa getaway, the Keraton Spa holds special allure to escape from a hectic schedule. Located on the sixth floor of The Plaza, the expansive 1,600-square-meter Keraton Spa offers eight treatment rooms, including one couple's room, two hot and cold plunge pools, steam rooms and infrared saunas.
Inspired by the meaningful and noble philosophy behind the making of traditional batik, the Keraton Spa aims to guide you on a journey of inner peace, tranquility and complete relaxation. Couples must try the Sido Asih Couple Massage. It is inspired by the philosophy of the Sido Asih batik motifs, where two souls become one.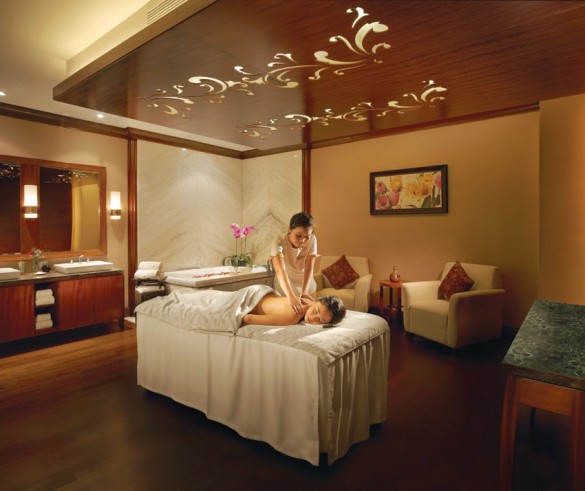 In traditional Chinese philosophy, chi or qi is the universal life force that governs well-being and personal vitality. For people to maintain good health, it is believed that chi must flow freely within the body. The Spa at Shangri-La is your personal sanctuary where holistic treatments are based on time-honoured methods shared by many Asian cultures.
CHI features eight treatment rooms, including two rooms for couples. The CHI signature massage features CHI Enchanted Journey, a three-hour head-to-toe treatment with a foot ritual, a balance massage and a customized facial and floral bath to top it off.