Kevin O'Neill was fresh out of law school when he applied to Jameson's International Graduate Program.
Just a year later, the 24-year- old finds himself bouncing around from meetings and bars as Indonesia's first Jameson ambassador. Indonesia Expat sat down with O'Neill to reflect on his prolific first year taking on Jakarta's bar scene.
What are the circumstances around your arrival in Indonesia?
I came to Jakarta last year as Indonesia's first-ever Jameson International Brand Ambassador. We're trying to grow our presence in this beautiful country and have found in other markets that the best way to achieve this is to have a person based on the ground.
Although Jameson is a product of Ireland, it's part of Pernod Ricard, a multinational wine and spirits company that also have the likes of Absolut Vodka, Martell, and Chivas Regal in their portfolio. I work with the office here to try and grow the awareness of Jameson locally.
What exactly does your job as an international brand ambassador entail?
The international brand ambassador role is very diverse, as it touches on a lot of different aspects within the business world. I work with the sales team to make sure our product is getting good traction in bars, with the marketing team to develop strategic campaigns to grow awareness, on digital to maintain our presence across social media platforms, and of course, there's event management, which is where we get to connect with consumers directly. It's a full 360, but I wouldn't have it any other way.
What are the special skills that made you a good choice for your job now? Why did Jameson choose Indonesia for business?
I'm naturally an outgoing person, which is important for the brand ambassador role. My daily tasks require me to deal with a lot of different people, from bartenders to influencers and even my own local team. Beyond that, I was also really up for the challenge of working in a new, complex environment, like Indonesia, and I think that was a big factor in getting offered this position. The reason we wanted to break into this market is because of the huge potential that Indonesia has to offer, not just for the alcohol industry but for international brands in general.
Of course, there are some cultural differences which have an impact on the way you try to grow your business, such as the way that drinks are consumed here (bottle service over ordering glasses) and the restrictions on advertising in certain areas. However, these are all challenges that force us to be more creative and overall, I think that's a good thing.
What are the biggest challenges you face in Indonesia as an expat? How are these things different to your home country or other countries where you've lived and worked? I got quite a culture shock when I came to Jakarta first, as it was my first time being in Asia, and for so many reasons, it's very different to where I'm from. For instance, the population blew my mind, as Jakarta alone has approximately three times as many people as the entire country of Ireland. This leads to lots of traffic and crowded public spaces, which is not something I would've really experienced before. However, after a year of living here, I can safely say that I've adjusted to the madness!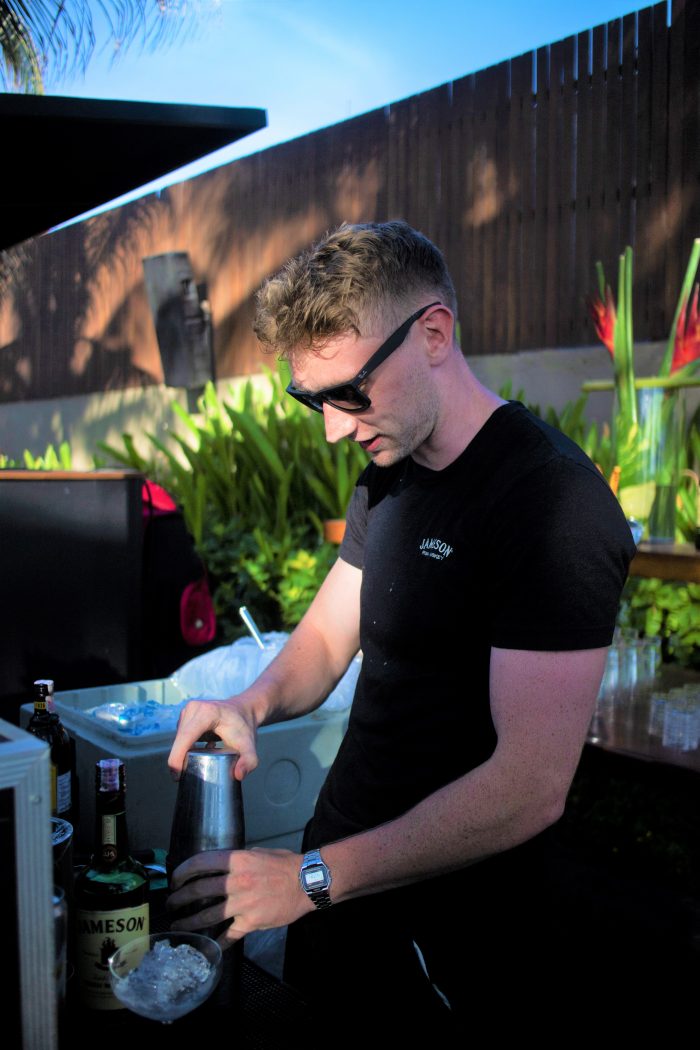 What's your opinion on Jakarta's bar scene? Any interesting takeaways?
I think the Jakarta bar scene is one of South-East Asia's hidden gems! I've been to Bangkok and Kuala Lumpur, and I can honestly say that the nightlife in this city is equal to both, if not a little bit more interesting in some respects. Jakarta has got everything, from cool speakeasies to great, high-energy bars. There are also some top-quality bartenders here as well, working with the likes of Union Group and BIKO, so it's been a real pleasure for me to get to know them over the past 12 months.
Has your educational background shaped your career in any way?
I didn't have the most conventional educational background before taking this role. I actually graduated with a law degree from University College Dublin back in 2017, but my natural disposition to travel and work with people led me to Jameson and apply for their International Graduate Program. However, I do use aspects of my legal training every day in my work. For me, studying law isn't so much about learning information, but rather the analytical way that it teaches you to think. This has definitely shaped my career so far.
Do you speak Indonesian? If so, how well do you speak it?
Learning Indonesian was a big goal for me when I came out here. I think it's a very important thing to do when you move to a new country, and it shows a certain willingness and desire to engage with the local culture. After one year, I'm happy to say that I have reached a level of conversational Bahasa that I use every day in my work, whether it be organising a taxi to an event or chatting with bartenders about our products. Just don't ask me to talk about anything too high-brow!
What advice would you give to Indonesians about living and working with expats? Any tips that might improve the relationship?
I think that Indonesians, although they have the best intentions, can sometimes forget that it's actually quite hard for expats, especially those coming from outside of Asia, to adjust to life here. Whether it be the weather, food or ways of working, so many things are alien to us at first, so it takes time to settle in. In saying that, I think it's the Indonesian people themselves that I will miss the most when leave.
Lastly, has living in Indonesia changed you, your views or your tastes at all?
It sounds cliché but living and working in this part of the world has made me open to new cultures and given me the desire to go out and experience more. I was out of my comfort zone for much of my time in Indonesia and I really learned from it, so I think this country will always be a special place for me. My tolerance for spicy food has also grown massively!