Malaysia and Vietnam rank higher than Indonesia in an English Proficiency Survey done by international education company, Education First (EF).
In the sixth edition of the survey, it was revealed in the English Proficiency Index (EPI) that Indonesia is falling behind its neighbouring countries as it ranked 32nd on the list. The country is suffering a setback from last year's statistics. Indonesia previously placed 28 out of 60 and was the third-highest among countries in Southeast Asia. This year, Malaysia placed 12th and Vietnam outpaced Indonesia by getting the 31st spot.
The survey ranks non-English speaking countries with 400 respondents each.Their proficiency in the English language was based on grammar, reading, comprehension and vocabulary via online and on-the-spot tests at EF branches. Indonesia scored 52.91 points, putting itself in the "moderate" proficiency category.
Among the Indonesian respondents, with an average age of 28, the region of West Java bested the others with a score of 54.66 and Central Java sits at the bottom with 49.51 points. Regions that participated in the survey were Jakarta, Banten, East Java, Yogyakarta and North Sumatra.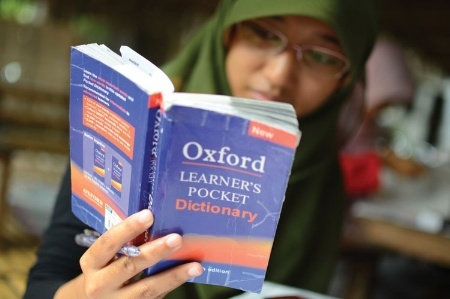 Singapore clinched the 6th spot with 63.52 points, making it the best among Southeast Asian countries, while the Philippines was ranked 13th with a total score of 60.33 points.
Even though Indonesia saw a drop in its ranking, it was still higher than Thailand and Cambodia. Thailand was at 56th place with a score of 47.21. Cambodia, on the other hand,  joined Laos, Libya, Iraq and Saudi Arabia among the last five countries.
The EPI is considered as "the world's largest ranking of countries by English skills". The annual report identifies language learning trends in the regional and global scopes.
Hikmahanto Juwana, University of Indonesia's international law expert, warned that Indonesia could face problems once the ASEAN Economic Community (AEC) begins, with the country's English proficiency level progressing at a slower pace.
Juwana said, "In the context of the AEC, we're worried that if Indonesia's human resources are not being trained to be fluent in English, then it will be hard for them to compete with those coming from other countries. And we're not talking about Indonesians looking for work in other countries." He added, "The English language is a tool. We want our people to use this tool when they're looking for jobs overseas."
Senior Economist at the Institute for Development of Economics and Finance (INDEF), Berly Martawardaya, expressed worry by saying, "We cannot be complacent and let our neighbours overtake us in this global race."
Despite this report, it has been said that EF's EPI should not be the final basis on judgement. The survey has been heavily criticized for its improper mechanisms. According to experts, the survey lacks adequate representative sampling in each country.
Out of all the 72 countries that participated in the survey, the Netherlands topped the list with an impressive 72.16 points.
Image credits: ABC, Times Higher Education