Immersive dining has evolved since the days of "dinner and a show," which often meant mediocre dinner and tacky theatre production that sometimes involved (oh god, please, no) audience participation in song and awkward dance.
Recent advancements in entertainment technology and culinary art have opened opportunities for truly unique dining experiences that far surpass our expectations for dinner and a show. Foodie culture is bigger than ever and chefs worldwide are striving to perfect their art, constantly pushing the envelope, and further, becoming producers of their multi-sensory productions, controlling various aspects of the atmosphere in ways many cannot yet imagine.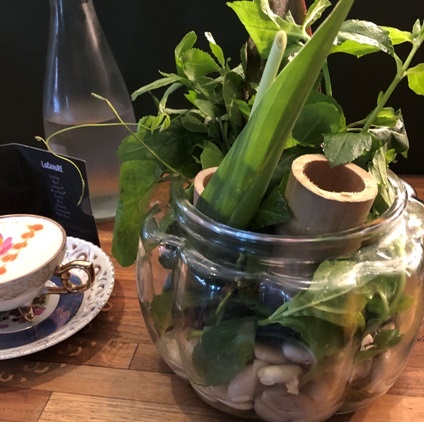 Immersive dining experiences range in definition and quality. Let's start with the best:
Ultraviolet in Shanghai sets a gold standard for immersive dining. With only ten seats a night available, it's reserved many months in advance. Chef Paul Pairet and his team produce a meal with a changing atmosphere for every course. The perfectly-executed 20 courses are bolstered by a setting that completely transports the diner into another land using 360-degree projection screens around the dining room and 3D projection mapping on the table. Music, sound effects, tastes, textures, visuals, scents, and temperatures are all parts of the orchestra that are manipulated to create the symphony. Think of eating Fish & Chips in the rain in London, or cracking fresh lobster while seeing the waves crash against the rocks and feeling the breeze in your hair. In 2018, the restaurant earned three Michelin stars and made it in Time Magazine's "World's Greatest Places" list.
To gain perspective on industry trends, I spoke with Paul Washburn, Head of Development at Super 78 Studios in Los Angeles, California where he designs and produces immersive experiences. Washburn pointed out that entertainment powerhouses, Disney and Universal, have successfully implemented immersive dining venues in Star Wars and Harry Potter attractions, allowing guests to eat and drink in places familiar from the films. At their best, these experiences add richness to the world and as guests feel more connected to the storylines, they have a reason to keep coming back. Washburn said, "A story is most important when crafting an immersive experience where every sight, sound, scent, and taste is carefully choreographed. The added challenge of making a story delicious involves coordination across many disciplines and often the desired experience is truly like nothing that has even been done before. This is an exciting time for diners as more experiences are popping up all over the globe in theme parks, fine dining venues, and even cruise ships."
If you aren't straying far from Jakarta any time soon and want dinner with a fun show, Le Petit Chef may be an option. It has made its first Jakarta experience in October 2019 as a pop-up dining attraction in C's, Grand Hyatt Jakarta. This dining experience is a whimsical, light-hearted entertainment for all ages. The company that produces this experience, Skullmapping, utilizes 3D projection mapping technology to create an entertaining scene on the table in front of you. Imagine the world's smallest chef, measuring at 58mm, projected onto your plate in 3D, travelling through various regions of the world, gathering ingredients to cook up your meal. This experience is more about the show and less about the food, but indeed a cute experience worth checking out.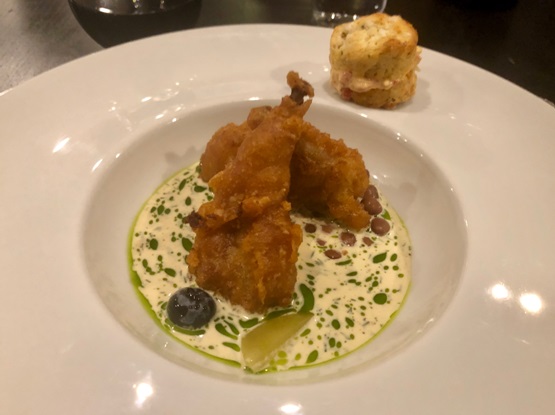 Also, in Jakarta, where the food itself is more of the show, is Indonesia's first molecular gastronomy restaurant, Namaaz. Here you will enjoy Indonesian cuisine prepared in playful ways. Self-taught chef, Andrian Ishak revamped fine-dining to "fun-dining," using liquid nitrogen, tableside smoke, and molecular gastronomy techniques such as jellification.
The last spot I can recommend in Indonesia for an immersive evening is in Ubud. Requiring a reservation a few weeks ahead, Locavore is advertised as a 7 or 9-course set, but you always get a few fun extras between courses. There is no projection mapping here, but a seat at the kitchen bar will yield an immersive experience as you watch the team create masterpieces using locally sourced, sustainable ingredients. The kitchen team is a well-oiled machine and I find myself thoroughly entertained and enamored by them each time I go. You do get to play a bit as well; for this dish, you must eat using a stick dipped in honey to get the goods out of the bamboo shoot, just like Indonesia's beloved orangutans do in the wild. Chef Eelke Plasmeijer and Sous Chef Ray Adriansyah outdo themselves.
True foodies know that there is a trick to finding the best spots to eat. So where do we find these unique places? Googling the "best restaurant" will either guide you to the spot that is the most expensive, pays the most for advertising, or is the most popular. There is no worldwide foodie bible, and foodies probably intend to keep it that way. The spots are found by asking around.
I was recently in Los Angeles and found one of the fantastic "secret clubs" of dining experiences, Wolvesmouth. I consider this experience immersive dining because all aspects of the night come together to make it memorable, and perfect. When Wolvesmouth decides to put on an event – they do this whenever they feel like it, perhaps twice a month or twice a year – those on a mailing list will get notified. When tickets go on sale, it sells out in less than ten minutes, so wish for luck and be online on time.
Pricing is not out of this world. It was more affordable than many high-end and omakase restaurants in Jakarta. The precise location is emailed just hours before the event and there is an attendant at the door to ID and guide you to the best dinner party a foodie could imagine. You and 20 others gather around one table. The kitchen is right there in the cozy living room, so you can see the expert chef and team preparing each course as a delicate piece of art. The chef explains every course casually to you, with genuine humility and not a hint of arrogance – so refreshing. You feel like you are in the home of the chef, experiencing a very special evening. No special effects here, just a unique new place and strangers, all sharing a love for food. The element of secrecy lends nicely to the evening because you know others in the room are as passionate about the art of culinary creation as you are. It's not about being on display at a fancy restaurant, it's just about the food. I spent nearly three hours there, made new friends, and months later, I am still drooling over the thought of the crispy deep-fried quail served atop a cream sauce with fresh dill oil.
Immersive dining is embodied in different forms. Now chefs are taking on a broader role in the production, getting more creative with the entire experience, altering aspects of the environment to elevate guests to another level. Going out for dinner can be a transformative experience, or at the very least, entertaining. Check out this art form if you have the opportunity!