Jennifer Karjadi is a co-founder of Union Group, one of Jakarta's most successful food and beverage businesses. Her passion for the industry as well as her unique combination of style, hardy business acumen, focused determination and a discerning eye for details have helped create a dynasty of vibrant restaurants and inventive bars, popular with both expats and locals.
For those who are not familiar, can you share with us the founding story of Union Group?
The Union Group started organically – two of the partners, Michael Wijono and Winfred Hutabarat, opened Casa in 2006, while Michael, our other partner Donny Basuki and I opened Cork & Screw a year later. We all have a strong passion for food and drinks, and different specialities that truly complement each other. The four of us finally came together to open Loewy in 2008, and the rest is history. We decided to officially form The Union Group in 2014.
What is your group's mission and has this evolved over the years?
The Union Group is committed to providing our customers a great experience by offering them high quality food, beverage and wine, in addition to friendly and knowledgeable service in a warm, casual but thoughtfully designed setting. This has always stayed the same in the last ten years, and hopefully for many to come.
Today, your family of restaurants includes Benedict, Caffe Milano, Canteen, Casa, Cork & Screw, E&O, The Dutch, Loewy, Bistecca and Union. Which of these would you say is closest to your heart and why?
It's like choosing a favourite amongst your children, I can't do that. We generally lavish the same amount of love and attention on each of them.
Your newly opened gastropub The Dutch has received rave reviews. What made you want to open a charcuterie and pub of this calibre in Jakarta?
There wasn't a true gastropub concept in Jakarta at the time, and we thought it would be quite popular given the market's penchant for good craft beers and rustic food. Our very talented chef from Canteen, Chris Moes, had also just come back from Europe, where he learned to make some great smoked and cured meats, and was very inspired by the gastropub movement there. We gave him creative command of the kitchen at The Dutch.
Competition in this industry must be fierce. How do you keep on top of your game with all the new eateries opening up on what feels like a weekly basis?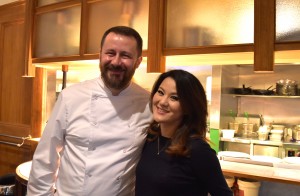 Competition is definitely getting fiercer, but we always aim to create concepts that can stand the test of time. We do this by creating restaurants and bars that people can return to everyday, and making sure that the basics are always right.
We are lucky to work with talented chef partners that produce consistently great and memorable food and a team of mixologists and sommeliers that turn out perfectly made cocktails and curated wines. And of course, we have a team of managers and front-of-house staff that deliver on-point service, and guest relation officers that know our customers and their preferences by heart.
When planning to open a new restaurant, what are the key points you have to consider in your business plan?
A new concept that fills a current gap in the market, a great location as well as a chef partner that we love to work with.
Excellent customer service is notoriously hard to come by in Jakarta. What kind of training do your staff members undergo before they are ready?
Each and every staff member goes through rigorous training to ensure that they know our food and beverage offerings inside out and are super familiar with our steps of service. But we also believe the key is in teamwork, and for us to provide a great working environment for our staff – after all, happy employees make happy customers.
You oversee the management of all ten of your eateries in Jakarta. How do you manage your workload?
Actually now we have a total of 13 outlets, and soon it will be 14. We divide the workload between the four partners, and of course we have an amazing team to help us, without which we wouldn't be able to survive. As the marketing and PR director, I actually manage those departments, while Winfred manages food and wine, Michael deals with beverage and Donny deals with operations and finance.
How do you utilize technology to improve productivity in the food and drink industry?
In the kitchen and behind the bar we have taken advantage of the latest technology in pursuit of the best possible product – sous vide machines and Josper ovens for the chefs, an evaporator that infuses and ages spirits for the mixologists – however, we also still strongly believe in the personal touch, and we think that nothing truly replaces the human element in the food, beverage and service industry.
If you could invent any tool to help you run your restaurants and bars, what would it be?
A cloning machine so my partners and I can be at our restaurants and bars at all times.
You recently launched Bistecca, the Italian-American steakhouse and classic martini bar located next to The Dutch. Is there a new restaurant or bar opening for the Group on the horizon?
We also very recently opened the second outlet of Benedict on the fourth floor of Pacific Place. It's an all-day breakfast and coffee bar concept in a light-filled, loft-like space; and it is perfect for a quick lunch, dinner after work or brunch with the family on the weekends.
We will be opening our first Mexican concept, Superloco, at Pacific Place in the next few months – a partnership with Singapore-based The Loco Group. It will feature delicious Mexican street food, a bar specializing in margaritas with a huge selection of tequila and mezcal and a super fun vibe.
Do you face any gender-related challenges as a businesswoman in Indonesia? If so, how have you overcome these challenges?
I suppose people see me as a strong personality, as I am the only female partner out of the four who actively manage the business. I had to develop this strength through my role. The F&B business is a lot of hard work, but my strength comes in handy at times. With all of our busy outlets, sometimes the complaints can be overwhelming, but I support my staff and stand by them when things get difficult. Sometimes, it takes a woman's touch to negotiate through the tough situations.
You're considered a successful businesswoman in Indonesia. What would you say your ultimate goal is?
My partners and I have provided many special experiences through our restaurants and bars; we enjoy educating the local market and providing a glimpse into the great things happening in the industry overseas. We want to be pioneers and aim to create an exciting local food scene that meets international standards.
I'm most proud of my personal contributions in these areas, and my goal is to make Jakarta a food destination on par with other major cities in Asia. After only ten years, The Union Group has already become an established part of the F&B scene, and we hope to stay relevant and have our fingers on the pulse for future expansion.