Hyatt Regency Bali and Andaz Bali proudly introduce The Hyatt Bebot, a cutting-edge beach cleaning robot developed by The SearialCleaners by Poralu Marine.
This innovation marks a significant advancement in the resorts' sustainability journey and a pioneering achievement for Bali and Indonesia as the first locations to employ this Beach Cleaning Robot.
Hyatt Regency Bali and Andaz Bali are at the forefront of eco-friendly beach cleaning with the Hyatt Bebot, an electrically powered, remotely operated robot that prioritises the efficient removal of plastics and debris from the beach while safeguarding the local flora and fauna.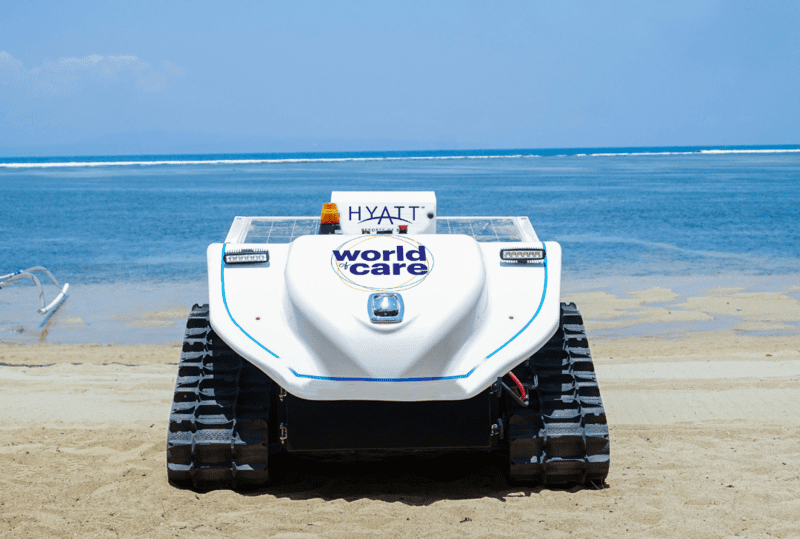 Hyatt Bebot operates with precision to leave cleaner shores without disrupting the delicate beach ecosystem, emitting zero emissions due to its fully electric design. The official unveiling of this robot is scheduled for Tuesday, 31st October 2023, when the media and the local community will witness its capabilities firsthand.
Hervé Mazella, the resort's managing director, stated, "With Hyatt Bebot, we're enhancing our sustainability efforts in beach cleaning, offering our guests and the community pristine shores while championing environmental preservation."
In line with Hyatt's commitment to innovation and caring hospitality, this technology will be deployed at Hyatt Regency Bali, Andaz Bali, and Grand Hyatt Bali, providing guests with a cleaner, more sustainable coastal experience and reinforcing their dedication to hotel and environmental stewardship, contributing to a greener future for Bali one beach at a time, with Hyatt Bebot.