While Indonesia is currently banning single-use plastic bags there's still an abundance of plastic waste littering its streets, oceans, and waterways.
Indonesia contributes the second highest share of mismanaged plastic waste worldwide and a great deal of that waste comes from recyclables, which are deemed almost useless. If the demand isn't there, waste ends up in landfill.
A solution is at hand: NevHouse technology takes the waste we throw away and turns it into sustainable housing solutions. After a trip to Bali in 2013, surfing icon Nev Hyman created a modular home designed from all seven codes of plastic waste and sustainable timber: a useful, easy, and profitable way to help clean up the environment. The NevHouse structures can be built in 1-2 days, either on or off the grid, providing a versatile, affordable, cyclone-proof solution. Nev's goal is to establish a facility right here in Indonesia to address the plastic problem that is threatening to engulf the archipelago.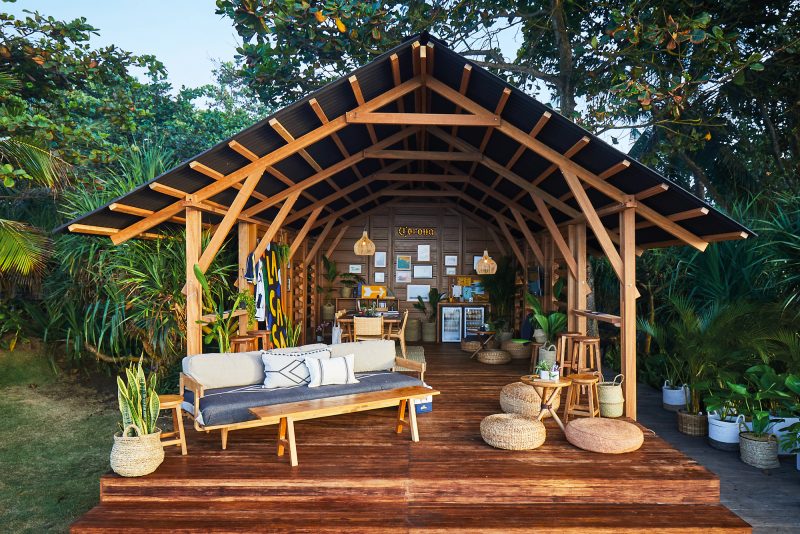 Created by Corona X Parley, in collaboration with NevHouse, the Eco Studio on display at Komune Resort & Beach Club was made from 1.5 tonnes of recycled plastic, which in the future could be taken directly from Bali's homes, rivers and beaches. The business model allows for communities to collect, grind and shred local and household plastic resources and earn an income of up to Rp2 million a tonne, resulting in jobs being created, while effectively offering a global approach to tackle the scourge of plastic pollution and transform recycling as we know it.
Most other recycling processes involve extrusion methods or injection molding, therefore mixing contaminated, low-grade plastic waste that cannot be used. However, the NERF (Nev Earth Resource Facility) will process residual elements of municipal waste, commercial and industrial, agricultural, e-waste, cars, aluminium, and mid and low-grade plastics for NevHouse components, while continuing to collaborate with existing waste management companies for feedstock supplies.
The multiple grades of plastic get shredded and pulverised and placed inside the mold with a special agent, then heated to a high temperature. The NevHouse CRPP (Composite Recycled Plastic Panel) system delivers a solid skinned and foamed core lightweight sandwich panel from 100 per cent mixed post-consumer polymers. Low maintenance composite panels and tiles are made from the seven codes of waste plastic, which encapsulates any organic material such as bamboo, coconut, and contaminants, with an exterior finish of any colour and texture. Unlike conventional plastic recycling technologies, this process is tolerant to high concentrations of impurities allowing coarse flakes to be used as the feedstock, thus removing the need to grind feedstock to a fine powder.
Nev Hyman is working with Arief Rabik from Indo Bamboo, who has created a structured beam from composite bamboo to replace LVL. The Composite Recycled Plastic Panel, made from 100 per cent mixed post-consumer polymers, is sandwiched in between the bamboo frames. This gives inherent strength and flexibility, perfect for an earthquake zone like Indonesia.
NevHouse can be used in flood areas, marshes, rice fields, and out over water due to the inherently low maintenance attributes of materials. The house is a concrete-free alternative to concrete and brick walls, floors and slabs, and strong too. The frame of the house is a sustainable timber LVL modular portal system, rated to withstand category five cyclones. The portal frame ties into screw piles or SureFoot systems that are driven into the ground, each one goes into the ground with five tons of uplift. The structures can be removed in one day with no environmental footprint.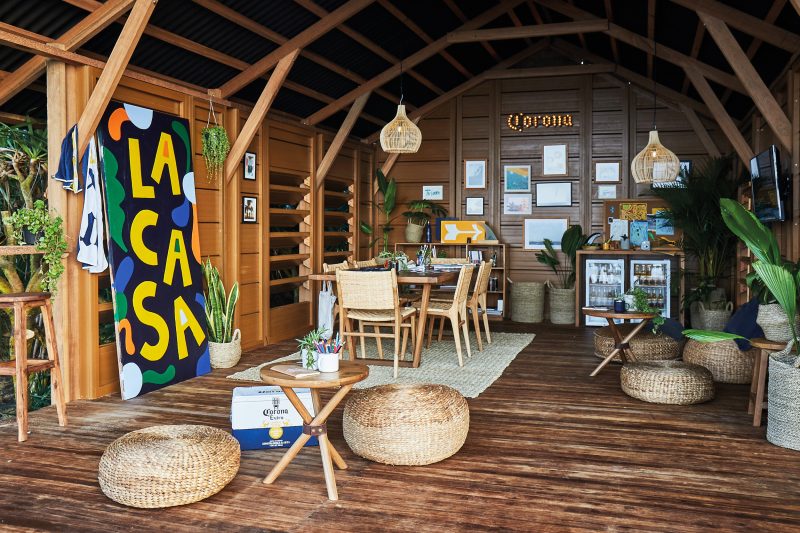 The NevHouse CRPP facility can be operational in six months to take plastic waste from the environment for schools, houses, and outposts for Indonesian communities. It's an innovation that avoids plastic going to landfill and incineration by re-purposing and re-using plastic, turning it into products that need large volumes of this resource, such as housing, as well as raising awareness about the millions of tons of plastic that is discarded in Indonesia every year with an immediate solution for the country.
Plastic is a resource, and with an estimated 40 per cent increase in production of plastics over the next five years, Nev's message is to recognise that plastic is not evil, only the improper disposal of plastic is evil. Today, we use plastic in every part of our daily lives; without plastic, there would be major health issues. There won't be a quick solution found in biodegradable plastic, it's not going to happen in a hurry, so we need to avoid incineration, take contaminated low-grade waste, and turn it into products.
While Nev has gone above and beyond the endeavours that most of us make in the fight against plastic waste, it is important not to discount the impact of our everyday efforts to reduce the amount of plastic we consume. Luckily, people all over the globe are becoming more and more conscious of the detrimental effects plastic waste can have on marine environments, and are beginning to take action to stop it.
Image: NevHouse