Recent years have seen more unique food trucks turning up throughout Jakarta, with proprietors offering one-of-a-kind dishes to stand out from competitors.
Food trucks are a relatively new gastronomic concept, having taken America by storm in recent years. Now, they are set to bring unique culinary experiences to the busy, metropolitan life of the average Jakartan. According to the Indonesian Food Truck Association (IFTA), there are 70 mouth-watering food trucks rolling around in the Big Durian, a number which is expected to increase as awareness and popularity spreads.
With robust media coverage, city folk are becoming more aware of the metropolis' mobile munching opportunities. Potential customers can gauge the quality of a truck by counting the number of warm bodies queuing up in front. That said, the presence of food trucks in Jakarta is still young. Foodies are still testing things out, with loyalties not yet established.
Food truck owners are trying hard to stand out from the crowd by offering one-of-a-kind treats that can't be found anywhere else. Ari Galih Gumilang, owner of Jakarta Food Truck, believes maintaining the original concept of the business from the US and Europe will do just that.
Ari, who used to be a chef at the Grand Hyatt Hotel Jakarta, started Jakarta Food Truck with his best friend Anglia Gordyna in December 2013. Inspired by food trucks in western markets, Gumilang decided to sell American and European food on the streets. American-style fried chicken and grilled beef are some of his customers' favourites.
Patrons also say their favourite food from Jakarta Food Truck is the sloppy joe – a sandwich containing ground beef, onions, tomato sauce, Worcestershire sauce, and other seasonings, served on a hamburger bun. The truck can be found cruising around South and Central Jakarta, targeting office workers on weekdays and families on weekends. Jakarta Food Truck's prices range from Rp.15,000 (US$1.33) to Rp.65,000 (US$4.76) per serving.
Elsewhere, food trucks Loco Mama and Taco Truck Indonesia have decided to mix things up by cooking zesty Mexican fare at a reasonable price. Freshly made nachos, burritos, quesadillas, and tacos are most definitely on the menu. In this writer's opinion, the best dish is a chicken burrito with all the fixings and an ice cold Bintang – or a Corona with lime, if you insist on authenticity (and you should!).
If foodies want fusion, Taco Truck Indonesia gets a little more experimental in its approach, and attempts to marry its host country with its adopted cuisine. Quirky examples are rendang tacos and burritos. It also offers crunchy chimichangas (deep fried burritos) and fresh churros for dessert. Prices per dish range from Rp.20,000 (US$1.46) to Rp.35,000 (US$2.56). Aside from Corona, authentic sangria and the Mexican favourite horchata are available on the drinks menu.
Andre Tenardi, Taco Truck Indonesia's owner, says he initially wanted to jump into a culinary business that didn't yet exist in the capital. "I chose to sell tacos because Mexican food, which is trendy abroad, was hard to find in Jakarta," he explains.
The Taco Truck moves from one place to another at random times, depending on popular demand from food lovers around town. Originally, it served customers in Kelapa Gading, North Jakarta, before moving to Menteng, Central Jakarta, and then Kemang, South Jakarta. Currently, Tenardi is feeding customers in Pluit, North Jakarta, from 5pm to 11pm.
Another food truck called Machete also serves Mexican cuisine. The chef, Jonaroo K., who studied at Jakarta Culinary Institute, believes street food can be healthy and clean. The team behind Machete says they stand out because all their food is made from scratch and is served fresh. They make the tortillas, salsa, and guacamole each morning, spending up to four hours alone on preparation.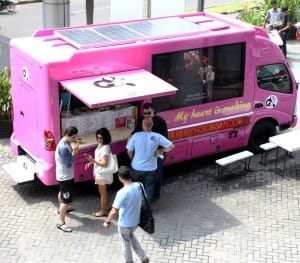 But interesting food itself will not suffice in attracting customers when there are fierce and equally creative competitors afoot. Location ends up being one of the deciding factors for hungry locals who want to visit a food truck. Realtors say "location, location, location" when determining the value of a house. It may be a cliché, but nowhere does it hold truer than in the food truck business. The place a truck decides to park is the most essential factor. This also plays into to the nomadic concept of food trucks. Because Jakarta's food trucks are mobile, they can execute A/B testing in terms of which places have the most adventurous eaters.
Publicized locations of food trucks must be updated frequently, and many visitors have begun making orders via social media or a truck's own website. Food truck festivals are also becoming trendy. Many vendors see festivals as a great way to debut their mobile restaurants. They also create opportunities for a pumped-up evening of sales, as visitors are more likely to buy from them in a festival rather than a stand-alone truck if still unfamiliar with the concept. Local food truck proprietors say small-bite portions or sampler menus can be simple and effective ways to attract visitors during festivals.
A food truck owner might also want to consider implementing a queue management system to avoid chaos during peak hours. If possible, owners should also provide chairs where hungry customers can sit and eat.
In the end, however, it all boils down to the menu. While treats from trucks don't need to be novel to be perfect, they do need to be delicious and reasonably priced. Joining an association like IFTA or the Indonesia Car Business Organization can also be helpful, as participating owners are sure to get the latest information about food truck festivals in the archipelago.
All in all, the food truck business is growing as Jakarta is filled with culinary enthusiasts craving the next big thing. Big-name retailers like Bakmi GM and Chatime also plan to enter the food truck business.
While the food truck industry in Jakarta may have tremendous market potential, it's not without its own set of challenges. Difficulties inevitably include finding proper places to park due to the city's limited space and overpopulation.
Moreover, business owners need to obtain necessary licenses before they can legally operate food trucks. While many proprietors are sure to just start shooting from the hip, legally speaking, food trucks must be registered in accordance with the nation's Tourism Ministry. Owners have to obtain and file an official registration letter with the Ministry, just like any other restaurant. However, obtaining such a license is often difficult, says Jakarta Food Truck co-owner, Gordyna.
"The license is hard. We have to fulfil an operation license and car license. Our company is the prototype for this kind of license. The government is still confused about our business category. We even once were kicked out while parking in the National Monument [Monas] by the Public Order Agency (Satpol PP)," Gordyna says. She also admits Jakarta Food Truck has not yet been able to obtain a license from the Health Ministry, but it's in the works.
"Even though we don't have a license from the Health Ministry, we have the license from IFTA, which now has a standard for food truck cleanliness," Gordyna explains.