Batu, a small mountain side town located close to Malang city, is known to locals for its excellent attractions. From zoos to numerous fun educational parks, this town is perfect for weekend getaways from busy Surabaya city.
Batu's most recent attraction has truly made this town unique in all of Java. The Onsen Hot Spring Resort opened its doors at Jalan Arumaldu, Songgoriti in December 2017. Though small, this resort is regarded as one of the most unique resorts in Southeast Asia as it is the very first resort with a Japanese bathhouse theme. Now you don't need to travel all the way to Japan to get a Japanese bath house experience!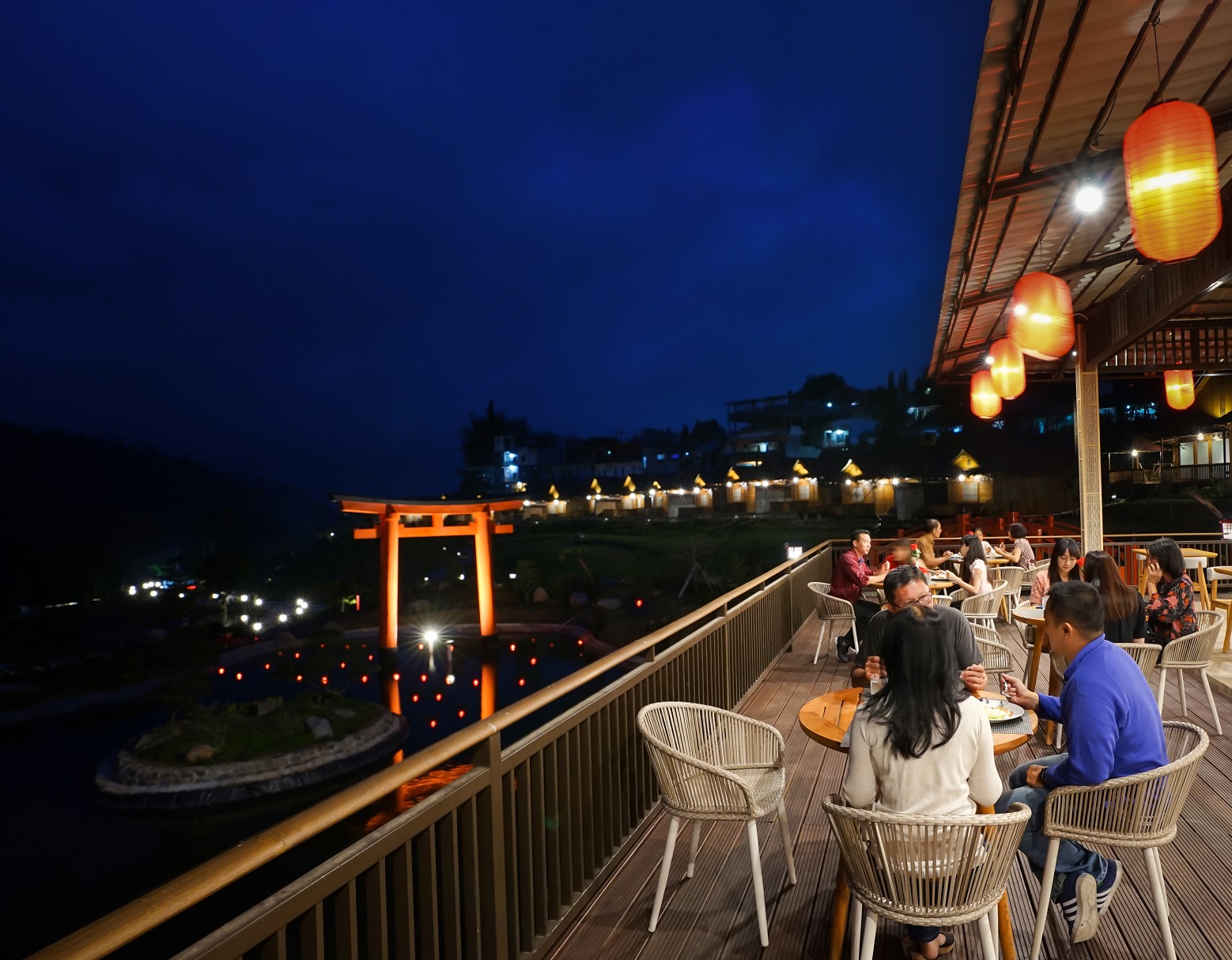 Entry for the general public is free but staying at the resort is not cheap. However, many tourists seem to agree that it's worth the price of Rp3,555,000 per night. The attractions in this resort include beautiful views of the mountains, a restaurant selling authentic Japanese dishes, for example a variety of tempura and noodle soups – Ramen, Udon and Soba – a pond with a typical Japanese red arch and 25 Japanese style villas with private hot spring baths.
If you do choose to stay in a villa, you will have to check in at the administrative building, which is a simple hut opposite the "Onsen" vine décor. It's easy to miss it because of its size. After checking in, a driver will take you to your hillside villa.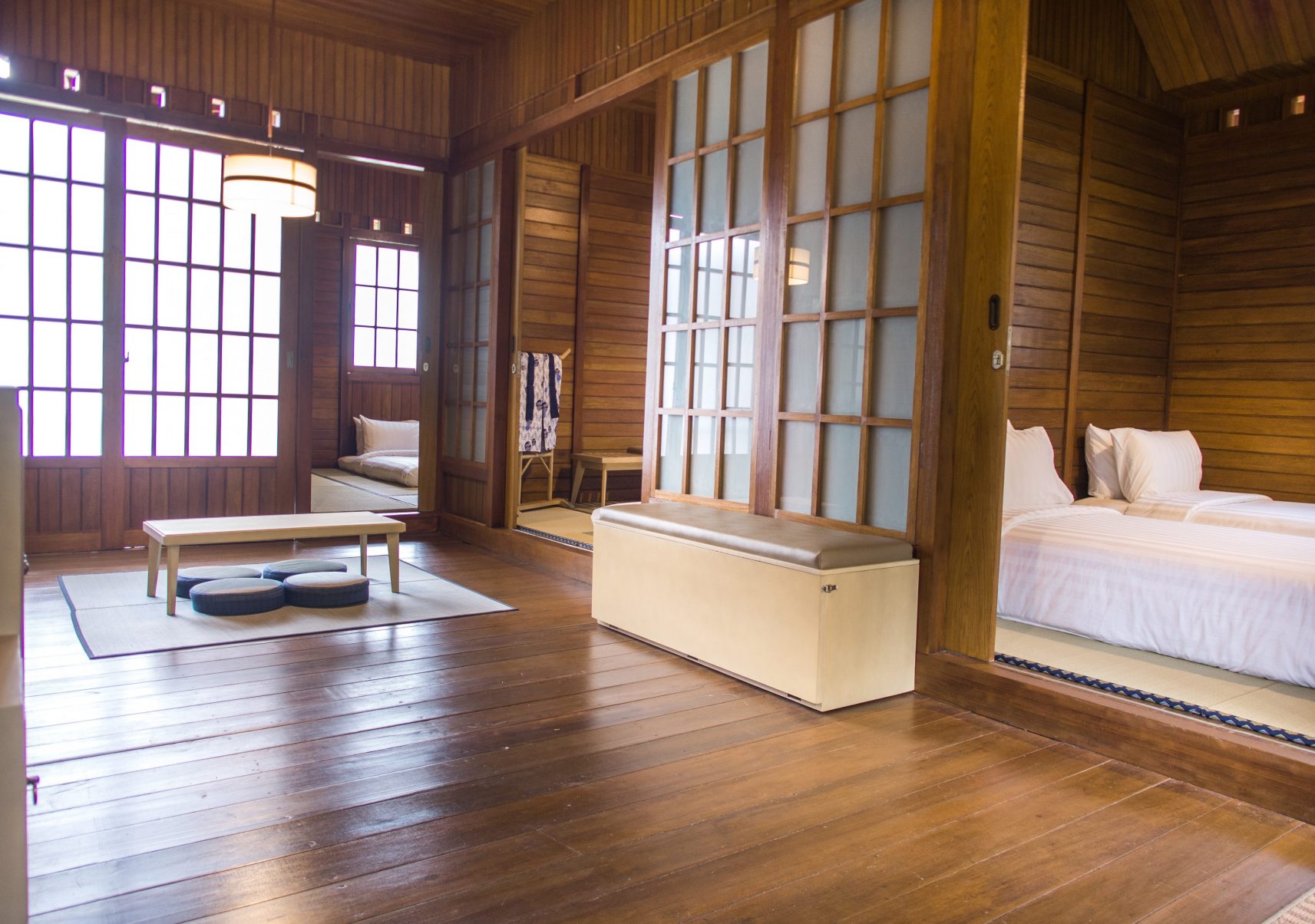 Each villa is named after a location in Japan, for example Tokyo and Nara. These villas have two or three rooms and each room has two mattresses or a standard twin bed on the tatami (mat) floor. The highlight of this villa is its private hot spring bath which allows you to soak and destress in total privacy. Though the water may seem dirty, it actually isn't. The brown colouring comes from the sulphur powder used to prevent itching and cleanse the skin. It's simply divine to soak in the hot water after a long day discovering the beautiful Japanese-inspired grounds of the resort.
For those who do not want to stay at the villa, there's a public bath open from 3pm to 5pm with an entry cost of Rp150.000. However, do arrive early to make sure you beat the crowds. After the hot bath, you can enjoy the delectable dishes over at Fushimi Restaurant. It's just a quick walk from the bathhouse to the open air restaurant with a balcony offering stunning views of the mountains nearby. The restaurant serves both Japanese and Indonesian dishes. They also serve crispy vegetable and meat tempuras and delicious fish and rice dishes.
You can rent traditional Japanese clothes and have your hair done in Japanese style for pictures at no cost. On top of that, the staff of the resort ensures excellent service to meet your needs.
The Onsen Hot Spring Resort Batu is a unique and interesting choice if you want to try something Japanese and is certainly a welcome addition to the many attractions of East Java.
THE ONSEN HOT SPRING RESORT
Jl. Raya Arumdalu – Songgoriti 65312, Batu, East Java, Indonesia
Phone: (0341) 5101888
Email: [email protected]
Website: www.theonsenresort.com