Leaning over the sturdy railing at the waterhole, I made sure to look up to check no lazy cats were lounging in the nearby trees. This was macan tutul country – home of the Javan leopard in Baluran National Park, East Java. I asked the ranger, Pak Teguh if he had personally come across any wild cats. "Yes, I have," he said. "As part of my ranger duties, I must study the leopard population."
His next comment astounded me. "I sit in a tree all day and night. That one right there," he said, pointing at a tall, sturdy tree. "This is a popular waterhole, so the chance of seeing wildlife here is very high. I have to be tree-bound. I have to eat and sleep up there. My feet are not allowed to touch the ground the entire time", he continued. "The leopards cruise through this area, and if they could sniff me out, a predator in their mind, they would either take flight or attack me. So, I must become part of the tree, camouflaged in the branches the whole time. I eat rice only. Rice does not have a strong odour. I even have to pee into a plastic bag and keep that stored in my backpack. If I urinated on the forest floor, this would mark my spot and would be a dead giveaway. I am armed – just in case."
It turns out that, in his four years of working in the national park, Pak Teguh has done tree duty several times. "We study alone. It is our job to collect data," he added, "I am happy to dedicate myself to this work, and I am learning all the time."
The Baluran National Park has a unique landscape. Grassland, acacia scrub and lowland forest stretches across most of its area – some 25,000 hectares.  The grassland is referred to as savannah. Dominating this landscape, the mighty Mount Baluran, a dormant volcano, rises to 1,247 metres. The best place to get an overview of the park is from the watchtower at Bekol, where you can look out over the endless landscape and see as far as Bali.
The park is fringed by stunning coral reefs. It takes one hour to travel the 15 kilometres to the beach. The road is very rough road but when you arrive at Bama Beach, a beautiful white stretch of sand, it is worth it. It is a bay and very safe for swimming and an excellent snorkelling spot.
I stayed in a homestay just outside the park entrance and my host advised me to have lunch at Bekol, a central spot in the park, and not to rely on the Bama beachside warungs (cafes). It turned out to be good advice. When I got to the beach, which is a highlight of the park, everything was closed. The chalets at Bama Beach are terribly run down, so it's much better to stay in Wonorejo, just outside the park and choose a nice family-run homestay.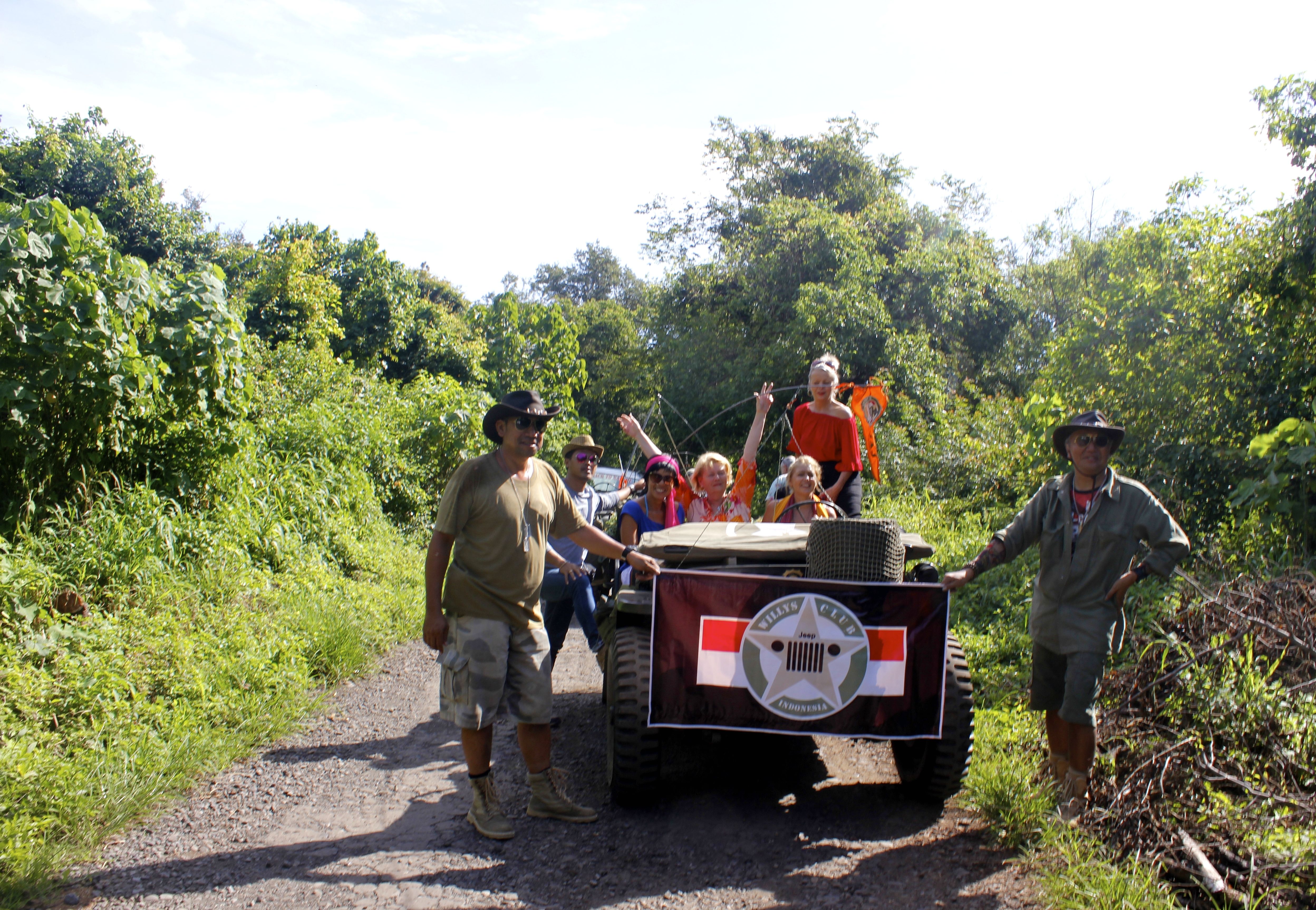 Wonorejo is a sweet little village with an excellent selection of homestays, some of which have swimming pools. There are two options to explore the park – travel by car or take the freewheeling easy rider option and rent an ojek (motorbike and driver). This can easily be arranged in Wonojero beforehand. Why not get adventurous? It's a safari park after all.
Baluran was given national park status in 1984, but so far it hasn't provided the sort of facilities to attract the thousands of tourists like some other parks. Let's hope it stays this way. Baluran is a hidden find.
For ten months of the year visitor numbers are low, and pretty much have the park to yourself.  High season is July and August, and it can be jam-packed with school children, domestic tourists and troops of forestry volunteers. If you can avoid this time, it is best. Pak Teguh told me this is also a popular time for film crews to come and shoot movie scenes. Korean and Bollywood stars have come to the park in the dry season, and film-makers like to use the stark savannah plains as a natural backdrop.
I visited in low season and only saw nine other cars and eight motorbikes during the ten hours I spent in the park. Because a ranger escorted me, I had permission to stay until dark. Usually, the park gate shuts at 4pm, but Pak Teguh made me an offer I could not refuse. "Why not stay past sunset and go on a night safari?", he said. "We have a much better chance of spotting wildlife as the animals will be out hunting. I will go ahead on my motorbike and make sure all is safe. You follow in the car." He assured me, "Don't worry – you're in good hands."  Well, who could resist that? Without further ado, I agreed and phoned my homestay and had a dinner pack delivered to me in the park.
At around 5pm I went in search of a good sunset spot and eventually settled on a wide-open blanket of savannah grassland which rolled out to meet the faraway dominant giant on the skyline – Mount Baluran. I spotted a large herd of Javan Rusa deer grazing and encountered one lone water buffalo slurping greedily at a nearby waterhole. As dusk settled around me, a most spectacular sunset lit up the plains. Vivid hues of purple danced off the mountainside and burnt orange splashes swept across the vast open skies. Just as the outline of the lone mountain formed a perfect silhouette against the darkening sky, a flock of wild peacocks appeared and made a bee-line for a large tree. They chose the top branches of the highest tree to make their nest for the night.
Peacocks can fly as high as 100 metres, and three of them changed their mind after settling and took flight. They looked spectacular setting off against the vivid sunset backdrop. Watching this dramatic and elegant scene is a lasting impression still with me today.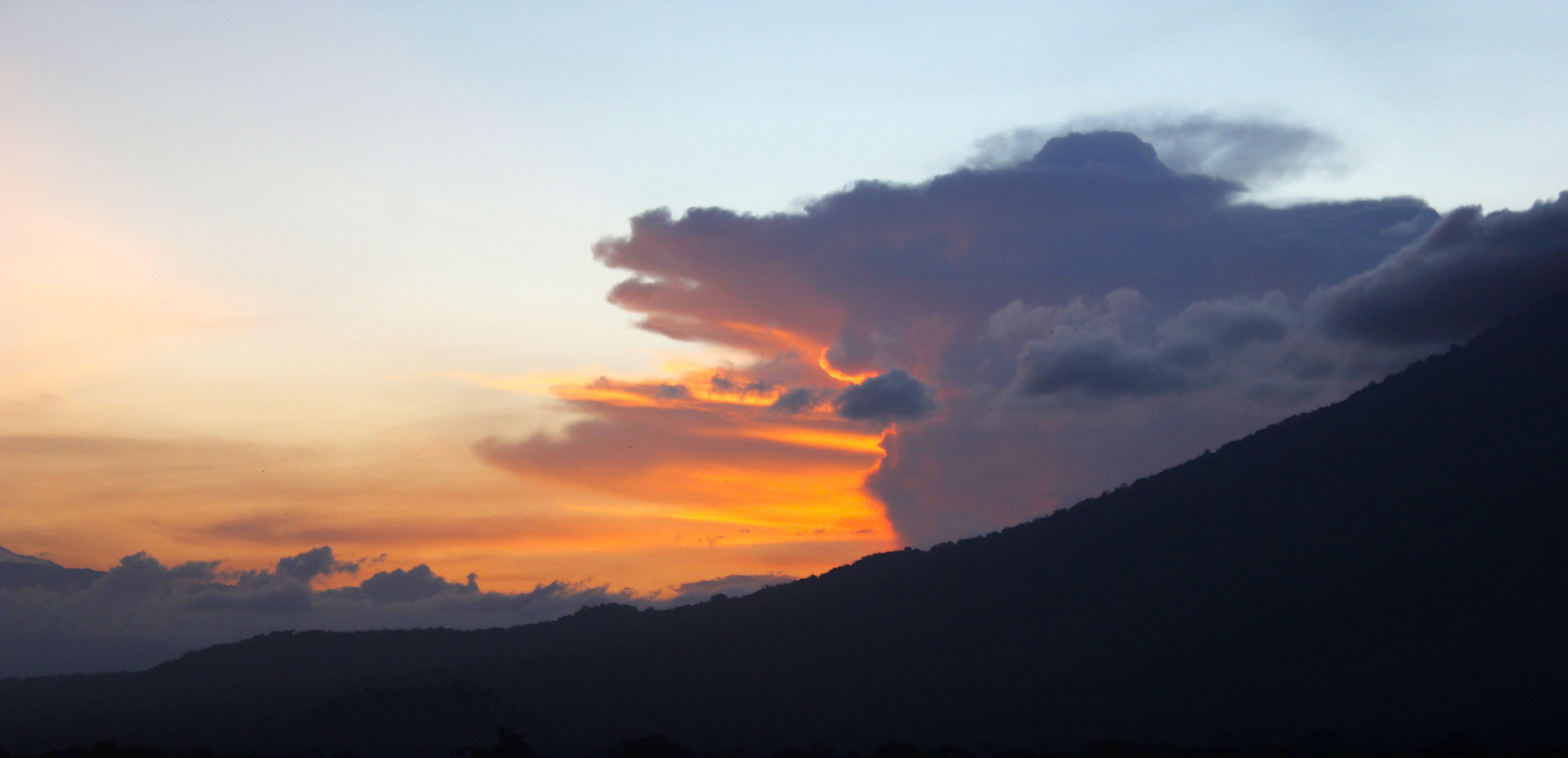 On discussion with my enthusiastic ranger friend, I found out that the mating season is from September to December. This is when the male peacocks parade their verdant green and purple long tail plumes and sound their loud wailing cries in the hope of attracting females. In Indonesia, wild peacocks are only found in two national parks, located at either end of Java. He also told me about Elizabeth, a 50-year-old turtle who swims to Australia and returns to the shores of Baluran to lay her eggs once a year. She has become quite famous. Her journey of hundreds of miles across the sea is tracked with the help of a microchip under her skin.
As I settled in to watch the last remaining sunset colours dance across the sky, I reflected on my day. This included many sightings of jungle fowl and watching the playfulness of the numerous groups of long tail Macaque monkeys moving en masse through the grasslands. In total, I saw nine different species of wildlife and birds, including a family of lutungs, a hornbill and a crested serpent eagle.
My night safari only turned up one snake, and a visit to an empty tree hollow where I was told a leopard often sleeps. Alas, I did not see the illusive macan tutul on this occasion.  However, I did see leopard paw prints around the tree and waterhole. I was very happy with that.
It was after 9pm when I got back to the homestay, totally elated about my eventful day spent in a lovely wilderness park tucked away in the far east corner of Java.
www.travelwriter.ws
Stephanie Brookes is a travel writer and blogger with tales from Indonesia and beyond. Please see www.travelwriter.ws
http://www.facebook.com/stephtravelwriter
www.instagram.com/stephtravelwriter
Fact File – Baluran National Park, East Java
Baluran National Park is located in the driest corner of East Java. The best time to visit is the dry season (June to October) when the grazing animals are at their most visible. It can rain heavily in January and February, and the park may close due to flooding.
Banteng
The Banteng, also known as Bali cattle or Javanese ox, is native to the area. It is the official emblem of the park. They are rare nowadays, and their numbers have dwindled from 338 in 1996 to just 26 in 2012.  They compete for food with the buffaloes and deer. They are very shy.
Accommodation:
Homestay Buana, Wonorejo Village, East Java
Pak Totok
Tel: +62 878 57524218
Pak Totok can arrange National Park entry tickets, a guide for the National Park, snorkelling gear and boat hire (if needed).
Baluran National Park Office:
Jl Jenderal Ahmad Yani No108, Banyuwangi (near Wonorejo area)
Tel: +62 333 24119
Entrance fee – Rp17,500 – Local visitors
Rp150,000 Monday to Thursday – Foreign visitors
Rp225,000 Friday, Saturday, Sunday – Foreign visitors
Must See
Bekol Savannah – Ask for a free map from the park office. Bekol is located 12 kilometres from the main gate. It is the key viewing point for the herds that gather to drink at the waterhole. You can really imagine you are in Africa as you gaze across dry savannah against the backdrop of Mount Baluran. There is also a watchtower, which affords panoramic views of the park. A small warung (cafe) at Bekol serves hot food, drinks and snacks.
Bama Beach – This is located three kilometres from Bekol. This white sand beach has good live coral close to the shore and provides beautiful snorkelling. There is very basic beach cottage accommodation, which is often closed. There are limited food services in low season and mid-week.