I remember my first flight into Manado in 2011. From the aircraft window the sea glittered under the sun, with a vast carpet of coconut groves before it gradually turned into an urban concrete jungle. "That's why Minahasa's nickname is Bumi Nyiur Melambai—Land of the Waving Coconut Trees," said my friend as he pointed at the Manado Tua volcano and Bunaken in the distance.
The ride out of Manado to the neighbouring highland town of Tomohon was a scenic one. It was too early for the roadside restaurants to open, many of them overlooking Manado Bay and Cape Tongkeina over lush fields of coconut groves.
It was harvest time for carrots and squash as we rode through the hillside vegetable plantations of Tomohon.
Volcanic soil has made the Minahasa highlands a fertile hinterland for Eastern Indonesia. Perpetual bounty has made the Minahasa both jovial party people and religious thanks-givers.
This culture is reflected in the ubiquity of "retreat homes" ­– villas rented out for Christian prayer gatherings – throughout the Mahawu mountainside.
I was told that our first destination, the Mount Mahawu lookout, boasted of magnificent views of Manado on one side and Tondano on the other. Unfortunately the weather wasn't good for sightseeing. However, I was pleasantly surprised to find that the misty outlook was in fact the rim of a volcanic crater brimming with yellow sulphur, green moss, and natural contours carved by hundreds and thousands of years of tectonic movements, wind, and rain.
There is a long pleasant bush path through the forests around the crater's rim. It is the natural habitat of the Sulawesi crested black macaque, but these days spotting one is a rare occurrence.
It was lunchtime by the time we descended. Seeing a monitor lizard cross the road, Enar said, "That's one delicious animal," as he recalled having lizard stew over a drunken night with his mates. He drove us to the exotic butchers of Pasar Tomohon.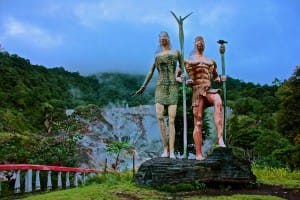 Tucked behind cheerful flower stalls and colourful vegetable vendors was a nightmarish sight of roasted dog, barbecued rats, and chopped bats. It evoked memories of a traumatising meal I was offered on a previous visit to a lakeside restaurant in Tondano. (Guests were disappointed that the restaurant ran out of monkey.)
I opted for a saner lunch of renga (snail curry) and sayur paku (sautéed fern) by the rice fields near the Tondano border, while Enar indulged in some chilli duck. "Bumbu érwé," he noted, meaning that the duck was cooked in spices normally used for cooking dog.
After lunch, we paid a visit to the Kampung Jawa Tondano. The Javanese-Muslim enclave was established in the late 1830s when the Dutch colonial government exiled Prince Diponegoro and his royal entourage. Prince Diponegoro was famed for leading the Java War, one of the deadliest wars in Indonesian history. Kampung Jawa Tondano has since been the home of the descendants of Diponegoro's royal subjects, as well as the tomb of Kyai Mojo—the band's religious leader.
Being the descendants of male Javanese noble ancestors and female Minahasa peasants, the Jawa Tondano community today live in an interesting hybrid culture. Many Tondano Javanese are bilingual in Javanese and Manado Malay. They have family names like the Minahasa, but their names are Javanese such as Ponggawa (commander) and Pulukadang (ten brothers, named after a servant of Kyai Mojo). They cook Minahasa-influenced Javanese dishes such as jenang (riceflour- or tapioca-based sweet coconut milk puddings) and ketupat (diamond-shaped rice cakes served with mild coconut curry).
Missing Lake Tondano due to the heavy rain, we ended the day in Bukit Kasih Kanonang, Minahasa's iconic pan-religious pilgrimage site. This showpiece project of a dominant church network in Minahasa was opened in 2002 as a symbol of religious tolerance in Minahasa.
Faces of the Minahasa ancestors Toar and Lumimuut are carved onto a cliff on Bukit Kasih, somewhat in the style of Mount Rushmore (but not quite). According to the Minahasa chronicles, Toar was Genghis Khan's warlord who led the Mongolian Empire's army to unite its colonies in Eurasia. Toar fell in love with Lumimuut, a royal handmaiden whose beauty and character was comparable to the goddesses in heaven. But Toar was not the only one – his archrival being Genghis Khan's own son Ogedei, who plotted to banish Toar into oblivion.
Aware of Ogedei's evil scheme, Toar planned an escape. He sent Lumimuut off in a boat and promised to meet her at their destination after fighting the battle. Toar hid out as a fugitive in Northern China for two years before leaving to search for Lumimuut. He arrived in Bangka Island (the one off the northern tip of Sulawesi) and heard from locals of the beautiful Mongolian woman living with Karema, an elderly woman in the neighbouring island of Likupang. There he found Lumimuut, and Karema officiated their marriage. Thus was the genesis of the Minahasa people.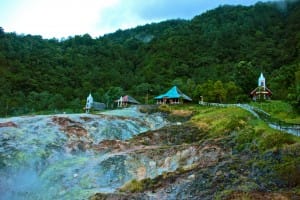 Every now and then I've read whiney articles about Bukit Kasih's less-than-heroic maintenance. Now I know why: Bukit Kasih is in fact a large volcanic crater. Fourteen years of tectonic activity is more than enough to destroy the pretty walkways, prayer stations and what's supposed to look like the five mini-houses of worship on the hilltop. There were landslides everywhere. Poor maintenance is not the issue, but rather the fact that this landscape was not made to support manmade construction.
Whilst I understand nature's beauty makes some people want to give extravagant praises to that higher power they believe created this, I didn't get Bukit Kasih. Rather than experiencing a God-glorifying place of universal worship, the message I got seemed to be more about an institution's foolish mission to subdue nature and sing its own praises in the name of religious tolerance.
Whereas without this hazardous construction, Bukit Kanonang is beautiful in its own right: lush green forests that meet contoured orange-stained white limestone, brimming with sulphur and misty hot springs, overlooking the distinctive topography of the Minahasa homeland. And yet this work-of-God natural wonder is not what people mention when they talk about Bukit Kasih. Seeing the wreck Bukit Kasih is today is like the universe making a statement that at the end of the day, nature wins. For me, seeing nature win was what made my visit here worth it.
The ride back to Manado after dark was long and cold. We stopped for dinner in Kawangkoan over char siu fried rice in a Cantonese restaurant and a pleasant conversation of the land of volcanoes and ancient heroes.
—
Fast facts
Country:                               Indonesia
Province:                             Sulawesi Utara (North Sulawesi)
Land area:                           Minahasa regency – 1.115 km2
Largest city:                        Manado
Population:                          309,876 – 2010 estimate of Minahasa
How to get there:              Daily flights from most major cities to Manado
What to bring:                    Hat, sunglasses, sunscreen lotion, camera, raincoat, trekking shoes, warm
and windproof clothing