Over the past four years the people of Bali have been fighting a bitter struggle against the reclamation of Benoa Bay. The group Bali Tolak Reklamasi (Bali Rejects Reclamation) strongly opposes a proposed tourism mega-development in the Badung Regency of Bali island, which connects the highly developed Kuta, Sanur and Nusa Dua districts.
In 1994, PT Bali Benoa Marina drew up plans to develop a £150 million port facility, world-class cruise ship harbour and marina with hotels, resorts, housing and golf course in the area. This group of artificial islands separated by canals would also include a shopping arcade, luxury villas and townhouses, eco chalets, a business district, a water theme park and – possibly – a Bali culture amusement park in an effort to lure in elite tourists.
Attracting luxury travellers from the yacht clubs of Singapore and beyond, the marina and cruise terminal on Bali's southern tip is designed to become the nation's largest port, able to accommodate three cruise ships at once, each carrying as many as 5,000 passengers.
In opposition, 70 groups have joined "ForBALI", a civilian alliance consisting of student groups, non-governmental organisations, musicians, and artists concerned with Bali's environment. They believe the planned reclamation of 800 hectares of land in Benoa Bay is part of an irresponsible environmental policy that could result in the flooding of some of their villages echoing a number of environmental concerns felt by the Balinese over decades.
Suharto's government, which came to power in 1966, identified Bali as the best island for mass tourism, creating an economy dependent on tourism. The negative aspects of unrestricted tourist development have been highlighted by the Bali Tolak Reklamasi movement, including unregulated mining of limestone and coral for hotel and airport construction, coastal erosion, plastic waste, sewage pollution, and water source diversions from the Subak water irrigation system towards areas that no longer have existing water tables.
Movement participants are concerned about maintaining the conservation and reservoir functions of the bay, and about damage to coral reefs, coasts and water salinity, and biodiversity loss. At present Benoa Bay consists of 1,375 hectares of mangroves, five rivers, 12 villages, and approximately 150,000 residents. In addition to environmental concerns, the development will undoubtedly exacerbate the economic inequalities between north and south Bali.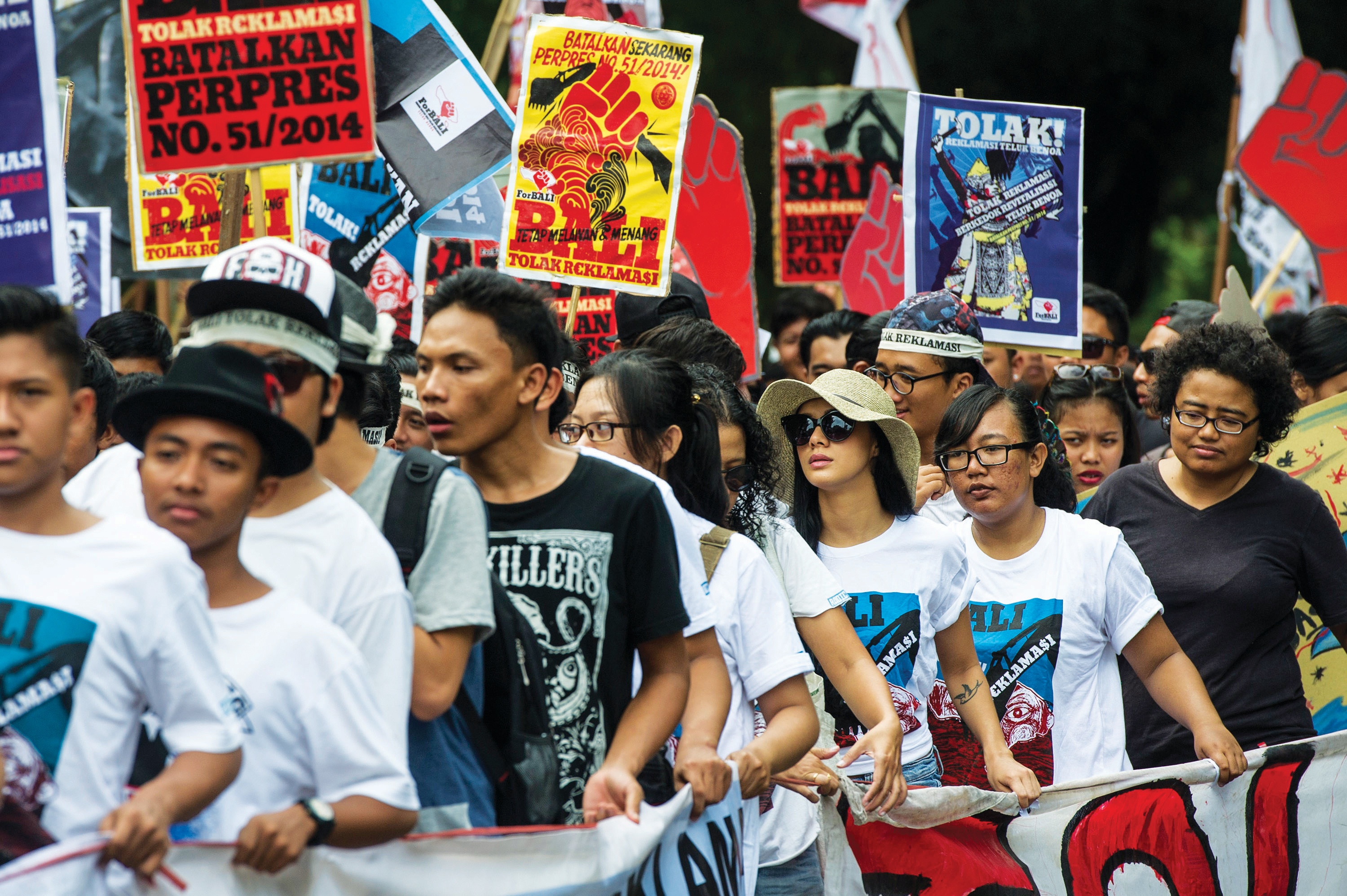 These concerns are of utmost importance to future generations, considering an estimated 85 percent of the tourism economy in Bali is non-Balinese owned, and the tourism industry accounts for 65 percent of Bali's water consumption. Many questions have been raised on the feasibility of the Benoa Bay plan, questioning where the water and electricity would come from and how waste would be disposed of. Who will actually be recruited as labour? And where would the sand to reclaim the land come from?
Benoa Bay, which is situated near the Ngurah Rai international airport, Denpasar, was earmarked as a conservation zone in 2011. However, a presidential regulation signed by former president Susilo Bambang Yudhoyono in 2014 changed its status and published the "Masterplan for Acceleration and Expansion of Indonesian Economic Development" that detailed plans to achieve economic growth through a specific emphasis on tourism in Bali.
The disputed Benoa Bay area was designated an "Investment Focus Zone." The regulation permitted activities to "revitalise" the area, which is fringed by mangrove forests along the coast. It also allowed the reclamation of a maximum of 700 hectares of water, which amounts to half of Benoa Bay. The protests now aim to pressure current president Joko Widodo to revoke this regulation.
In July 2015, about 1,500 people marched from the east side of the the Niti Mandala Park in Denpasar, the civic centre of Bali. They rallied outside the Bali Provincial Parliament building, carrying posters and banners and shouting slogans. And today, "ForBALI" regularly organises street protests in front of the Bali Governor's office and the Bali Provincial Parliament building.
Protests are also given voice through musical concerts, social media, discussions, lobbying and even community prayers in the Hindu way. Thousands of people attend these events, coming from various groups such as activists, students, music fans, musicians, housewives, even local entrepreneurs.