There are many 'bird islands' in Indonesia that one should not be surprised to hear about multiple islands named exactly the same – 'Pulau Burung' (bird island) – in the archipelago. These tiny islands (each of which could be navigated on foot in a matter of an hour or two) are wetlands thickly populated by mangroves. Their jungle-meets-the-ocean location makes them romantic, and trekking on these islands is a wonderful experience. Some of these islands are located very close to the capital city, among Pulau Seribu (The Thousand Islands) chain that is accessible by boat from the Jakarta harbour in one or two hours.
I have been visiting one such island in the past three months: Pulau Dua or Dua Island. Before I tell you anything about the place, let me inform you that Pulau Dua is technically not an island but a mango-shaped piece of land jutting out into the Java Sea on the northwestern coast of Java. Its geographical structure is peninsular in nature, and the wetlands lie a bit secluded from the rest of the village called Kasemen in the Banten Province. These probably give Pulau Dua the dubious island status.
How to Get There
It takes two to two and half hours from Jakarta to get to Pulau Dua. Get into the Jakarta-Merak highway from the city and keep driving for about one and a half to two hours. Exit Serang Timur (East Serang) and keep driving straight in the town. Look for the signboard directing to the right toward Sawah Luhur at a traffic signal. Keep driving for about 20-30 minutes and you end up at a concretised road. Take a sharp left turn and drive for about 300 metres until you see a house sandwiched by two stationery shops.
Park your car near the shop. Cross the road and start your 4km walk to the wetlands along the narrow alleys. On your way you can see fish ponds, rice paddies and a number of storks welcoming you to the aviary.
If you feel this walk is a bit tiring, you may want to get into the stationery shop and get some drinks. Chances are likely you may meet someone willing to take you there on ojek (motorcycle taxi service). Alternatively, you may also ask the shopkeeper for some assistance. These villagers are very well behaved and are not yet driven by lure of money as the guides in popular tourist destinations.
My guide at this place is a man named Humaiti who was shy enough not to openly talk about his rate per day and motorcycle hire charge. You may contact him at +6285966618880. I normally give him US$10-12 for three hours.
Getting Into the Wetlands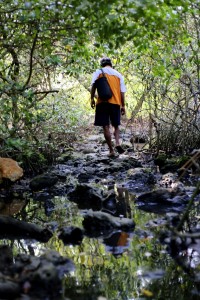 The aviary is fenced though there is no proper gate to prevent people from entering it without permission. At the entrance is the tourist office whose caretaker often gets very late for work. Humaiti knows him well and calls him to seek his permission to enter the jungle though this doesn't seem to be an indispensable formality.
Some parts of the jungle are spacious enough for a smooth walk, while the rest are dense and will need the help of a stick to avoid thorny shrubs and branches. You may also need to overcome wet parts dotted with tiny coral rocks. During my second visit, this part proved to be even more challenging as an overnight rain had razed a huge tree to the ground. Humaiti and I hurdled over the bark of the fallen tree, at the same time stepping our feet on rocks to avoid immersing them into the wetland.
Thick canopies all above you mean that it's not going to be an easy job spotting the species. But then a never-ending medley of chirpings and songs give a clear-cut idea of the presence of hundreds of species that you have already read about. These sounds were my best inspiration for trekking far into the jungle and seeking possible vantage points to spot the birds stealthily.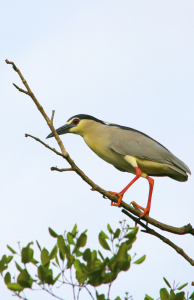 There it is, shush shush from Humaiti and a measured turning of the head to the left. A hermit heron perched atop a twig. Its fiery red eyes are an instant arrest of your attention. The grey head and plumes and the pink-hued lanky legs speak for themselves, it's the Black Crowned Night Heron. That was the first realisation of my research that I had done prior to the visit. A few shots when the heron obliged and posed for me before taking to wings and disappear. I saw a few more but they were quite far and partially hidden by the foliage.
We moved on, brushing aside leaning twigs and leaves on our way. Occasionally spotting the blue sea to our right through the gaps between the trees, there's a bit of cackle up above. I raised my head and spotted the silhouette of a darter against a sky that was still lighting up. It wasn't easy to focus on the bird as my vision was through a small gap between the foliage. Slowly I became adept in this kind of wildlife photography: to search for birds between the gaps and focus on them in the best way possible. Holding a Canon 5 D with a Sigma 150-500 mm mounted on it is a heavy task, and to get a clear focus without a tripod is even more taxing.
During my second visit very recently, I was able to get dramatic silhouettes of darters before the sun rose up completely. I cherished that moment, not just getting the shot but also the silence around me and Humaiti. The early morning air was a great thrill.
We trekked further, coming across some Muslim tombs hidden among the vegetation. Humaiti explained to me that the area was used as a cemetery before the government made it a protected place. We also came across ruins of a building. Even Humaiti doesn't have any clue to it. Though not really part of my visit these things provided some sort of additional perks to the trekking experience.
We finally came to the vantage spot Humaiti was talking about. It was an open space from where you get unobstructed views of some trees situated in a pond and the swamp around it. Goodness me!
There were a dozen species or more than that as tiny birds may not be spotted easily.
I loved to watch the Milky Stork family sitting very united, so were the darters and some Great White egrets. I saw grey-coloured birds behind the Milky Storks that appeared to be Grey Egrets, but I was not sure. I couldn't get a clear shot of them. The herons were here and there. Teals shared space with the bigger birds. All of a sudden, all the birds took to the skies, apparently caused by some commotion that neither Humaiti nor I could figure out. After crisscrossing the sky, they once again settled down on those same branches where they were perching. I took the opportunity to capture their commotion, still clueless what made them flutter their wings abruptly.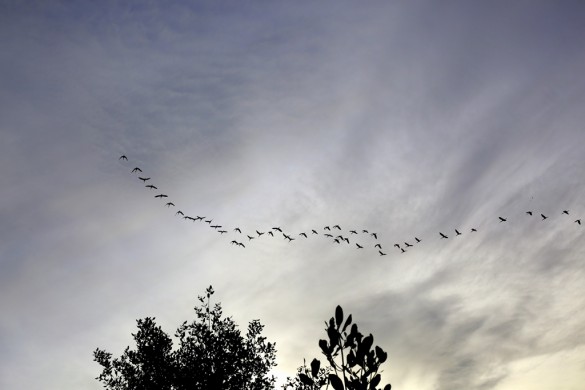 I remembered a saying – when there is danger in the jungle every animal comes to know about it quickly, but not a single human being does so.
I spent one full hour at this spot before moving on toward the seaside. Humaiti pointed out swampy lands where the sun never reaches. He told me how the place often gets flooded during rainy season. The partial views of the sea were one of the most admirable during these treks. We reached the beach, took a look at the fishermen and their boats in the distance and had views of the nearby islands, Pulau Panjang in particular, another bird island.
Finally, we trekked back. Surprisingly, I was able to meet with the heron and the darter, which I had spotted soon after my entrance, perched on the same place.
Interested to write for Indonesia Expat? Starting in 2017, we are giving our readers the chance to submit well-written articles related to a variety of topics, including business, economy, lifestyle and travel. We prefer articles that can provide expat-related information, but also value those that offer interesting insights about Indonesia. Send them to [email protected] with the subject 'ARTICLE SUBMISSION'. 
Disclaimer: The opinions expressed in this article are those of the authors. Indonesia Expat is not responsible for any factual inaccuracies or misleading information found in the contents.