Meet Rony Indo, The French-Indonesian Prince who is living happily ever after in Bali.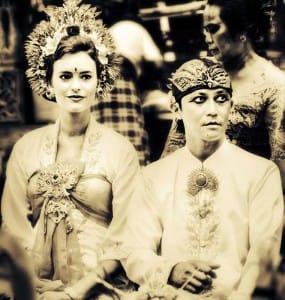 Hello Rony. Where were you born and educated?
I was born on planet Mars and educated on planet Earth!
You are an artist. Tell me about your art career in France.
The first time I came to France I was making a lot of paintings, which I exhibited in Chaumontel/Chantilly and many other places. I became a member of a group of artists. After that, I moved to Paris to work as the Creative Department Manager for IRCAM-Center Pompidou. At the same time I was also working as the Machinery Constructor at the Grande Halle de la Villette, where I stayed for seven years. Slowly I started getting all sorts of proposals and requests to make decorations, lighting and construction of stages for circuses, concerts and summer festivals such as Solidays Festival, Rock en Seine, Festival Paris Quartier D'été, Theatre Royal Deluxe, The Machine, etc. After that, I slowly started moving my work to the National Theatres and the Opera National de Paris, where my job was being the professional technician.
When was the first time you came to Bali? Was it with your mother?
The first time I came back to Bali was more than 20 years since I was small, which was seven years ago now, and I've been intermittently living between Paris and Bali ever since.
You recently decided to make Bali your home. What led you to that decision?
At the peak of my career I started focusing my attention on finding a better quality of life, which I finally found through my surfing trips to Bali. When I returned here I met all my old friends and family, who contributed to the feeling that I was back home.
Tell me about your Balinese family.
My family from Griya Karang Tampak Gangsul are wonderful people who taught me all about the Balinese lifestyle and values so that every time I come back to Bali I would feel blessed. I must also mention the 'old sport' for accepting me and protecting me as the youngest member of the family.
How did you meet your new bride?
It is a great story. I was in my great search for spirituality and reconnection with my Balinese roots when I met this interesting girl. Even though she was not Balinese she knew more about the island's history and religion than most of the locals themselves. For Saraswasti day she asked me to go praying with her to the temple and that is when I asked her to marry me!
Tell me all about your Balinese wedding and the celebrations.
At the first part of the ceremony there were lots of priests and spirits, flowers and holy water. The second part of the celebration party there was Absinthe and cigars, cognac and unholy cocktails.
What will you remember the most from that magical day?
One thing I won't forget is that we were so busy with all the offerings and preparations, and all dressed in our beautiful wedding outfits that we completely forgot about wearing shoes! But in the end that was just the thing that brought us closer to nature and the earth. I'll always be grateful for all the blessings we received from the Pemanku, the high Pedanda Priest and from all my friends and family who flew here from all over the world to attend the wedding. Oh, and the pipe that broke in the kitchen and blessing the bed downstairs as well!
Where are you making your new home?
It is a magical fairy tale place in the middle of the jungle not far past Canggu. Anybody who is lucky enough to locate where that place is, is welcome to come enjoy a fresh mojito made of ingredients from our garden.
Do you have any special plans for the future?
I want to be able to intertwine the European culture with the Balinese environment, as well as intertwine the Balinese culture with the European environment. My innermost wish is to help the Balinese become more aware about the possibilities of succeeding outside of Bali, as I did. And when I finally become Superman I will make sure to keep all the beaches clean and stop the over-construction of this beautiful island by letting people know that what matters in this life is not making money by building luxurious resorts, but returning back to nature, love and simplicity.
Thank you, Rony and congratulations!