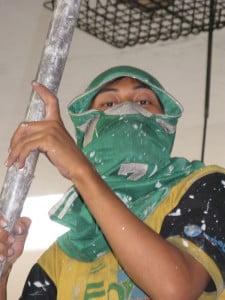 Herwan's shirt keeps the paint from dripping on his face. He figured out how to wrap the turban on his first day, two weeks ago when he took up the brush in an effort to slap a fresh coat of paint on Jakarta.
Underneath the Semanggi flyover, tiny drops of white paint are sprinkled in the cracked dirt, as if a million pigeons just exploded. The air is thick with a wild mix of paint fumes and kretek, which plays well with the cacophony of car horns and motorbikes.
Herwan works in silence, angling himself perfectly—his weight on his back heel—aiming his long extension pole at the rumbling toll road above. A thick dribble of paint forms first like a stalactite and then slowly falls from above, landing on his shoulder. Herwan looks down on it and then back up at the high ceiling, his eyes light up as if to congratulate himself on not taking another splash in the eye. Michelangelo and his Sistine Chapel have nothing on Herwan and his underpass.
No one is really sure why Jakarta's underpasses are getting a facelift, not even Herwan's boss who shakes his head and shrugs his shoulders when asked about the redecoration. Of course, like most things, people have their theories.
Some people say it is Jokowi's way of cleaning up the city before the big birthday bash on June 22nd, while others tend to wonder if the new look is intended for the eyes of the APEC CEO Summit, which kicks off in Bali on October 5th, but will no doubt see a few of the big-wigs stopping over in Jakarta.
All the 40-man crew, who were busy finishing up the Semanggi underpass before moving on to Grogol, know is that they have two weeks to get the city looking pretty. Until then, they'll try and paint as many underpasses as they can, working almost around the clock and sleeping a few metres from the brushes and buckets of paint.
The Semanggi underpass, Herwan says, will take about 72 hours and roughly 100 gallons of white paint to make pretty again, with the 21-year-old and his co-workers going at it day and night.
But does painting an underpass white really do anything to improve the aesthetics of Jakarta? Especially since, groups like Graffiteach, a volunteer band of street artists who have spent the last six months creating dozens of learning murals under the bridges in Slipi, Grogol and Mangga Dua, aimed at giving street kids floor-to-ceiling textbooks teaching them everything from the facts about the solar system to geography and science.
Throwing a fresh coat of paint on anything is simply a symptomatic solution to a fundamental problem. But then again, Jokowi probably already knew that, and simply wanted to give everyone sitting in the Semanggi traffic something to watch other than cops smoking cigarettes. Thanks for the show!