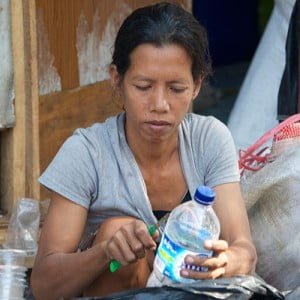 Dian's story is one of survival.
I visited her one morning in her temporary dwelling in Kampung Bandan near Kota, living between two sets of train tracks.
Dian works 11 hours a day. She starts work at 8 am collecting whatever plastic bottles she can find along the tracks. In the evening she returns to her simple house to remove the labels and clean the bottles, which she sells to a recycling factory for Rp.3,500  per kg for her efforts.
Every three days she amasses around 8 kg and in addition, for extra income, she collects and sells cardboard, when time permits.
Lebaran is a good time in this business, as Dian can earn up to Rp. 5,000 per kilo. Her husband has no job at the moment, so he minds their three-year-old daughter and helps out sorting the plastic bottles.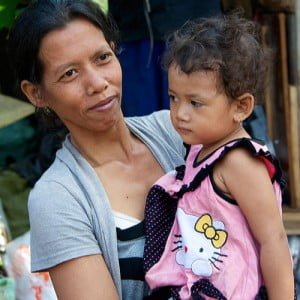 Dian is from a village called Ngawi in East Java and moved to Jakarta in search of a better life seventeen years ago. She has never returned to her village. Surviving day to day has become her number one priority.
Dian and her husband were renting a room in their Kampung until recently. They could not afford the Rp.500,000 per month so had no choice but to move. The family now reside among the trains and pay just Rp.50,000 per month, which covers electricity and security fees.
They realize that they may have to leave this place at any time and are not sure where to go next; perhaps to sleep underneath a bridge where they stayed sometime ago when they could not afford to pay for a roof over their heads. Therefore, they are thankful for what they have at the present time. Dian describes her nature as "easy going", however she is concerned for her daughter, who has had a fever for the past few days and they do not have enough money to take her to the local clinic for medicine.
Luckily, Dian rarely gets sick herself. She considers herself a good Muslim and attends daily prayers when she can afford the time.