Energy conservation is an acute necessity on the beautiful but vulnerable island of Bali. You can also save millions of rupiah in energy costs each year, by using affordable and sustainable energy-saving products and easy-to-apply practices in the home and business.
By adopting a simple lifestyle, there's no reason why your monthly electricity bill should exceed Rp.250,000. This would mean doing without air conditioners; living in a naturally-ventilated home; using energy-efficient lighting and refrigeration, and using organic waste for garden compost. Even more savings can be realised if you install a rainwater catchment system.
It's a myth that green products are a lot more expensive than mainstream products. In the past five years, there have been huge changes in the competitiveness of green technologies. These are now increasingly affordable, particularly lighting (LED), water treatment and water-saving devices.
An eco-friendly solution is often the best solution. Coconut-shell mosaic tiles for walls are extremely competitive compared to many kinds of imported, conventional wall decorations. There are also natural stone options, using just a thin layer of stone with a backing. This material has a much lower carbon footprint than ceramic tiles and is lightweight and flexible.
Return on investment
Although some green technologies require higher upfront investments thanks to manufacturing costs, your return on investment should range from 1-3 years for most types (except for solar photovoltaics) because of lower operating costs, maintenance requirements, and the product's longer life. A clever architect will find ways to deflect the high cost of solar panels and batteries.
When building, you must consider your costs over a two-year, five-year or ten-year period.
An investment in sustainability will pay back substantially in the long term.
If you forgo solar panels, a green house with a low carbon footprint, solar hot water and an effective passive design can be built at a cost that is competitive to a conventional house.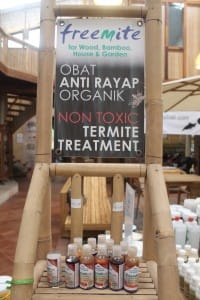 It is however untrue you can't save money using solar energy. If using a grid-connected system, solar energy can provide a return on investment (ROI) in eight years. When you consider there's often a 25-year guarantee for the panels, this means over 17 years of profit. If the government decides to subsidise solar energy or if electricity rates increase, your ROI could even be shorter.
Solar hot water systems now have a respectable ROI in the medium to long term – a must if you're using an electric water heater. For homeowners who don't wish to install a solar hot water system on the roof, a heat exchanger connected to their air conditioner is another way to generate free hot water.
Steps to savings
One of the biggest costs for homeowners in Bali's tropical climate is cooling. This means taking a hard look at ventilation, insulation and other materials that don't absorb heat. Electricity costs from air-conditioning can be cut by installing good insulation, adding double-sided aluminium foil under the roof or coating the roof with an insulating paint. Tackling cooling is also an issue of changing behaviour. Living in a room cooled to 21°C or less is not really necessary. We should learn to adjust and feel comfortable at 24-25°C, using fans and allowing the entry of breezes to create a cooling effect.
If you keep ACs, install inverters. If your AC is still using R22 greenhouse gas, get a retrofit done with Hydrocarbon MC22, which will also save up to 20% on the electricity consumption.
If you have a swimming pool and want to ensure the good health of your children, use an Ionizer that will replace 95% of the chemicals in your pool.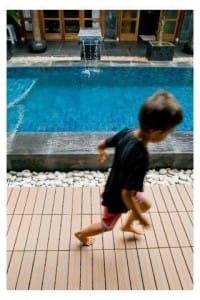 LED lights, which are becoming quite inexpensive, are a no-brainer. Changing all your bulbs over to LEDs will save heaps on monthly electricity bills. Replace aging major appliances like TVs and VCRs with energy-efficient models. Another quick win is solar-powered outdoor lighting, which doesn't use cables, so maintenance is low. On the market now are energy-efficient fans and smart systems that control your home's video, audio, lighting, cooling, curtains, etc. by remote access from your smartphone or laptop.
Not treating and disposing of wastewater properly is against Bali's regulations and constitutes a crime against the environment. Recycling of black and grey water, particularly for villa complexes and businesses consuming huge quantities of water, is a very cost-effective technology and the water quality output can be better than some bottled water brands. For people who have large gardens, utilising organic waste for composting saves quite a bit as there is no need to buy expensive fertilisers – plus the plants are much healthier!
If your wooden flooring is rotten, replace it with a more sustainable and durable alternative material. Strand Woven bamboo, made from bamboo grown in sustainable bamboo plantations, is an inexpensive alternative to hardwood floors. If you prefer the look and feel of solid timber, choose reclaimed or recycled wood like long-lasting Ulin. Tough and stain-resistant composite decking now comes with a 10-year guarantee at a price that's extremely competitive if compared to conventional rainforest timbers. As a karmic bonus, you'll save trees!
Resources
A highly-recommended green supplier in Bali is ecoSmart, who bring together an array of 50 small- and medium-sized companies in Indonesia: a one-stop shop for sustainable products and solutions, with a great cafe in the back! In one giant showroom, see every type of product and technology on display. An expert pool of partners – the "Green Team" – works with clients on identifying the most suitable technical solutions for your project. This professional outfit's best-selling products are natural cleaners, organic termite treatment, LEDs and solar lights, and the installation of reclaimed timbers for flooring and decking projects.
—
ecoSMart, Little Tree Green Building, Jl. Sunset Road 112 X (opposite Rip Curl), Kuta, Bali
+62 (0) 361 752 133
www.littletreebali.com