On 15-16th November, more than 300 volunteers joined the River Cleanup in Ciliwung and Citarum and collected nearly 6 tons of waste.
River Cleanup, an environmental organisation from Europe, held a joint cleanup on the Ciliwung and Citarum rivers, together with several Indonesian environmental organisations.
Thomas, founder of River Cleanup explained: "Every year, 8 billion kg of waste ends up uncontrolled in our seas and oceans. 80% of this ends up there via rivers. We are all aware of the impact on animals and nature. The consequences for our health are also becoming clearer: for example, we know that plastics break down over time into tiny micro and nanoparticles that enter our body through food and drinking water. It's time to act!"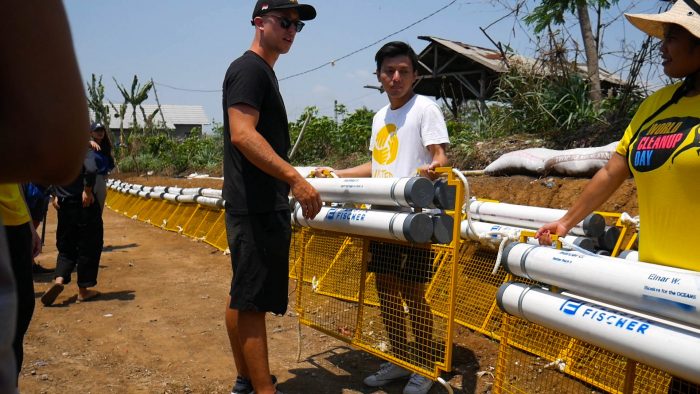 After the success of the RhineCleanUp in 2018, with over 10,000 participants, the project expanded to other major rivers throughout Europe. Together with local partners, River Cleanup organised major campaigns along 10 important rivers: Volga, Rhine, Scheldt, Meuse, Neris, Neman, Drin, Belaya, Don, and the Danube, involving more than 40,000 people in 200 cities and 15 countries.
This time the River Cleanup team arrived in Indonesia and invited Indonesian communities to join forces and do the cleanup together. This good intention was immediately welcomed by the World Cleanup Day Indonesia team, who recently completed the largest cleanup action in the world which successfully brought 9.5 million volunteers onb board.
Agustina, the leader of WCD Indonesia said that this action was a continuation of the WCD Indonesia the cleanup spirit which was held simultaneously in 180 countries on the 21st September 2019. As an action which was part of Gerakan Indonesia Bersih, together with Indonesian Government, WCD was brought to Indonesia and led the biggest cleanup action in the world twice since 2018.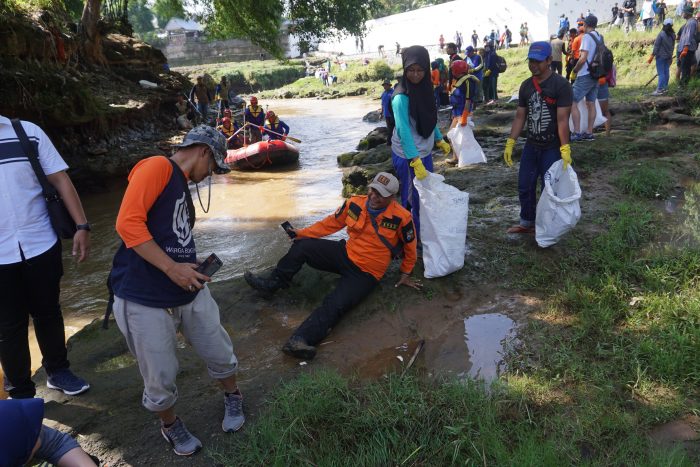 Besides that, November is also the month when the Ciliwung Day is celebrated. Komunitas Peduli Ciliwung has a series of activities in this framework. The involvement of the Komunitas Peduli Ciliwung itself has the same spirit as the other organisations that participated in this activity.
"This is a cool collaboration that will spark the spirit of creating change in the Ciliwung river, and also other rivers in Indonesia," said Suparno, one of Ciliwung river activists who is famous for his campaigning on social media. The joint cleanup activity in Ciliwung took the theme of "Ciliwung is Calling You" as a call for public action to care about the Ciliwung River that currently is full of garbage. Through this theme, it is hoped that people can feel their ownership of the Ciliwung River to protect the common good.
This action aims not only to involve the business and community but also the government to join the cleanup together. The mayor of Bogor was involved and in his welcoming speech he said that the local government pay serious attention to taking care of Ciliwung and are even preparing budget from APBD.
The General Director from Ministry of Environment and Forestry, M.R. Karliansyah, opened the cleanup ceremony together with Latief Nurbana, the assistant Deputy of Innovation Network of Maritime and all the staff from the Ministry of Maritime Affairs.
One day before cleaning the Ciliwung River in Bogor, the parties gathered in Bandung to deploy a "Trashboom" on a highly plastic polluted river that leads to the Citarum River. This installation catches any floating trash in the river and is developed and constructed by the German startup "Plastic Fischer". It is the first of multiple units that will be deployed in the Citarum River area.
"These physical barriers are helping the army to collect the waste easily and effectively. The trashbooms are made in Indonesia, out of local materials. With this, we ensure that our solutions can always be built and repaired without depending on shipping from abroad," said Moritz Schulz, CTO at Plastic Fischer.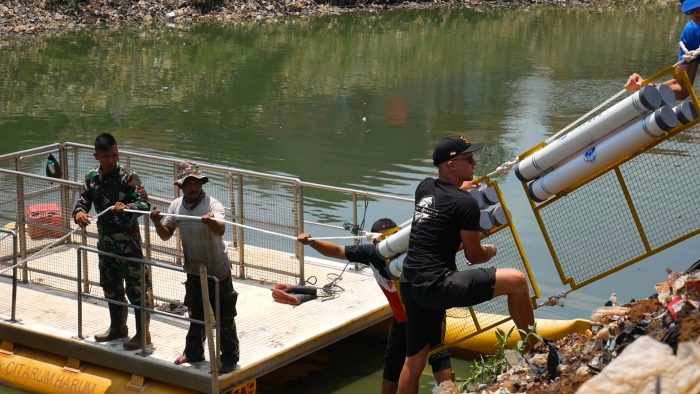 "Plastic Fischer develops cost-efficient solutions to prevent plastic waste from entering the oceans. While working on a scalable and affordable automatic collection system (aim: max Rp100million) we came up with the idea to build these solid trashbooms. Knowing that we are fighting the symptoms of the problem we organised a football field cleanup to visualise the problem and raise awareness. Education is crucial if we want to have a chance to stop the river and ocean pollution. We will always invite schools and anyone interested in this topic to visit our installations. As long as the mindset hasn't changed we will be here and collecting the river plastic," explained Karsten Hirsch, CEO of Plastic Fischer.
This joint cleanup activity is supported by Rhenus Logistics, who sponsored the logistical needs during the activity. Besides that, several organisations besides River Cleanup, Plastic Fischer, and WCD Indonesia joined the cleanup as well, which are: Komunitas Peduli Ciliwung (Ciliwung Care Community), Indorelawan, Let's Do It Indonesia, Clean Up Jakarta Day, Pandu Laut Nusantara, Gerakan Indonesia Bersih (Clean Indonesian Movement), Trash Hero Indonesia, Siliwangi Army Sector 6, Boarding school students and other local communities around Ciliwung and Citarum river.
For further information, please contact Andy Bahari (+62) 08111911933 as Coordinator of Marketing & Public Relations WCDI.