Halo Mie Cornoedus! The photographer cum entrepreneur who is passionate about sustainable tourism and the empowerment of women in Jogjakarta.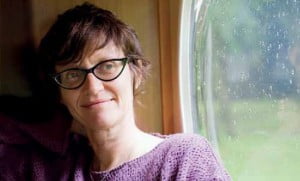 You're quite the influential woman – tell us how you began your journey in Jogjakarta.
I came to Jogja in 1995 with a very concrete goal of setting up ViaVia. I had travelled for about a year through Indonesia from Aceh to Papua. I spoke a bit of Indonesian and liked the vibe of this city.
You opened ViaVia in Jogjakarta. What is ViaVia and how did it begin?
ViaVia started as a dream of some people in Belgium. I was part of a group of tour-leaders for a Belgian travel agency known for its adventurous tours and expeditions, and its stance on sustainable tourism. I also took part in giving training to new tour-leaders and we regularly got together to discuss training techniques and philosophy on travelling. Some of them had come up with the idea to set up a traveller's café in Belgium, which could be promoting a different way of looking at the world and through all kinds of activities (besides drinking and eating world kitchen). It inspired me and some others to think more globally and we saw a similar concept in different places in the world. It could become a hub for travellers, a place to meet fellow travellers, but also local communities and learn about contemporary daily life. In other words, we aspired to be cross cultural meeting spots and implement the ideas of sustainable tourism.
Right now there are 15 ViaVias spread all over the world.
The day after the first ViaVia opened in Belgium Leuven in May 1995, I travelled to Jogja.  Steven and Patrick joined me later and we rented and renovated a small place in Prawirotaman and opened our doors on the 17th of December 1995, as the first ViaVia abroad. Most well known are the restaurant and the alternative travel agency, we also run a fair trade shop and a guesthouse, set up as a social enterprise with 9 local women as share holders.
What's the latest project you're working on which supports sustainable tourism? And for those of us who don't know, what does sustainable tourism mean?
According to the World Tourism Organisation, sustainable tourism is tourism that leads to the management of all resources in such a way that economic, social and aesthetic needs can be fulfilled while maintaining cultural integrity, essential ecological processes, biological diversity and life support systems.
Every year ViaVia conducts, supports and/or participates in cultural, social and educational projects because one of our goals is to give back to the community. For example next December we will set up a small library for children living in the village of Meru Betiri. We have been taking tourists there for 15 years. Children of this village are deprived of proper education and simple books, but also schoolbooks are a rarity.  So we are collecting books now and working on setting up a community library in the village.
As part of the NGO, ViaVia also every year organises a course on cross cultural communication and guiding skills for young people and/or students who want to become freelance guides during the high season.  We also give trainings to villages and small communities about pros and cons of tourism, about customer service and about inter-culturalism.
ViaVia Jogja also is a well-known alternative art space in Jogja. Lots of young, not yet established artists in Jogja look for a place to exhibit their work. ViaVia offers them the space. It often is their first solo exhibition and because of its informal character, and the low-threshold of the place, it has become a very popular art space. For many artists it has been the hopping stone to more established galleries and even fame. I wanted this to be part of ViaVia because the tourism industry generally focuses mainly on the exotic part of a destination. Travellers are sometimes disappointed to see hand phones, fancy cars, locals in jeans and t-shirt and contemporary art. We would like to bring a broader picture of Indonesia then just the palm trees, temples and traditional batik, by offering them a glimpse of modern Indonesia through tours showing daily life guided by young people who are eager to share, to learn and to make sincere friendships, through exhibitions, through cooking classes and so on.
Do you feel Jogjakarta has a different vibe to Jakarta?
Absolutely. Jogja is much smaller and although it got its share of malls, it still feels very provincial. Being also the largest university city of Indonesia, it attracts a great mixture of ethnicities, which makes it a vibrating melting pot of academics, adventurers, artists etc. It also feels safe and it is challenging at the same time.
The empowerment of women is super important to you. Tell us why you think it is vital Indonesia gives its women population more power?
Indeed, women empowerment is an important aspect of ViaVia. When I first travelled in Indonesia 20 years ago, I realised that men dominated the public sphere accessible to the tourists. Women's opportunities in public space were limited, and I, as a traveller, missed the female perspective and explanations to what I saw around me. That is why in ViaVia most of our guides are women, who can offer a female view on Indonesian culture and society that contrasts the typical, dominant perspective offered by mainstream tourism.
It was, and still is, not common for women to work as guides, and in the beginning the women in ViaVia faced some negative sanctions from the community. However, now these women have proven that they are highly capable, overcoming the negative stereotypes that women in tourism must be sex workers. They have shown that by getting the opportunity, they have become important and powerful members of their families and communities. I believe that women empowerment is about providing such opportunities to women. Through the ViaVia Guesthouse we have invited ViaVia staff to become co-owners and shareholders. Not only does this provide an additional income and ownership, it also serves to teach about investments and business management, which will increase their opportunities in the future. I want ViaVia to be a stepping-stone where women and men can launch their potential, which is also why we support training courses and education for all our staff, women and men.
What's your favourite photograph that you shot whilst in Indonesia and why?
This is a very difficult one.  I chose this photo because of the connection with my work in ViaVia. 
It is of a tourist in a small village 40 km west of jogja. The grandmother of one of the cooks of ViaVia looks with utter interest and amazement at the tourist.  A beautiful example of contact, wonder, shock maybe, but also humour and lightness.
Do you have any photographic exhibitions coming up?
I just had an exhibition in Norway this September. I will have an exhibition in ViaVia as part of the Month of Photography, coordinated by Lembaga Indonesia Perancis, on the 27th of November. The title is 'sisters' and it brings a portrait of Indian, Tanzanian and Belgian men on their perspectives of their sisters.
If you were to be stranded on a desert island, what three things would you bring with you and why?
My camera, my family which includes all ViaVia staff.