The United Nation Development Programme's Equator Initiative recently announced the 2015 winners of its prestigious Equator Prize. Having attracted 1,461 entries from 126 countries, the Prize awards "outstanding ?local achievement in advancing sustainable development solutions for people, nature and resilient communities".
The Equator Prize is normally awarded biennially on even years. "But 2015 is a special year," said Helen Clark, administrator for the UNDP, at a press conference on September 21 in the UN Headquarters in New York City – where the awarding ceremony was held. Later that week, world leaders met at the UN General Assembly in New York to launch the Global Goals for Sustainable Development. "There is a lot at stake as the world embarks in 2015 on a new pathway to addressing poverty, inequality, and climate change."
Out of this year's 21 winners, three call Indonesia their home: Kelompok Peduli Lingkungan Belitung (KPLB – Belitung Group for Environmental Care), Komunitas Adat Muara Tae, and the Forum Masyarakat Adat Dataran Tinggi Borneo (FORMADAT – Indigenous Peoples Forum of the Borneo Highlands). These communities are awarded US$10,000 and will be supported to join special events in the UN Climate Change Conference in Paris in December.
Founded in 2007-2008 by Belitung University students and "people who care", KPLB won the Equator Prize for running impressive programmes such as sustainable fishery, a tarsier primate sanctuary in Batu Mentas, a conservation centre in Kepayang, a mangrove conservation centre in Mendanau, and community-based eco-tourism.
Belitung and neighbouring Bangka are known as tin producers with a long history of mining. The prospect of establishing a deep-sea tin mine can threaten the livelihood of the fishing folk, which makes up 50 percent of Belitung's population. Belitung's waters also attract faraway Bugis, Betawi and Cirebon fishermen, whose home waters no longer produce like they used to – skyrocketing production costs and the pressure to bring home big catch make these fishermen resort to bombs and potassium. Simultaneously, in recent years Belitung has gained attention as a 'tropical island paradise' tourist destination.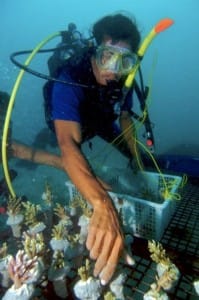 "The problem today is the ubiquitous destruction caused by the imbalance between what is taken from nature and what is conserved. Conservation is an endeavour to create balance in nature. To create a better quality of life that will sustain to our future generations, who have entrusted us to take care of the planet for them," said KPLB chairman, Budi Setiawan.
KPLB advocates for environmental protection policies, educates locals and other stakeholders of the importance of conservation for sustainable livelihood, and creates an economic value chain around conservation agendas. An example of this is the tarsier sanctuary, where the KPLB hosts a tarsier research centre, and trains locals to run community-based ecotourism ventures such as a restaurant, lodging, tarsier-watching tours, jungle treks and river tubing. The KPLB also empowers the enforcement of the customary law Rimpuk Angkam, which establishes the quota for harvesting marine resources, the allowed methods of sustainable harvest, and the customary sanction of sinking offending ships.
Hailing from a five-hour drive inland from Samarinda, East Kalimantan, Komunitas Adat Muara Tae has been fighting a violent history of land dispossession. The indigenous Dayak Benuaq of Muara Tae are traditionally subsistence farmers that depend on the forest to collect rattan, hunt for protein, and tap rubber. Since 1971, oil palm and coal companies have invaded Muara Tae, deceiving and intimidating locals to vacate their land to make way for commercial exploitation.
"In the dark before dawn, my young children and I were in bed. In the living room, where a dozen men were sleeping, they laid out instruments for the customary ceremony we were going to perform to reforest a destroyed portion of our forest. Suddenly I heard shooting firearms. The attackers broke into the front door and challenged our Benuaq warriors, but I heard no signs of resistance from our men.
I heard bullets through our roof. An armed, sturdy man broke into the bedroom and hauled my children and me into his vehicle.
"He left us at Muara Nayan. I never knew what happened to the men sleeping in my house, but that night in 1998 continues to haunt me," recalls Maria Mungkin, a Muara Tae housewife and plaintiff against PT. London Sumatra, as written in a 2014 report by the Sajogyo Institute.
For many years, the Benuaqs' attempts to pursue justice have been criminalised by Indonesian lawmakers. To date, Benuaqs have watched 7,000 hectares of the 11,000 hectares of their ancestral forests and gardens trashed into vast, polluted wastelands.
To fight for the dignity of their survival, the Komunitas partners with AMAN to conduct community mapping of Benuaq territory. This allows them to work toward achieving legal recognition of Benuaq rights. The Komunitas has also replanted 700 hectares of forest with endemic woods and fruit trees. In their peaceful resistance, they have revived the indigenous system of knowledge of their bio-cultural heritage, strengthening social unity and respect as a culture.
Also from Borneo is FORMADAT, a trans-border forum for the Dayak Highlanders of Indonesia's Nunukan regency in North Kalimantan, and around the Sarawak-Sabah border of East Malaysia. The highlanders include the Kelabit, Lundayeh-Lun Bawang and Sa'ban peoples, whom share a common ancestry, homeland territory, and language.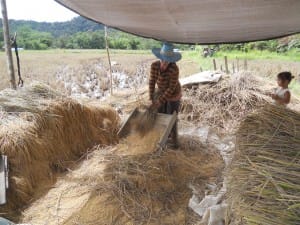 Living 900-1,800 metres above sea level, the highlanders' homelands flaunt backdrops of mountains over valleys of ricefields, fruit groves and bamboo patches blending in with surrounding forests. The highlanders have been practicing wet-rice cultivation for centuries, as well as water buffalo husbandry, which keeps the soil fertile. Their most famous produce is the adan rice variety, which comes in white, black, and red. Black adan rice was recently registered with Slow Food International's Ark of Taste – a living catalogue of delicious and distinctive foods facing extinction.
FORMADAT partners with WWF Indonesia and WWF Malaysia in establishing the Tadur Rang Gawa ("bridge to space") Tele-Centres, internet-powered hubs for digital telecommunications. The Tele-Centre enables communities from the Heart of Borneo to promote community-based ecotourism and premium produce such as adan rice. The Tele-Centre in Sarawak has launched Bario Radio, a Kelabit language service which broadcasts local news collected by community members and debates issues of local concern. The FORMADAT-WWF partnership also runs the Cultural Field School, which teaches traditional music and dance to highlander children and youth.
"I think FORMADAT and its leadership set a vision for sustainable development that is rooted in local conditions and cultural traditions. This can set an example for other areas and for governments, the importance of fair partnerships for realising the [UN's] 2030 Agenda [for Sustainable Development]," said Dr. Cristina Eghenter, Civil Society Thematic Lead for the WWF Borneo Programme.
"The achievements of Equator Prize winners tell us something fundamental: that low-cost, innovative, local solutions do help the world battle climate change and realise sustainable development," said Helen Clark. "Those honoured with the award of the Equator Prize show that local actions are a vital part of achieving the transition to sustainable development. They signal to the world that there is hope and that there is leadership coming from the local level."