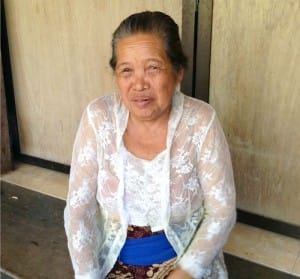 I sat talking with Grandma Ni Made Sibuh in her village in Petemon where she has lived all her life. She was born around 1935 however, "This is a rough guess only," Sibuh explained. "We never had birth certificates or registrations back then." She does, however, remember the Japanese occupation, which was between 1942-1945.
She was in elementary school at the time and told me, "When the Japanese soldiers came, we would run off and hide. It was a time of great uncertainty and as a little girl, I remember feeling very scared." She recounted one very sad story where one of the more beautiful girls from her village was taken. She was around 17 years old. She did eventually return to Petemon, when the Japanese departed, but the experience left her shattered and saddened. Grandma Sibuh said she was basically a sex object and this type of abuse was not uncommon. The others, sitting around, nodded in agreement that, "This was not a good time in Bali. It was like a period of darkness that fell over Bali."
Grandma's job in the village involves tending to one cow she owns and two pigs. She walks two kilometres every day to a field with Grandpa to cut grass for the cow. Her other duties include feeding and caring for the two pigs she owns, which at the moment weigh around 80 kg each. She buys them from the market, as a piglet, and raises them, fattening them up for sale, and if she sells them around Galungan, or a big temple ceremony time, they will fetch a good price.
The investment in a piglet is Rp.500,000 and it takes about six months of feeding and then a nice fat pig reaches a price of around Rp.2 million. Grandma Sibuh sends her grandson to the market in Gianyar to make the piglet purchase every six months.
The pig food source comes from a special tree called a keledi. The leaves are tasty and the pigs love this food. When it is not available, kangkung is a good substitute, costing around Rp.10,000 per day.
Life in the little sleepy village of Petemon continues on with temple duties, cooking over an open fire and tending to animals. A simple way of life, and by the look on Grandma Sibuh's face, a very happy and fulfilled one.