I think a lot of us, although we may not like to admit it, take things for granted, most importantly the love and support we have from our parents. Every child deserves to be loved unconditionally, even if not by their birth parents, and down a little alleyway in Cipete, South Jakarta, some very lucky babies who had this birthright taken away from them, are being loved again.
Founded on a dream by Ingrid Van der Mark, a part-time school-teacher, Lestari Sayang Anak Orphanage's vision is for each of its adopted children to experience individual love and care like they would in a real family environment. Unlike larger orphanages, Lestari Sayang Anak aims to recognise each of the children's strengths and weaknesses and develop individual bonds with them all, and this is achieved by keeping the capacity of orphans to a low number.Although petite, this orphanage has enough love inside its walls to heal the world. Ingrid, who herself has two gorgeous adopted girls, Lisa and Emily, knew she would one day open an orphanage after visiting one in Romania that was in terrible condition.
After settling in Indonesia she eventually started her own orphanage with the assistance of her sister-in-law, Ibu Rita, who helped enormously with obtaining licenses and deeds. Unfortunately, with Ingrid being a Dutch national, rules and regulations made it that much harder for her to set up her charity, something I'm sure many of us have had experience with in some way or another.
The family, which is exactly what they are, is made up of Ibu Rita and three nurses, Ibu Ipah, Ibu Wydia and Ibu Asih, who all cook, clean and care for their three orphans. They have such a close bond with the children and the time spent together is filled with joy and laughter. The story of how each of these boys came into Ingrid's care is one of the opposite, however.
First there was Jimmy. This bouncing baby turned one last April and has been at the orphanage since he was only two days old. His birth mother had one previous son, but sadly she was being abused by her husband and had to make the difficult decision not to keep her second born. The mother heard of Lestari Sayang Anak through brochures which Ingrid distributes in midwife clinics in the poorer parts of town, and when Ingrid received the call, she went directly to the hospital where Jimmy was born to bring him to his new home. The birth mother never met Jimmy and stayed in a separate room when he was being collected.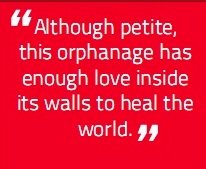 Six months later came Benny who was originally in an orphanage in Bogor. At two months of age, his parents could no longer support him. They tried to contact several other orphanages, but they were all at full capacity. Luckily they found Ingrid. After speaking over the phone, Benny was brought to Lestari Sayang Anak on a motorcycle wrapped up in a blanket. He was malnutritioned and had a rash all over his body. His daily diet consisted of only two bottles of milk a day as well as rice porridge, which a baby of two months cannot digest. Ingrid told me although the mother was expressionless when she handed Benny over, she could feel her pain. Giving up your child due to poverty must be the hardest thing a parent can ever do.
Third, but not least came Roby, who was a Christmas baby, born on December 24th last year. His birth parents were only sixteen years old when Robbie was born – this goes to show how much sex education is needed here in Indonesia. Two days after his birth, he was brought to Lestari Sayang Anak and as Ingrid tells me the story, little Roby is smiling and kicking away in Ibu Widya's lap.
With three happy and healthy babies at the orphanage, Lestari Sayang Anak has space for five more blessed little ones. Their vision for the future is to have another house, not far away, for the follow up ages of five and onwards until they are independent. Everything is donated, from the toys to the cribs and luckily Ingrid was savvy enough to get sponsorship from Huggies and Frisian Flag, but even with these, the costs for running an orphanage are still high – rent, food shopping, drinking water and utilities all add up. But even when times get tough, the family at Lestari Sayang stay positive and find a way to pull through – just like families do. "Everything we do here comes from the heart" Ingrid says.
"Every child has the right to a happy and healthy life…"
——————————————————————————————————————————————————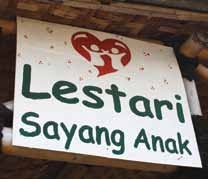 HOW TO HELP
Yayasan Lestari Sayang Anak
Always shelter, always a home.
Any kind of help is welcome. You can make a one time donation or become a regular sponsor. In return you will receive a monthly update of the development of your sponsored child and you are always welcome to visit and play with your sponsor child.
Donations can be made to:
Yayasan Lestari Sayang Anak
ANZ Panin Bank, Account number: 413765 01 00001
Swift code: ANZBIDJX
www.lestarisayanganak.org
021 7500 328
081 791 89727
www.facebook.com/lestarisayanganak