Seminyak on Stage recently pulled out all the stops for their musical event at Red Carpet Champagne Bar on Jalan Laksmana. Without a doubt, Red Carpet Champagne Bar is among the favourite drinking spots and social hangouts of countless local expats and returning visitors to Bali. The venue raised money for a Medi-car, mobile clinic that will be used by their favourite non–profit charity organisation, Kolewa Foundation. During the evening, talented children of all ages were given the chance to perform, accompanied by a live band on stage.
The two assigned age-categories were juniors aged from 8-15 and seniors aged 16 plus. Some of Bali's most famous singers were judging the fun event, including Mia Samira and Marina Sedik. They performed for free together with VJ and graphic artist Micha Klein from Holland. And of course plenty of champagne was available to the adults while the venue overflowed with positive energy.
All entertainment at this event was in the hands of Centerstage Rockschool (a place where lots of kids enjoy music as a part of their daily life). There were judges present to select a winner for every category, and the winners received great prizes that will kick-off their career in the halls of eternal fame!
Melanie Jones from YPKR Centerstage displayed her aptitude for presenting Musical Theatre performances and bringing together talent from multiple schools — forging friendships and creating collaborations for future performers.
"I started teaching vocal lessons in 2011 and then slowly incorporated more instruments and then drama as the expat children were given little scope for performance development in and around the Seminyak/Canggu areas", says Melanie. "My passion to build confidence in children and adults by offering regular opportunities to perform has been supported by some amazing families, and through Montessori School. I love to watch them grow and flourish on stage."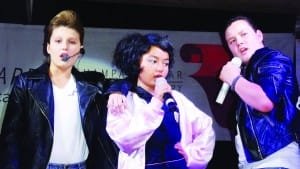 "Eleven contestants performed in the junior category, with five performers in the senior," explains Mel. "It was wonderful to watch such great kids, willing to share themselves live in front of an audience. The Grease ensemble, were all members of the live Canggu Club show on the 6th and 7th of June this year, where 25 kids performed GREASE the Musical to a crowd of 600 people over three shows.
The amazing talent quest encouraged Seminyak shops and restaurants to promote themselves by way of a raffle. Donated vouchers and free gifts were attached to hundreds of balloons suspended in a big net above the merry crowd.
"Famous singers such as Mia Samira and Marina Sedik gave a great live performance and were also were members of the jury," comments Nadeche Agterberg, from Seminyak On Stage. "Around twenty kids performed during the fundraising talent contest, under Chairmanship of Media-artist Micha Klein. The winners were Ziggy, Storm, Lente, Reily, Senna but all the kids were great!"
Throughout the evening, an auction was held by Fred Gerritsen and Kerry Ball. Many sponsors donated generously, raising money towards the Medi-car. Red Carpet Champagne Bar donated 20% of all its drinks sales to Kolewa Foundation.
"A second-hand double-cabin Ford Ranger means that we require a total of Rupiah 250,000,000 to cover costs. The event at Red Carpet brought in the beautiful amount of Rupiah 150,000,000," says Syta Plantinga, Kolewa founder. "Another donation from a German Rotary club member this week provided Rupiah 15,000,000 together with the gift from Mathieu Nagelkerke (a Dutch expat in Bali) of Rupiah 25,000,000 who held a fundraiser at last year's triathlon."
The Kolewa Foundation is doing a wonderful job helping children in need all over Indonesia and is run by volunteers. Their goal is to work towards a better future for children and older people with disabilities by focusing on projects in the field of small business and providing education for young people with disabilities, as well as improving housing conditions and providing medical care within existing shelters for children or vulnerable groups in society.
"Our Medi-car will be a 4×4 wheel-drive car, which allows us to go off-road and offer assistance in areas like Karangasem close to Mount Agung," explains Syta. "We scout and collect data on the patients and discuss solutions with our field-partners Yayasan Swara Swari, Yayasan Senyum, John Fawcett Foundation and doctors from Sanglah hospital. All this work is done in cooperation with nurses from puskesmas, kepala desas and Indonesian volunteers and professionals."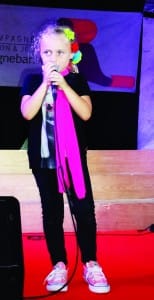 Other projects on the Kolewa agenda include Swara Swari Preschool for children with hearing-impairment, and Harmoni Hearing Test Centre. A yearly family gathering is held for families who have a child with hearing loss. Every three months there is a medical outreach in cooperation with Yayasan Sedasa Sunar, and a weekly scouting in Bali in cooperation with field-partners, which focuses on impairment on areas of the face, eyes and ears. Kolewa brings the patients into their headquarters and guides them during the process.
"We are facilitating all the scouting and travelling of the patients. Surgery and treatment is often a matter for BJPS (government) or sometimes made possible by finding private sponsors," comments Syta. "Cleft lips are directly brought to the Smile House in Denpasar. Most funds come from Europe and, like today, from concerned expats in Bali. For example, in the past two years we brought more than 150 children to Smile House for palate or cleft lip operations and gave hundreds of people the opportunity to get a hearing test and hearing-aid."
Syta concludes, "We are convinced that before the rainy season Kolewa Foundation can serve the rural areas in Bali. We are able to bring doctors and patients together and save children from a hidden and shameful life! The Seminyak On Stage Event was a great chance for us to get a big step forwards."