In Jogjakarta, bicycle community HUB For Cyclist aims to create a green environment through alternative ways.
For some of us, cycling is better known as a form of sport or a mere hobby. Founder of HUB (Hibah Untuk Berkelanjutan or Grants for Sustainability) For Cyclist Jamaludin Latif, however, finds the activity to be more than a means of transportation, but a way for people to channel their awareness for a much greater concern.
Since 2010, members of HUB For Cyclist, a group of cyclists who ride all types of bicycles like city bikes, low riders and even cruisers, have been active in cleaning up landfill areas around Java's cultural hub of Jogjakarta. Working to provide solutions for environmental issues, Latif thinks that a devoted cycler should also take on the role of an environmental activist:
"We [HUB For Cyclist] hold this view that cyclers should also have an awareness of their surroundings since bicycles run slowly. With this kind of speed, a cycler has the opportunity to observe the environment around him as he rides."
As a community, HUB For Cyclist runs various kinds of campaigns, ranging from cleaning up the city; providing Ijolan Sampah, a market which applies the system of exchanging used materials with plastic waste; and also setting up Pitpaganda (bicycles for propaganda), an alternative media business that raises awareness of the city's worsening environmental state.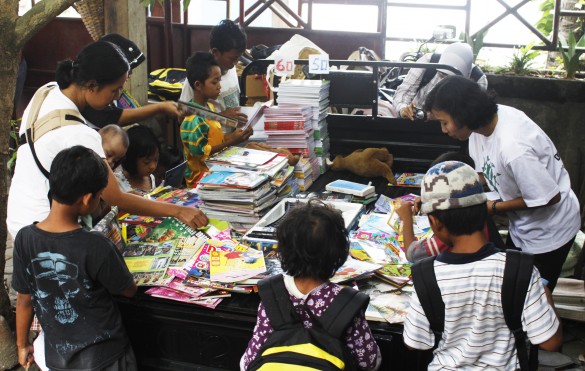 Pitpaganda, which is their latest project, was established to promote important issues through cycling. Latif and about 15 members who work in the business are able to express their concerns for waste problems in Jogjakarta as they ride.
"Instead of constantly protesting, we should provide solutions, so we built this alternative media by using bicycles that go around the city promoting important messages and other related information to the public in ways that are eco-friendly, pollution-free, unique, interactive, cheap, and also safe for the city," Latif describes.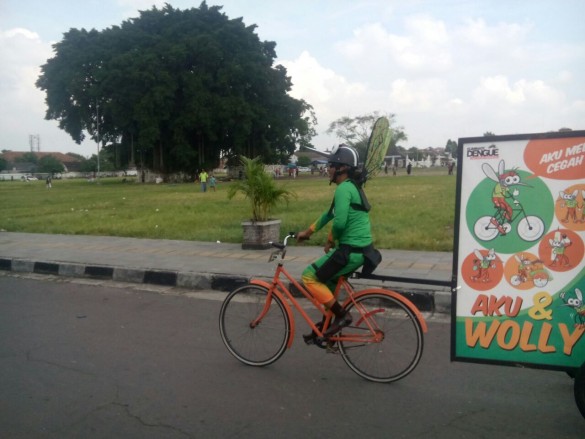 Another big issue that Jogjakarta faces is none other than air pollution. Similar to other major cities across Indonesia, the city struggles with worsening traffic due to the increasing number of private vehicles on the roads. This, according to Latif, does not only threaten the environment, but also the public's health and psychological wellbeing.
For one, polluted air can lead to an array of diseases such as cancer, asthma, stroke and heart disease. But even in smaller cases, high levels of air pollution can disrupt a person's concentration which will eventually lead to stress while driving. "Polluted air means people can't stand being on the road for too long. If they get stuck in traffic in hot weather, they get increasingly angry and frustrated," Latif says. "The public will not enjoy the city; they will always be in a rush."
The level of discipline among drivers adds to the problem when they oftentimes break traffic rules, leading to more accidents in Jogjakarta, the city that was once known as 'the city of culture and bicycles'.
Latif recalls a time when Jogjakarta's mayor used to apply Segosegawe (cycling to school and work), a rule which asked its citizens to cycle every Friday. But these days, the government has yet to show an interest in building proper infrastructure for cyclists like parking spots and laneways, as well as addressing the problem of pollution and high congestion.
"The streets can no longer be expanded.
As long as the government sides with motor vehicles, then their policies will remain contrasted with the go-green spirit," Latif says.
Despite the government's lack of support, Latif urges the public to help alleviate worsening traffic by abandoning their private motorized vehicles and opting for public transportation instead. Alternatively, he believes that riding bicycles is important, especially when it can develop into a massive movement like HUB For Cyclist, which continues to criticize the government, reminding them to take charge in restoring the city back to its former glory.
Aside from Jogjakarta, Surabaya, Bandung and Jakarta are also seeing more and more people becoming cyclists. For Latif, this is a good start for Indonesia because there are many countries around the globe that have exchanged riding motor vehicles with bikes in order to build a healthier and more eco-friendly lifestyle.
As for his wishes for HUB For Cyclist, Latif hopes that the community can encourage the government to fulfil their responsibilities. "Hopefully our movement can be an inspiration for the government to immediately repair the city more seriously for the sake of the people as well as for future generations."
So, citizens of Indonesia, are we ready to take up riding bicycles for a greener country?
For more information please visit www.pitpaganda.com