Since 2013, Clean Up Jakarta Day has been galvanizing local and expatriate communities in Jakarta to help solve the capital city's prolonged waste management crisis. This year, 100,000 volunteers participated to remind Indonesians that the issue is far from over.
From plastic waste to river pollution, Jakarta has long struggled with the problem of trash.  Last year, the capital city reportedly produced as much as 7,000 tonnes of rubbish every day, raising multiple concerns about the government's waste management ability and most importantly the way people are addressing this issue. For this reason, various local organizers have come up with different forms of activism to raise the public's awareness about waste. One organizer who has taken the city's tremendous problem into her own hands is Clean Up Jakarta Day's Angela Richardson.
Founded in 2013, Angela Richardson sought to encourage the local community to directly confront Jakarta's waste management crisis by literally clearing the rubbish in the city for one day. Years later, Clean Up Jakarta has managed to gather thousands of volunteers to act as sorters; picking through all sorts of trash, ranging from plastics and glass to textiles and metal.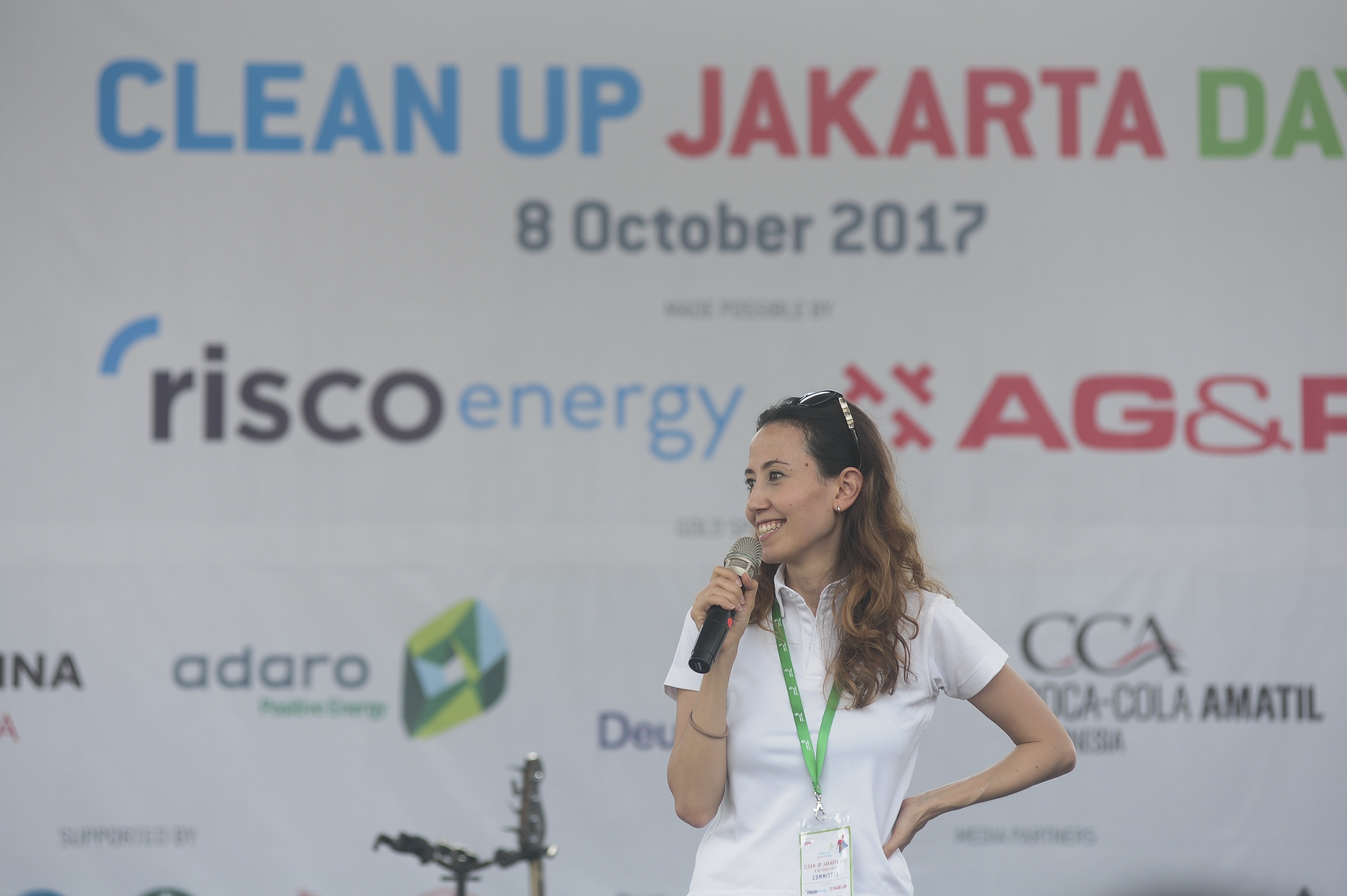 This year, as many as 30,000 volunteers participated in the cleanup act, organized in around 70 different locations across the capital city and the Thousand Islands. Volunteers gathered at their registered site early in the morning and received two separate bags, one for recyclables and the other for non-recyclable waste materials. After around two hours of collecting waste, volunteers returned to the meeting point to sort and combine all that was retrieved. The recyclables were donated directly to waste banks across Jakarta with the Ministry of Sanitation's assistance in Jakarta.
Members at this year's event ranged from school children to office employees, with youth and environmental associations participating as well as individuals determined to fight the local waste issue.
What started out as simple activism transformed into a large platform for people aligned in achieving similar goals.
"Many great organizations run their own clean-ups throughout the year and we call on all of them, including schools and companies, to join forces on one day, with one united voice for a cleaner capital," Richardson said during the event on Sunday, 8 October 2017.
Actors Mike Lewis and Marissa Anita, environmentalist Davina Veronica Hariardi and television host Falentina Cotton were also present at the event. During the post-event activities, Vice Governor-elect Sandiaga Uno also came to the stage to greet the crowd and encouraged participants to keep working together in creating a cleaner Jakarta. One of Indonesia's most renowned rock bands Slank concluded the celebration by performing a number of their hit singles.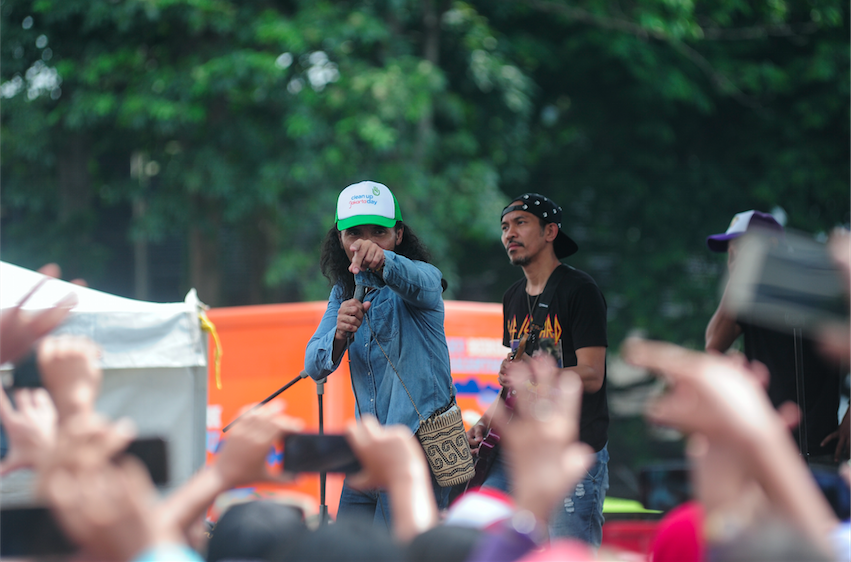 Clean Up Jakarta Day has also inspired many other cities. Cities like Bandung, Tabalong and Banjarmasin collectively aimed to create a cleaner and healthier environment by organizing cleanups on the same day. There were a total of 22 provinces that joined this year's cleanup with around 100,000 volunteers. With the addition of these cities, more participants were able to learn about the importance of reusing, reducing and recycling and the detrimental effects of waste on the environment.
For the organizers of Clean Up Jakarta Day, the 2017 cleanup was a huge success. The next step is to educate, instil positivism and apply responsible waste management principles; the general populace should be encouraged to apply the skills they learn on Clean Up Jakarta Day and use these principles on a daily basis. There is no way to reduce the volume of trash in the city without daily vigilance.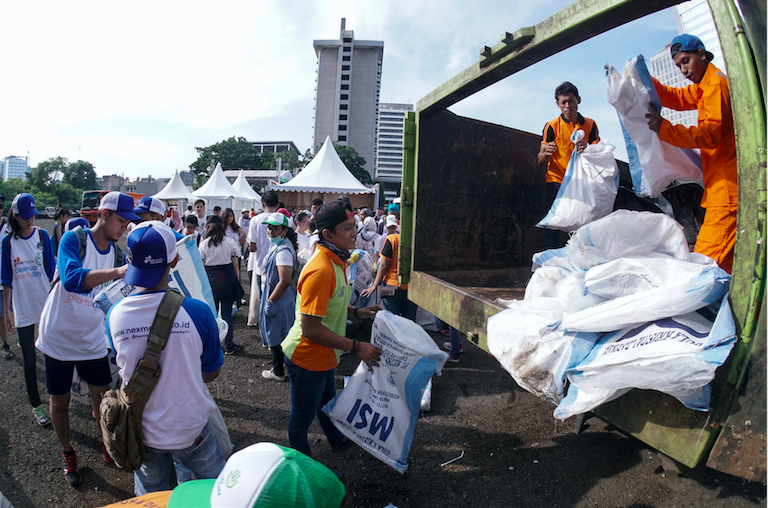 Clean Up Jakarta Day is made possible by Risco Energy Group and Atlantic, Gulf and Pacific Company (AG&P): a joint venture of AG&P, a global leader in infrastructure solutions and modularized products for the energy, resources and industrial sectors; and Risco Energy Group, an independent, privately owned energy investment company focusing on oil and gas in the Asia region. The event is sponsored by PT Adaro Energy and PT Pinang Coal, PT Pertamina Patra Niaga, Deutsche Bank AG, Coca Cola Amatil Indonesia and is brought to you by Indonesia Expat, a free English language publication in circulation since 2009.
For those who are interested in volunteering for next year's cleanup, please visit www.cleanupjakartaday.org or send an email to [email protected].