The Islands of Nusa Lembongan and Nusa Penida are synonymous with wonderful coral reefs, amazing surf breaks, peace and tranquillity. For diving and snorkelling enthusiasts, it's also the place where one can have unforgettable encounters with majestic manta rays.
These wonderful fish, despite being celebrities for sea lovers, are poorly known by scientists. What is sure is some of their populations are dramatically decreasing due to overfishing, pollution and other kinds of man-made disturbances. An organization based in Nusa Lembongan, Aquatic Alliance, founded by Helen Mitchell and Peter Bassett, aims to protect these animals living in Bali's waters and I caught up with Helen Mitchell to find out more.
Let's talk about you first: where are you from and how did you end up in Lembongan?
Aquatic Alliance is the natural progression of many years of involvement in marine based conservation projects. Over the years we've been working side-by-side with some of the highest regarded marine scientists within their disciplines. We have decided to roll up our sleeves and make a commitment to take action in defence of the animals we care about. In our previous lives, Peter was in fashion advertising before becoming a yoga instructor, and Helen was a celebrity fashion stylist, but by deciding it was time for a new adventure we've ended up travelling all over the world following our passion for marine life. We started working in Lembongan after finishing up working with the Gili Eco Trust (Lombok) a few years ago, returning to start assessing the mantas here was a natural progression after our time with the Marine Megafauna Association in Mozambique.
Aquatic Alliance is focusing on research of manta rays offering very interesting activities like free public talks about Marine Biology and Mantas in Nusa Lembongan. Why did you choose these animals and how are people's reactions to your activities?
That's an easy question – who wouldn't want to spend their day swimming with manta rays? Seriously though, all marine life and the conservation of it interests us, but in this instance it was because our most recent post prior to starting Aquatic Alliance was working with Dr. Andrea Marshall (otherwise known as "The Manta Queen" – the world's leading manta ray scientist) and Dr. Simon Pierce at Marine Megafauna Association. Andrea was a great teacher, and both she and Dr. Pierce are our scientific advisors on the project here in Bali.
Almost everyone we meet is interested in manta rays, whether they are divers who spend thousands of dollars to come to Bali to see them, or non-divers who are awed by their magnificent beauty. This makes them extremely important as it generates an interest in the marine environment, and hope that this in turn will help get the oceans the protection it so desperately needs.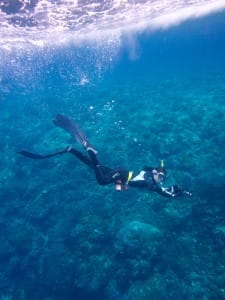 What are the objectives of your research? Did you get some interesting results so far?
As we are a fairly new organization, we are busy getting baseline data on both manta rays and Sunfish (Mola mola), as well an idea of the other marine megafauna gracing our waters such as the different shark species, turtles, dolphins. Consistent and very keen observation is the key here, and over time we hope to make some discoveries; there are quite a few very interesting things starting to peak our interest, but as yet it is too early to tell if there is anything substantial in what we have noticed – we'll have to do another interview next year to see if our suspicions prove to be correct!
We are also spending a lot of time and energy on education, doing our AA lectures marine children's books for the local schools, marine animal encounter protocols for the Nusa Lembongan dive shops, economic surveys to understand how much money these amazing animals are generating for Bali and Indonesia via tourism, being very active on social media with info and action and all this is to put toward our main aim which is to get manta rays and sharks protected in Indonesia.
Almost everywhere there is the perception of the 'poor fisherman' who has to earn enough money to survive. Do you think it's really a matter of subsistence?
Intense fishing pressure and growing international consumer demand have caused manta ray populations to decline by 30% worldwide, with some regions experiencing an 80% decline over the last 75 years. Many species of sharks have also declined by massive percentages, and obviously this current fishing pressure is unsustainable.
The biggest key to a successful conservation project is working with all aspects of the community so everyone benefits by these animals being protected. No one wants to deny the fishermen more money to provide for their families, but from what we can gather it is not the fishermen making the money: it is the boat owners, and then ultimately the agents and middlemen. Many of the fishermen complain they are working too hard for too little, so perhaps it is time to readdress the balance; perhaps it is time to consider making more money from mantas and sharks by keeping them alive for all to enjoy, and dispersing the money made from ecotourism more fairly amongst all areas of the community.
Recently we were co-recipients for a Project Aware grant for funding to monitor the Tanjung Luar (Lombok) fishery, which is notoriously aggressive for shark and mantas. It is a yearlong project focusing on charting the economic benefits keeping these amazing animals alive. At the conclusion we will attempt to shift the government's paradigm on protection of these animals.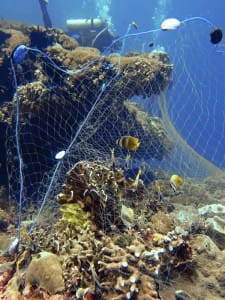 Many tour operators offer "Manta trips" to Nusa Penida where people can dive or snorkel with manta rays. I have personally observed more than 10 boats in the same site, creating a very dangerous situation both for animals and divers. Do you think this activity should be regulated in some ways?
Yes, we do, and fortunately the Coral Triangle Centre is in the process of setting up a Marine Protected Area, which will also include dealing with this issue – no one wants to be run over or polluted by too much boat traffic, least of all the mantas. We have also been working with the CTC on dive shop education and protocols when diving with manta rays and Mola mola, as well as directing a Codes of Conduct video, which will be given to all the dive shops to help customers understand how to behave when getting to the dive site, and when getting in the water with these special creatures.
Conservation and protection of nature is a big issue in Indonesia and especially in Bali, considering the high touristic pressure. What do you think are the immediate actions that have to be taken?
One of the biggest issues we see on a daily basis here is water pollution. In a culture where rubbish is commonly thrown onto the ground or into the river system, the advent of plastic has been a disaster. Plastic bags are a major problem for marine life as they look a lot like jellyfish and accidentally get eaten. Plastics frequently get caught on coral resulting in it being broken or suffocated, and there are many documented examples of dolphins, sharks, mantas, turtles and other species of fish having drowned because of being caught in marine litter. Plastic collection and adequate disposal is urgently needed: a recent report found that approximately 30 million plastic bottles are used in Bali every month!
Another issue that comes along with the increase in tourism is the pollution and destructive run off that comes from bad building practices. People are often so concerned with getting their hotel or guest house up and running, they don't bother with making sure there is no land erosion, or that their toilet waste system is not seeping into the sea, both of which will kill the beautiful coral reefs so many of their customers come to Indonesia to see. So far the islands of Nusa Penida have not been affected by this, but it is an ongoing concern as more and more construction happens here.
What are the plans of Aquatic Alliance for the future and how can people help and get involved in your activities?
Our manta population is year round so the project is ongoing. There will be more data collection, population monitoring, fishery surveying and there can never be enough education, so please come to our talks, keep up with us on Facebook for articles, updates and petitions etc. and spread the Manta Word. One of the best forms of helping is by talking to your friends and colleagues about the threats to our amazing marine life.
AQUATIC ALLIANCE
https://www.facebook.com/aquaticalliance
FREE marine talks at the Yoga Shack at Secret Garden Bungalows (Nusa Lembongan) every Tuesday and Thursday at 6.30 pm.