President Joko Widodo (Jokowi) inaugurated the Indonesia Arena on Monday, 7th August 2023.
This inauguration was carried out right after the 2023 Basketball World Cup test event was completed.
There were also several ministers in the Onward Indonesian Cabinet attended the inauguration of Indonesia Arena, such as the Minister of Public Works and Housing Basuki Hadimuljono, Minister of State-owned Enterprises Erick Thohir, Minister of Tourism and Creative Economy Sandiaga Uno, and Minister of Youth and Sports Dito Ariotedjo.
"By saying Bismillahirrohmanirrohim, I inaugurate the Indonesia Arena in the Gelora Bung Karno area of DKI Jakarta," Jokowi said at the Indonesia Arena on Monday, 7th Augusts 2023.
Jokowi also said he was proud of the presence of the Indonesia Arena, which has a capacity of 16,000. Moreover, this arena was also built in such a short time, only in 18 months.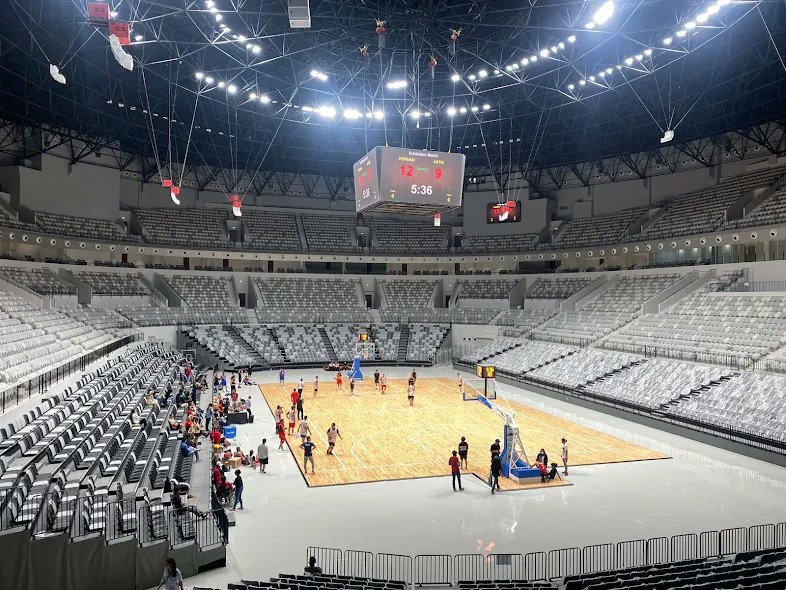 "A stadium with a capacity of 16,000 spectators or more, was built at a cost of Rp640 billion, the construction was carried out in 18 months, very quickly," said Jokowi.
The Indonesia Arena inauguration ceremony was also enlivened by the appearance of several musicians, such as Wika Salim and Cokelat. When Wika Salim appeared, several ministers also danced. Then when Cokelat was on stage, Basuki came down from the arena and played the drums.
There was also an exhibition match that pitted Happy Ballers against KUY Media. Several athletes from the Indonesian Basketball National Team such as Marques Bolden, Yudha Saputera, Andakara Prastawa, and Arki Dikania Wisnu also attended the inauguration ceremony.
This August, the Indonesia Arena will become one of the venues for the 2023 Basketball World Cup. Later, Group G and Group H matches, plus the second round of Group L matches, as well as matches ranked 17 to 32 in Group P, will be held here.