The US-based electric car company Tesla Inc. is reportedly close to reaching an initial agreement to build a factory in Indonesia, which CEO Elon Musk denies. 
Quoted in Bloomberg on Thursday, 12th January 2023, Musk wants to utilise the main raw material for electric vehicle batteries in Indonesia. The investment plan is in line with Tesla's ambition to build its factories globally and reach a production capacity of one million vehicles annually. 
Discussions regarding Tesla's investment included plans for the development of an electric vehicle ecosystem in Indonesia, starting with facilities, production, and the supply chain.
However, this agreement has not yet been signed so there is still a possibility that Tesla's move to build a factory in Indonesia will be cancelled, said a source familiar with the investment who does not wish to be identified because these investment talks are confidential. 
Musk commented on his investment plans in Indonesia via his Twitter account @elonmusk, stating, "Please be cautious about writing articles citing 'unnamed sources', as they are frequently false."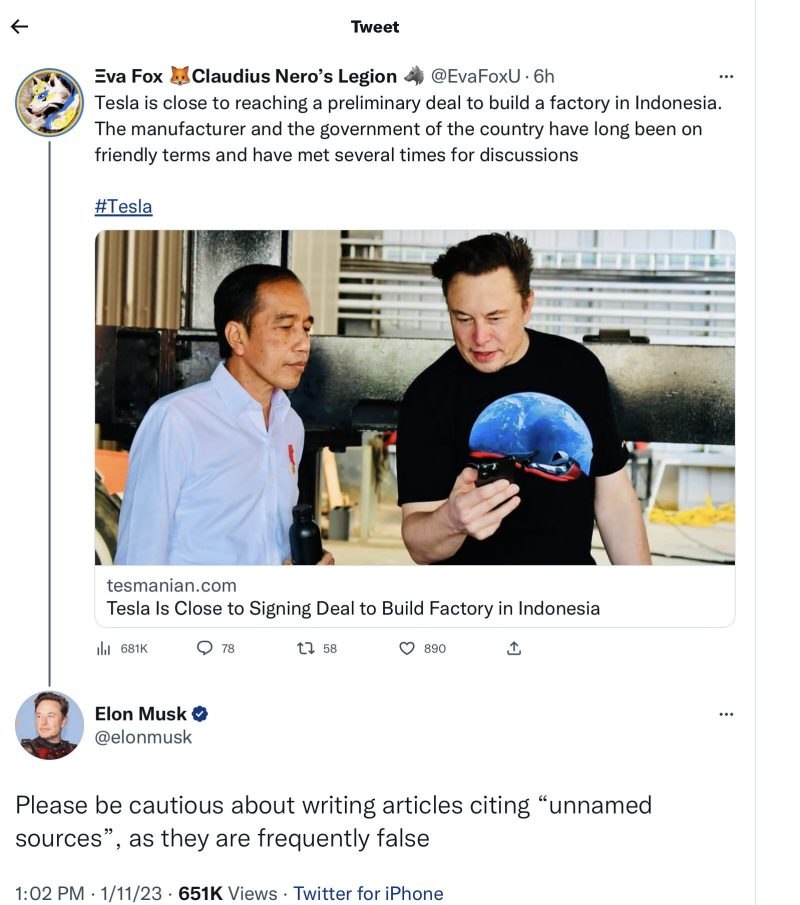 Reports also say the Investment Minister confirmed talks with Tesla. Reuters has said neither the electric carmaker nor the ministry immediately responded to comments.
The Minister of Investment and Head of the Investment Coordinating Board Bahlil Lahadalia responded to Indonesian reporters in a press conference broadcast on the Presidential Secretariat YouTube on Wednesday, 11th January that he was not in charge of the discussions with Tesla and thus was unaware of any details.
"Regarding the EV battery, I happened to be assigned by the President. There were two targets; Foxconn and Tesla. Coincidentally, Foxconn was my job and thank God, now they have finished and invested in Indonesia. Tesla is led directly by the Coordinating Ministry for Maritime Affairs and Investment, Luhut Pandjaitan. So please ask the Coordinating Minister who knows the progress," he said 
Talks about Tesla's investment in Indonesia have been going on for a long time. President Joko Widodo (Jokowi) even visited Musk in May 2022 and reached an agreement to supply nickel worth US$5 billion with the electric car manufacturer in August 2022.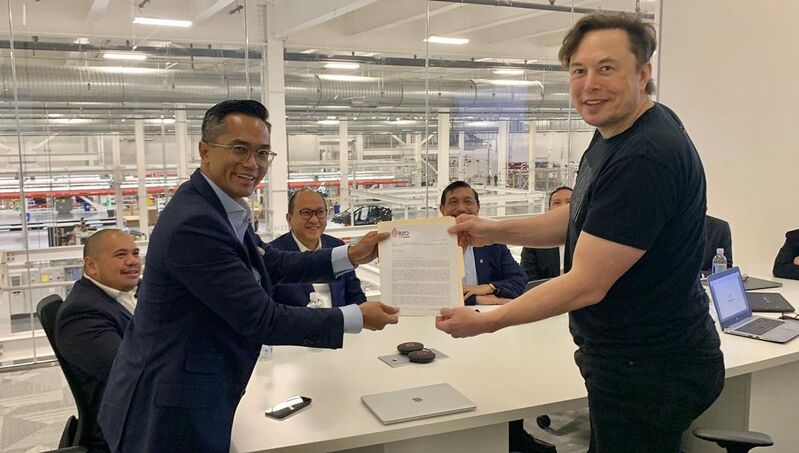 In an interview with Bloomberg News some time ago, Jokowi said he wanted Tesla to build electric cars domestically, not just batteries, and is willing to take the time to convince Musk to see Indonesia as more than a major supplier of resources. 
Musk himself has said that he expects Tesla to build 10-12 factories globally. So far, Tesla has factories in Shanghai, Austin, Berlin, and Fremont California. It is reported that the company will soon announce a new factory in the state of Nuevo Leon.
Meanwhile, last November, Musk declared South Korea to be one of the top candidates for his car factory. The report comes from the local presidential office.