On Sunday, October 19th 2014, Jakarta's citizens carried out the Indonesian tradition of gotong royong by picking up rubbish and cleaning up Jakarta together in 'Clean Up Jakarta Day 2014'. The aim of the clean-up is to educate people about the detrimental effects of littering, and in turn spark an awareness of the importance of recycling.
This campaign was carried out by volunteers, of which there were 5,000 this year, picking up rubbish, separating into recyclable and non-recyclable sacks as they cleaned. All clean-up activities commenced at 7am at 27 sites throughout the city. These sites were nominated by volunteers and approved by the Clean Up Jakarta Day team.
Clean Up Jakarta Day is an annual event which acts as a platform for existing communities, schools, companies and organizations to join together on one day with one united voice against littering. Ambassadors this year included business magnate Sandiaga Uno, actress and TV anchor Marissa Anita and actor and TV host Mike Lewis, as well as Governor Basuki Tjahaja Purnama (Ahok) and Dinas Kebersihan Kota Jakarta supporting the event.
This year's Platinum Sponsor was Maersk Group. Maersk Group has activities in a variety of business sectors, primarily within the transportation and energy sectors. Founded in 1912, Maersk Line is currently the largest container ship operator and supply vessel operator in the world.
Rubbish collected was separated into bags of recyclable and non-recyclable materials, and the recyclables were taken by Santa Fe Relocators to Jakarta Green Project in East Jakarta.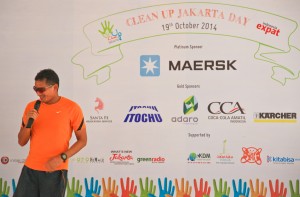 After the clean-up activities all over Jakarta, a post-event at Senayan Driving Range was held for participating volunteers. This gathering was a chance for the sharing of experiences with other site's volunteers, and discussions on how to continue making a change in Jakarta. Speakers included Jakob Friis Sorensen of Maersk Group and Sandiaga Uno of PT Adaro Energy.
Team Awards were also given out at the post event. Pasar Santa won 'Most Influential Team', Gelora Bung Karno Stadium won 'Most Extreme Makover', Sudirman 1 won 'Weirdest Item Found' and Sudirman 2 won 'Best Dressed Team'. The largest team award was awarded to Monas, a site with 900 volunteers.
Clean Up Jakarta Day 2014 was brought to you by Indonesia Expat and would like to thank all of the Clean Up Heroes for taking part and raising awareness of Jakarta's rubbish problem, as well as cleaning up the city together.
Please visit www.cleanupjakartaday.org for more information or email [email protected].