PT Railink, the joint venture company of state-owned PT Kereta Api Indonesia and PT Angkasa Pura II recently told the public that its Soekarno-Hatta airport train will be ready for public use in mid-2017. According to Okezone, the train will be ready to take on 33,000 passengers daily starting in July. The route will go between the airport and Sudirman station, as the Manggarai station won't be ready yet.
President Director of PT Railink Heru Kuswanto said that the numbers came out after calculating the train's highest possible occupancy per day and considering that Soekarno-Hatta has around 70 million flight passengers annually.
"We've counted. The most realistic number is 33,000 passengers with 80 commuter trips on a daily basis," said Kuswanto.
According to Kuswanto, these figures are likely to increase in the future, as the number of train trips per day may be optimized later. Another element that will surely influence projections is theF fact that Manggarai station is still under construction. After the station is complete, the 36-kilometre route will have a different daily capacity.
"We will prepare 124 trips daily when the whole project is complete. For starters, the train will be running from Sudirman Baru station, while the real route is Manggarai-Sudirman-Duri-Batu Ceper-Soekarno Hatta Airport," Kuswanto clarified.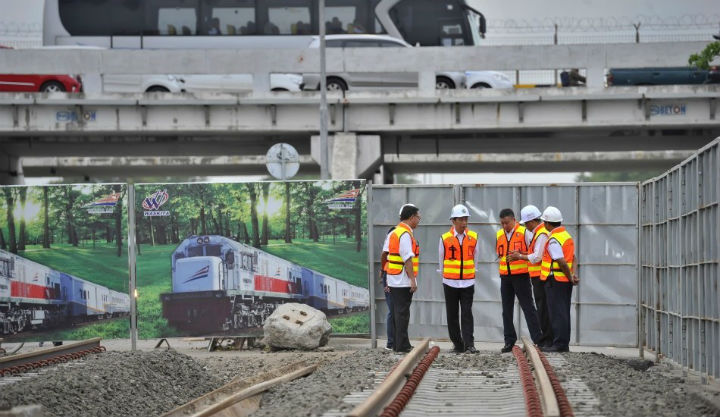 Kuswato added that if the special platform for the airport train in Manggarai can be finished on time, the station will be ready to operate by the end of the year.
"It should be finished by around October or by the end of the year in the worst case scenario. According to the original contract and project designed by the local government, Manggarai station wasn't supposed to be done until 2019. But we asked for permission to accelerate the execution," said Kuswanto, as quoted by Detik.
According to Okezone, Kuswanto said that every 15 minutes a new train will arrive at the station. He added that it should only take the train about four or five minutes to get from one stop to another. The trip will take around 46 minutes from Sudirman station to Soekarno-Hatta Airport, while the full trip from Manggarai is predicted to take 54 minutes.
Another report by Detik stated that prices for the train will range between Rp.100,000 (US$7) and Rp.150,000 (US$11) per ticket.
PT Railink is also cooperating with ten banks to provide e-ticketing service. The banks include BCA, BNI, BRI, BTN, Mandiri, CIMB Niaga, Bank Danamon, Maybank, QNB and Bank DKI. Passengers will also be able to make web reservations or book tickets via mobile app.
Despite a history of graft and corruption leading to notorious project failures for public rail transport in Jakarta, PT Raillink remains optimistic. The developer looks forward to one day integrating the airport train with the ongoing MRT and LRT projects in Jakarta.
Image credits: Republika, MerahPutih