Connecting people in a nation like Indonesia – which has an extremely diverse geography across thousands of islands – will always be a big challenge, especially with the nation's population and economic growth fuelling its people's movement in and out of the country. The development of basic infrastructure and transportation facilities has been one of the government's top priorities in recent years. This year is no different. 2017 is expected to be a major year for the transportation sector in Indonesia, as some big projects are slated to commence, while others are set to be finished.
Mass Transportation in Major Cities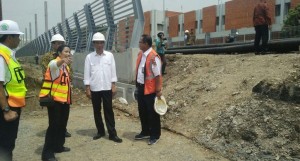 This year, the Transportation Ministry is focusing on developing mass transportation projects in several major cities. "Some of them include the Greater Jakarta's Light Rail Transit [LRT], South Sumatra and tram in Surabaya," Transportation Minister Budi Karya Sumadi said during the 2017 Transportation Outlook press conference last month.
While LRT projects in Greater Jakarta and Palembang have already begun, the construction of the tram in Surabaya, the capital of East Java and Indonesia's second largest city, will not begin until later this year. During a meeting with Surabaya Mayor Tri Rismaharini on December 30, the ministry said that the construction of the first leg of the tram tracks would start early this year.
"From our discussion, [tram] from Joyoboyo to Tunjungan, about four kilometres, will start to be constructed this year. Hopefully it will finish in two years," Sumadi said. The project would be the first mass transportation tram in Indonesia. "Of course, this will become a new mind set for other cities in Indonesia [to follow]," the minister added.
Major cities in Indonesia like Surabaya are scrambling to come up with mass transportation solutions as every day new cars and motorcycles are clogging up the streets, effectively reducing the speed of each vehicle to a snail's pace. But none of those cities have traffic problems as bad as Jakarta, notorious for having the worst traffic in the world.
Therefore, several major transportation projects are underway in the capital, namely an MRT, an LRT and the Soekarno-Hatta Airport railway link. Among those three, the airport link is expected to be finished the earliest, before the end of 2017.
State-owned railway operator PT Kereta Api Indonesia (KAI) has promised that the airport link would start operating in June 2017, connecting passengers between Manggarai Station in South Jakarta and the international airport in just 57 minutes.
"The target is either June or July of 2017. We have to be optimistic and work hard [to meet the target]," KAI President Director Edi Sukmoro said at Gambir Station in Jakarta on December 31. He added that the company had ordered ten train sets. "They will come in stages, not all at once. We are praying that by June, the trains will be ready," Sukmoro said.
Stakeholders are also optimistic about the MRT's progress this year, with PT MRT Jakarta planning to speed up construction in 2017 in order to meet the target of first operation in February of 2019.
"In 2017 we will speed up. The major bulk of the construction work will be in 2017. Therefore, there will be traffic disturbance because of this speed up. But we have to do that," MRT Jakarta CEO William Sabandar said during a press meeting on December 14, 2016.
Railways and Toll Roads
Apart from developing mass transportation modes to ease traffic congestion in major cities, the government is also developing railways and toll roads to help connect cities in some major islands across the country. One such example is the Trans Sumatra toll road mega-project, part of the government's massive plan to boost connection in the island of Sumatra by linking its northernmost province of Aceh to its southernmost province of Lampung by 2019.
While the project, as a whole, will not be finished before 2019, road users may get to enjoy a 70-kilometre stretch of the toll road this year, as funding and land procurement issues hindering the progress of the project have been resolved. The parts of the toll road that will be ready by the end of 2017 are Medan-Binjai (17 kilometres), Palembang-Indralaya (22 kilometres) and parts of Bakauheni-Terbanggi Besar (140 kilometres).
Fast- and medium-speed train projects are also gaining ground, particularly in Java. The Jakarta-Surabaya medium-speed train project, for instance, is expected to have its feasibility studied in 2017, with the Japanese government offering to initiate the assessment.
As of now, the government and PT KAI have completed the project's preliminary study, with the Agency for the Assessment and Application of Technology (BPPT) slated to decide which routes are to be developed first, either the Jakarta-Semarang route or the Semarang-Surabaya one, in early 2017.
In total, the ministry plans to build 175 kilometres of railway throughout Indonesia in 2017, as well as rehabilitate 7.3 kilometres of existing railway.
Major Cities to Improve Air Access
With the country being home to more than 17,000 islands, flying is sometimes the only way to go from one place to another in the archipelago. However, many Indonesian airports are known for their mediocre ? if not lacklustre – service, operating at overcapacity despite a growing number of flights to and from the country. Therefore, state-owned airport operators PT Angkasa Pura I (AP I) and PT Angkasa Pura II (AP II) are gearing up to carry out a major expansion and revitalization of airports under their management nationwide. Some of the expansions are scheduled to be finished this year, such as the new international terminal at the Husein Sastranegara airport in Bandung, West Java.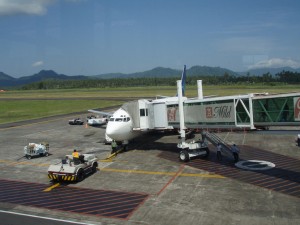 "The international terminal will be able to accommodate up to 1 million passengers per year," PT Angkasa Pura II General Manager Dorma Manalu said on December 5, 2016. He hopes that the new terminal will be able to increase the number of tourists, especially foreign ones, coming to Bandung.
"We are eyeing a Bandung–Thailand route. So there has to be a way [from Bandung] to Bangkok so that international tourists could come," said Manalu.
A new airport terminal in Banyuwangi, located on the eastern tip of Java, just west of Bali, is also scheduled to operate in March of 2017. The expansion of the runway will allow jetliners such as the Airbus A320, Boeing 737 and Bombardier CRJ to operate flights directly from Jakarta.
"The Pavement Classification Number will be increased to 40 so that [the Boeing] 737 can land," Sumadi said on December 31.
Overall, the government is targeting a 4.8 percent increase in international tourists this year. It also aims to achieve 85 percent success ratio for domestic airlines' on-time performance.
Featured Image via Didit Putra