Commemorating the Indonesian Tree Planting Day (HMPI) and the National Planting Month, Sinar Mas Land, through PT Bumi Serpong Damai Tbk, along with the Tangerang Regency government, invited the community to plant trees in the Cisauk Mini Stadium area in Tangerang.
This event is an annual commitment of Sinar Mas Land, entitled "Planting Month", a part of the company's corporate social responsibility (CSR) programme, which this year is themed "Sinar Mas Land Cares for the Environment".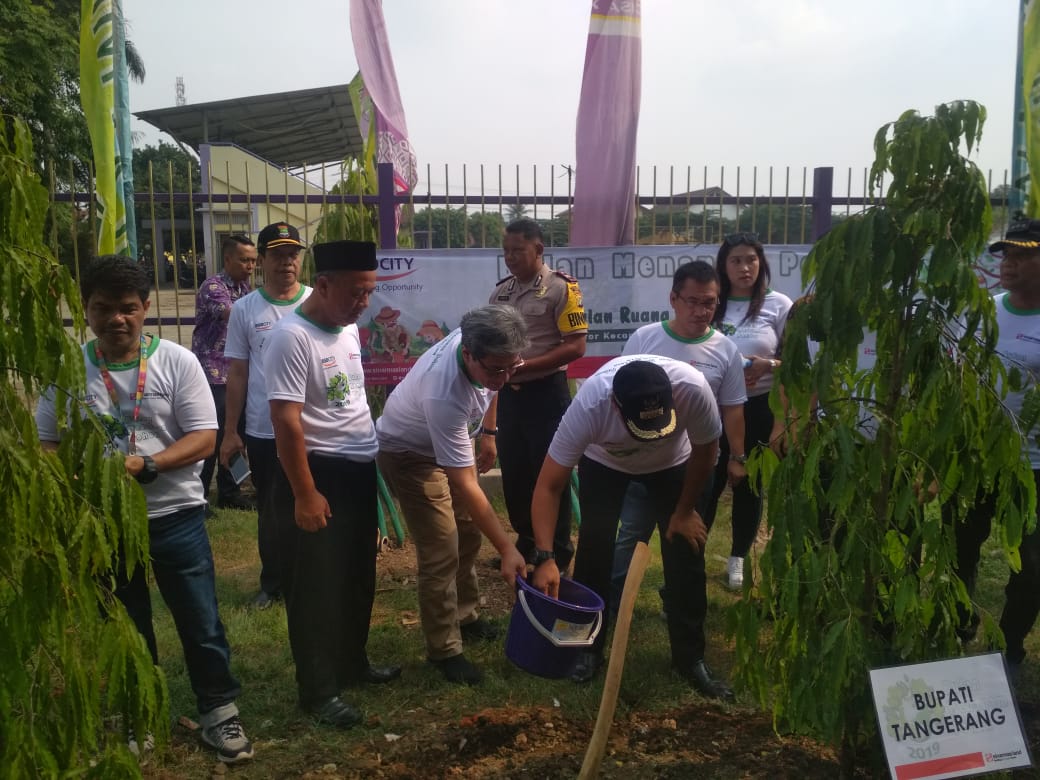 "Planting trees in the Cisauk Mini Stadium area is intended to make the stadium the pride of the Cisauk community. Completed in 2019, the stadium strives to become a cool, beautiful, and comfortable place. More than that, we also want to make the stadium an integrated, green area, where people can exercise and do activities while participating in preserving the environment," said Director of PT. Bumi Serpong Damai Tbk, Syukur Lawigena.
Seen participating in the tree planting activity were Tangerang Regent, Ahmed Zaki Iskandar, the leaders of Sinar Mas Land, community leaders, scholars, representatives of mass organisations, as well as elementary, junior high, high school, and vocational high school students.
In addition to planting trees, the inauguration and signing of the Child-Friendly Playroom (R-BRA) inscription in Cisauk Disrtict was also done at the Cisauk District Office. Acting as another CSR activity, this particular one was aimed at fulfilling the basic needs of children to develop communication skills and language, a place for creativity, and a means of developing children's morals, ethics, and character.
"We hope that R-BRA Cisauk can become one of the facilities used to fulfill every child's right to play and have recreation time, as well as provide solutions to the limitations of children's access to a comfortable, safe, and educative playroom. The presence of R-BRA Cisauk is expected to foster physical, mental, moral, and social development for Indonesian children," said Lawigena.
Sinar Mas Land has previously carried out a number of activities in an effort to realise the CSR programme in the field of the environment, namely the Green Festival, regularly held since 2004. This activity is an effort by the company in campaigning, initiating, training, fostering, and as a form of moral movement, appreciation, and promotion of all aspects of the environment. This activity also involves bureaucracy, community, mass organisations, and all components of the surrounding community.
Moreover, Sinar Mas Land had also conducted a composting socialisation programme for the people of South Tangerang City and Tangerang Regency, in order to encourage the community to manage organic waste into compost which can then be used to meet the needs of natural fertiliser for households. This activity includes building a composting area, training, campaigning, and initiation.